This weeks
Art Roundup
has been curated by awesome US based Illustrator and good friend of The405 -
Aaron Crawford
. Aaron's art work has been seen branded on a wide range of apparel and even tattooed onto the skin of his admirers. We asked Aaron to gives us a quick list of his Top 5 artists and a brief summary as to why he chose them. Here are the results, which might I add, Aaron did a bloody good job of! You can read our interview with Aaron
here.
Artist:
Benjamin Lande
Link:
http://www.merchdesign.com
One of my favorite artists / designers out there right now would have to be my good friend Benjamin Lande. A fellow Georgia illustrator, he always has fresh new ideas and grotesque imagery that makes you stare and wonder at his designs, sort of how you can't take your eyes off of a fiery car crash. His work is distinct, and easily recognized on shirts for bands such as Arsonists Get All The Girls, Caliban, A Skylit Drive, and others. His art will give you a stomach churning sensation that you can't resist. With his illustrations becoming stronger and stronger, Ben is easily one of the most prominent (& busy) designers out there today, and is on his way to becoming a household name in the shirt design world. (if he hasn't already)
Artist:
Alex Pardee
Link:
http://www.eyesuckink.com
There's not much to say about California artist Alex Pardee that you probably haven't heard or seen already. He's easily one of the most influential artists out there today. I had the pleasure of briefly meeting him at DragonCon in Atlanta, GA last month (huge sci-fi convention nerd fest) and he was the most down to earth guy ever. All of his hard work and sleepless nights are paying off. He has a new feature film coming out through WarnerBros called "Chadam" which is based off of a character he created for the band, The Used, along with countless solo shows and other projects. His work has a great balance of messy / beautiful / and grim details that leave you wondering: (how the f*ck did you come up with that?)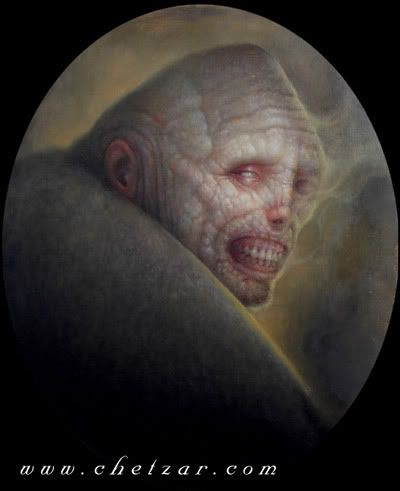 Artist:
Chet Zar
Link:
http://www.chetzar.com
I've been following ChetZar's work for a few years now, and his paintings continue to blow my mind. The smooth textures and nightmareish imagery can cause a mixture of intense feelings from the viewer. Chet can easily bring you into the world he is creating through his paintings, and the monsters he conjures are, quote: "The characters i paint may seem like creatures from another dimension, but i think they are simply us, here and now. Modern humanity without it's masks, without the adornments that make us acceptable to whatever group we are a part of". He's honestly one of my favorite dark artists, and I strive to be able to paint to the caliber of Chet Zar one day.
Artist:
Alex Solis
Link:
http://oddworx.com
I only stumbled on Wisconsin artist Alex Solis a few months ago, and in that short of time, his work has blown my mind. His concepts and the execution of those ideas onto shirt designs really shows his illustration and graphic design skills. His line work, color choices, and overall creativeness will keep you stuck to his portfolio for hours on end. Alex has an impressive resume and the ability to not just design apparel, but also shred on web design & animation as well. I honestly think he is on the right track in becoming a force to be reckoned with. Be sure to check out more from
Aaron Crawford
by visiting his official website
here