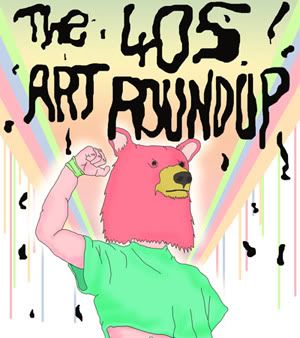 Art Work by Lachlann Rattray
Greetings readers and welcome to another lazy Sunday afternoon Art Roundup! If you've been looking for something more then roast dinners (which to be fair, are pretty great) and Eastenders omnibus's to get your Sunday fix from, then look no further. The405 will be bringing you original art from the top artists of the moment from around the world, in one single lunch time bite size portion. Please blame the high pollen count on the lateness of today's post!
Artist:Josh Keyes
Link:
www.joshkeyes.net
Josh Keyes work brings to mind the detail and complexity of natural history dioramas, and the color and diagrammatic complexity one might find in cross section illustrations from a vintage science textbook. His work has developed over the past years into an iconic and complex personal vocabulary of imagery that creates a mysterious and sometimes unsettling juxtaposition between the natural world and the man made landscape. The work conveys an anxious vision of what the world might be like in the future as a result of current global warming predictions. Keyes' interest in creating paintings that fuse realism with the possible often evokes the imagery found in dystopian and post-apocalyptic literature, while other works express the optimism and utopian ideas found in the writings of Buckminster Fuller and Paolo Soleri. Keyes often incorporates objects and animals into his dissected environments that have personal iconographic significance. He weaves his personal mythology through fractured and isolated landscapes that are either overgrown with vegetation or underwater, and often depict historic or military monuments covered with graffiti. The imagery functions as a way for Keyes to express his personal experience and also allows him to comment and interpret events in the world.
Artist: Whitney Lenox
Link:
www.myspace.com/mybrokeanecdote
Fashioned out of skulls,blood,spiders webs,flesh tunnels and an abundance of needle sharp tattoo's comes the feministic hardcore art work of Whitney Lenox. Gruesomeness and elegance have never looked so good. Flung together by chunks of ink embellished flesh and gothic and punk rock styles, Whitney Lenox joins the sweetly macabre elite with the likes of the Sylvia Ji's and Joshua Petker's in the same art movement. Besides being a dab hand at pencil and paint, Whitney is also an accomplished tattoo artist, which can often be seen spilling over into the creations of beautiful and decrepit porcelain skinned and busty damsels. Whitney's drawing style remind me a lot of that teen angst cartoon show Daria and I think its fair to say that any one of Whitney's characters could beat the shit out of her!
3.
Artist:
Christopher Elsasser
Link:
www.munstre.com
Christopher Elasser makes light boxes, but not for those who consider themselves a tad bit squeamish! Using graphic images of hearts, x rays and my personal favorite - a face with it's mouth sliced open and held apart by two metal prongs, Christopher turns what would normally be considered as a nice present to make in a wood work class for a mothers day present into a stomach churning visual to shed some
light
on from time to time. All of the pieces featured on Christopher's site are available to buy! Neat!
4.
Artist:
Danielle Sperandeo This eerie piece was sent into us by Danielle Sperandeo.
5.
Artist:
Lachlann Rattray
Link:
/www.flickr.com/photos/holywow
This weeks
Artist of the week
spot goes to Scottish digi artist Lachlann Rattray. You'll notice Lachlann's handy work being featured as part of the new Art Roundup banner at the top of the page. As well as being a successful designer of his own line of striking and psychedelic apparel (Check out Dreamguts
here
) Lachlann has also created a colourful arsenal of zine covers, flyers and posters to his credit, each stamped with his edgy and hallucinogenic imprint. We here at The405 strive to cover experimental art and Lachlann's willingness to often experiment to the extreme and his
try anything
type attitude and approach cannot go uncredited. Lachlann's art work kicks down all the walls of perception and tramples all over the world of reality, bringing you imagery you never thought could possibly exist or be conceived through lack of ever having dropped LSD! But in all seriousness, Lachlanns work has been exhibited in Brooklyn New York (at video gallery) and in true love art gallery in Savona Italy, a great achievement in itself. And at just 25 years of age, Lachlann truly is an inspiration to the creative youth, making his fizzy pop visions this weeks
Artist of the week!
If you would like your art work to be featured in the next Roundup, then send a message to us at - The405arthouse@googlemail.com