Domicile Crocodile is a self-claimed 'collaborative group who share ideas on DIY aesthetic and creativity... a collective of musicians, visual artists, clothing designers, producers and creators.' These contributors include Tango in the Attic, Fraser Stephen, Domicile Crocodile Clothing, Food Scraps, Ryan McHugh, Davey Horne, and Mike Geist. The mission of the collective is to serve as a platform from which Scottish artists with a similar outlook and aesthetic can launch their work to a wider, shared global audience.
This crowd of talented individuals is bringing some very interesting things to the plate--quite literally in the case of Food Scraps--that has me interested to see what they have in store. I talked to Fraser Stephen (aka 'Flo'), DomCroc photographer and designer, to get the run down on all things DomCroc.
The group's formation did not happen all of a sudden but organically as a result of a lot of hard work and mutual attraction to each other's art form. Flo described the workflow of the group as beneficial in filling the gaps in each other's skill set, "we encourage, motivate and give each other feedback and confidence to push our ideas through to fruition." A lot of the guys in Domicile Crocodile have been working away for a number of years in various outlets all over Scotland, but come together to get creative.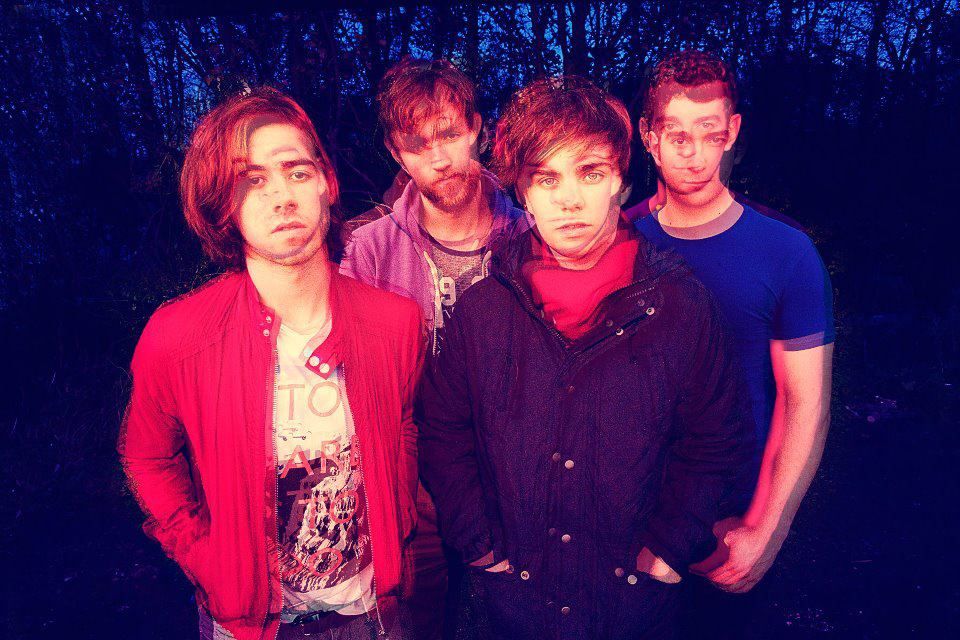 One of those veterans to the music scene is Tango in the Attic, who so far has been where the majority of DomCroc's collaborative focus lies. Tango in the Attic is a lo-fi garage pop band from Glenrothes, Scotland who tend to incorporate unorthodox sounds and time signatures into 3-minute pop songs. The current lineup includes Jordan Craig, Joe Mcfarlane, Jim Crook, and Paul Johnson, who are also all involved in various other aspects of DomCroc. Even though DomCroc is a new outlet, Tango are no novices to the music scene. Formed in 2008 the band has played T in the Park, SXSW, and CMJ music festivals, as well as releasing two full-length albums.
The name of Domicile Crocodile actually comes from a line from the song 'Family Sucks' off of Tango's sophomore album Sellotape. The song begins with the line "Sharing animal dreams in a prospect zoo, we're just domicile crocodiles, me and you, brother I've been trying to figure us out." Flo said, "Joe writes the lyrics in Tango in the Attic. Everyone involved loves that line and the song as a whole really resonates with us all. It fits our vibe and attitude towards each other." Joe also sports two line drawn tattoos, one above each crease of his forearms, of a house and a crocodile, taking his DomCroc/Tango commitment a step above the rest. Flo also has the tattoo and said he's pretty sure everyone else will get them eventually.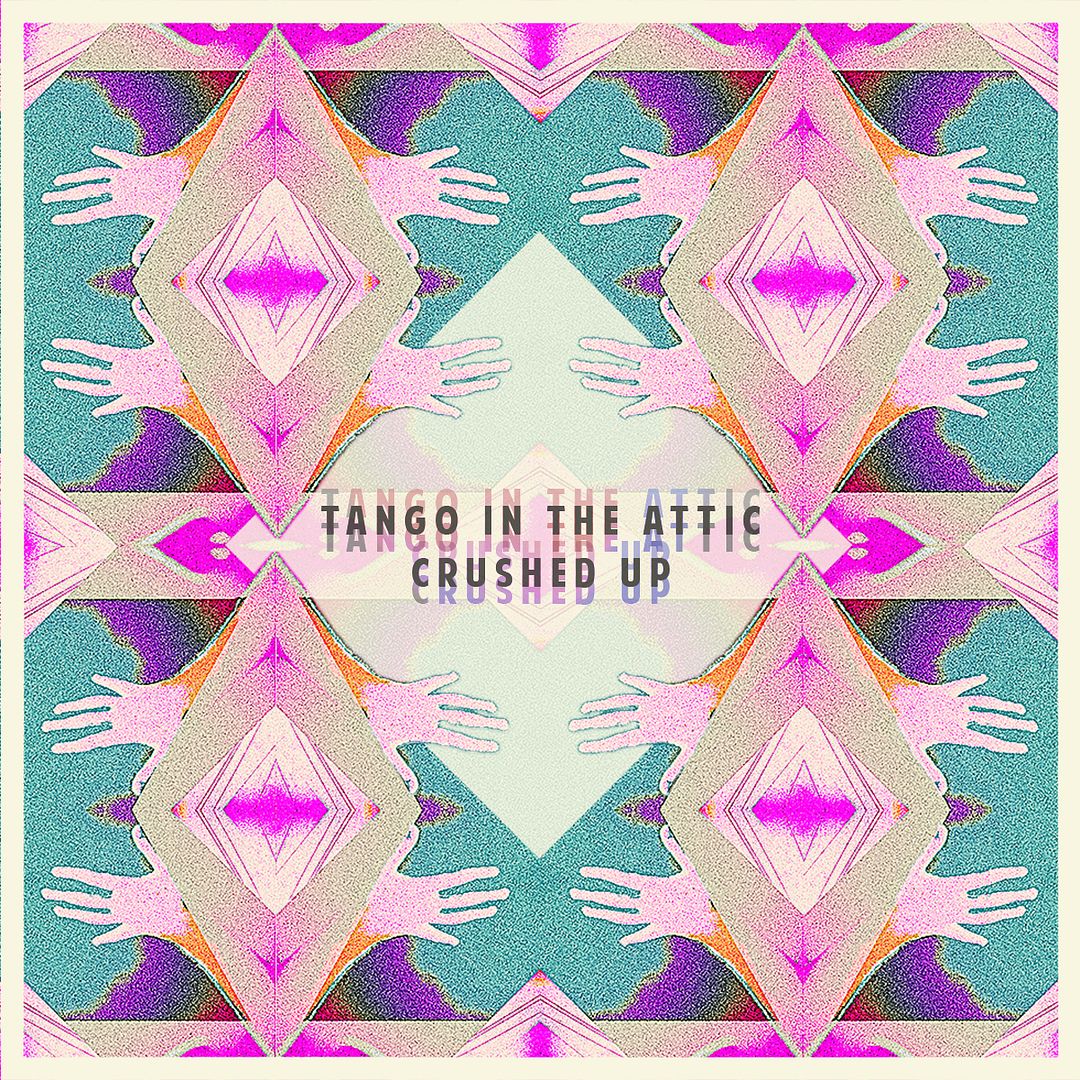 The biggest thing being pushed in the DomCroc Collective right now has been the release of Tango in the Attic's Crushed Up EP last month. "We planned the announcement of DomCroc to follow the Crushed Up EP release as Tango in the Attic is effectively the collective member with the biggest reputation and fanbase. We felt we could use that as a springboard for everyone else who was contributing to that behind the scenes. Specifically Flo [who] designed the artwork and made a video for the 'Sellotape' single and Ryan (aka Q) who produced." Flo met the guys of Tango in an interesting way, Flo describes "the first time Jordan and me met we had a fight over a girl in a club. It was cool though, we made up via MySpace."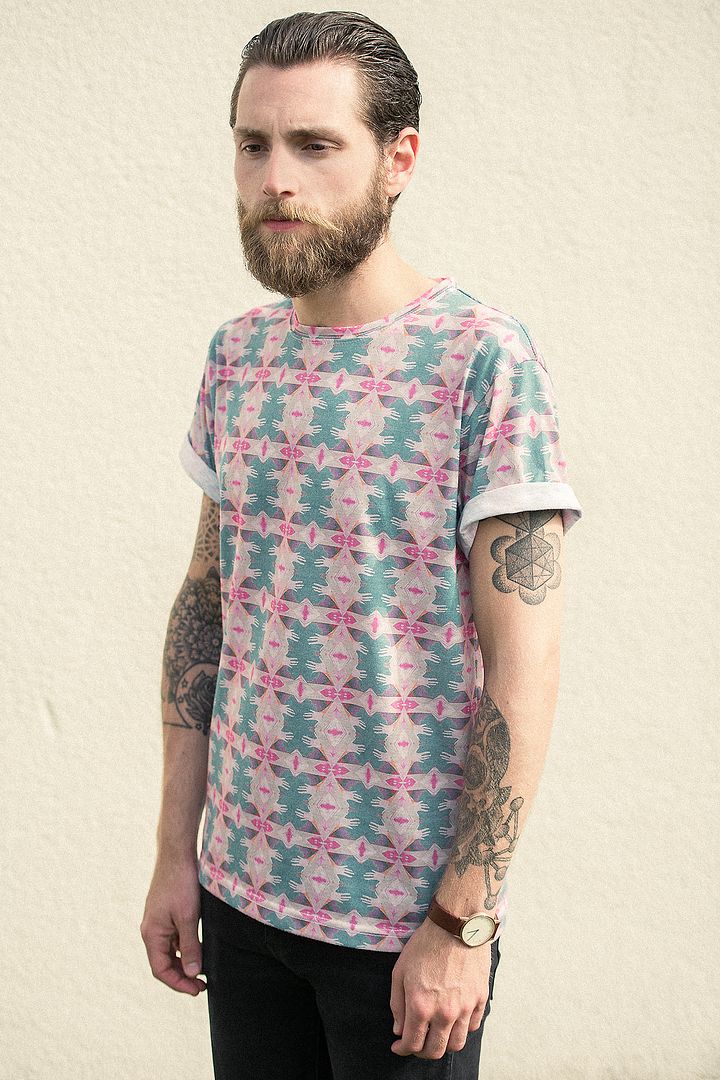 The collective has also taken a different approach towards standard t-shirt and album bundles by creating band merchandise that rather than sporting the band name, lets the album art do the talking through Domicile Crocodile Clothing. Two designs are being offered, one an all over 'Crushed Up' art design, and the other with the design limited to just a pocket. Janey Macfarlane, sister to Tango's Joe, is also a part of the clothing line. Another lady in on the action is Clara Morieux, the DomCroc seamstress, who sewed on all the pocket tees and labels to the shirts.
Fraser Stephen (Flo) has been working very hard on all things Domicile Crocodile and is a man of many talents. He's a visual artist, photographer, graphic designer, and videographer from Aberdeen. Since the Myspace makeup, he has shot promo and live photography for Tango in the Attic, pieced together music videos, and even accompanied them to SXSW this year. Flo also designed the Crushed Up artwork and the tee shirts and is working on many other video projects.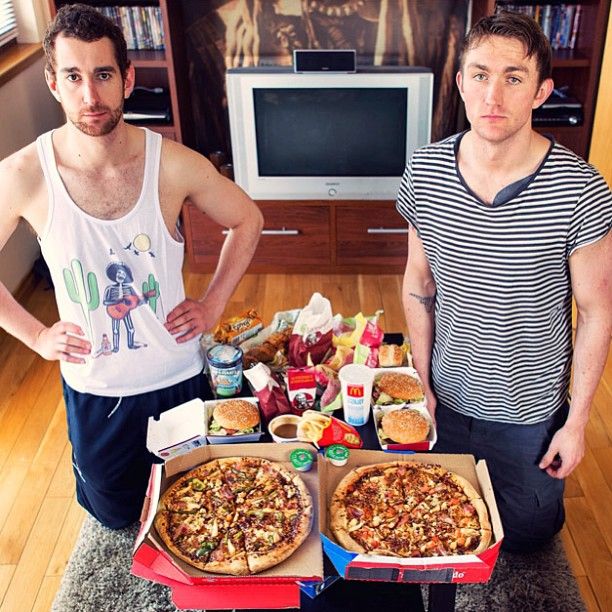 Not only does Domicile Crocodile have their own resident musicians, but it also has its own YouTube show, Food Scraps. The show follows the stomach-churning exploits of two food-obsessed members of Tango in the Attic, Jim and Paul and is filmed by Flo, edited by Greg Cetnarskyj, with sounds by Tango's Jordan. Flo says the team came together as a "way for us to spend an afternoon once a month."
Why would two seemingly healthy looking guys put themselves through such pain? Simply put, because it's fun. And it sure is fun to watch. The first episode involves laughs, tears, and bro hugs as Jim and Paul go head to head to see who can eat the most hot and spicy wings.
There are many others contributing to the collective, many of whom are still in the process of getting their projects off the ground. Ryan McHugh, aka Q, of Monoman Productions is a producer for Tango in the Attic and various other DomCroc artists. Q is currently on tour with the Smith Westerns around Europe. Davey Horne, solo artist, released an EP in 2012, produced by Q. His debut album, also produced by Q, is almost complete with new content coming very soon. Mike Geist is another solo musician with songs, videos, and interviews coming out within weeks through the collective. Greg Cetnarski is a part of Wee Green Studios currently working on visual effects and design for two music videos with Flo, one for Tango in the Attic another for Feather Beds. Tango in the Attic's Jordan has recently moved to New York to pursue a master's degree in Film Scoring, but still will be a very important part of the collective. Tango will still be releasing new music in the near future as well as solo projects from Jordan and Joe.
The plans for DomCroc are constantly evolving with new ideas being added to the mix. Flo describes, "Every time we are together the creative energy is pretty high. Right now, ways we are looking at expanding our reach are domestic and international tours and one off events in cities and more remote locations. Not conventional live music shows." Music will still continue to play a big part in DomCroc, but music wont be everything, as various forms of visual art will be explored, such as design, videos, and clothing. "We think everything we do feeds into everything else so we're just trying to create as wide a variety of output as possible," Flo continues.
One thing that makes DomCroc special is that is not about exclusivity. They are not trying to make it a members only club, but recognize that where one of their skills may be weak, there's always some one around to complement it. They realize that creativity does not come solely from within, but in order to create the best content, they have to increasingly expand and gain inspirations from all different places. Flo says, "If you get it, we all like each other and you can contribute then you are in. On a day-to-day basis we see each other at our homes. We are always hanging out together in some way, shape or form."
It's a bit incestuous how many connections there are in this collective, but that's the point--a group of creative individuals just helping each other out to reach their maximum creative potentials. Even though the group is still getting their feet wet in the collective market, what they have released so far is enough to keep us eagerly waiting for what else lies in store. To find out more and get the latest scoop on all things DomCroc check out their website and bandcamp page for music and clothing.