Beacon's first full-length album, The Ways We Separate was released through Ghostly International back in late April and in their efforts to produce something extra special, they teamed up with Fernando Mastrangelo to create a Deluxe Art Edition of their album - out of sugar.
The $200 (£125) all white Deluxe Art Edition sculpture simply reads TWWS in bold capitals and is reminiscent of gravestones. The simple yet haunting cover design mimics the music found within - the songs are in essence, simple love songs but the music creates an ambience that is filled with dark undertones.
The artist behind the sculpture is Fernando Mastrangelo, a Brooklyn-based artist who has a knack for using materials not usually associated with the fine arts. In addition to sugar the artist has used coffee, corn, gunpowder, human cremated ash, and cocaine in other projects. For TWWS, Mastrangelo chose to use sugar as his substance of choice because he "felt that [it] would be the most symbolic material to represent the seductive and ephemeral feeling you get when you listen to their music," he continues, "sugar is such a beautiful material, but has such dark cultural undertones. It's a substance that is at once loved, yet has caused huge cultural issues. That's also why the album title is rendered in gravestone-style letters."
A video of the intense project has been put out by Ghostly International and can be viewed below. It shows 'up close' black-and-white footage of the entire process that went into the creation of the album and all the hard work put forth by Mastrangelo and his team.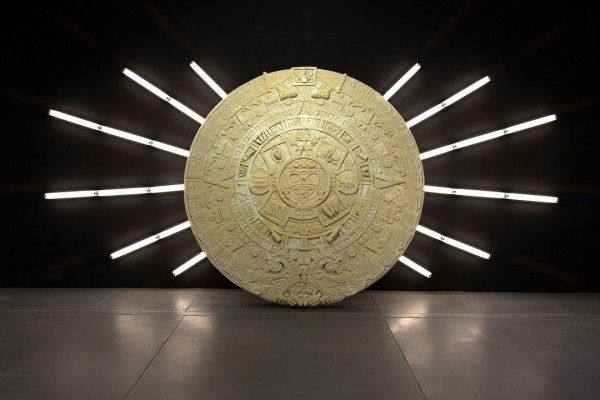 Taking a step back from Beacon, the project Mastrangelo is most proud of is his 2008 sculpture Avarice claiming "[it] changed my studio and practice to what it is today." Avarice is an over eight foot tall sculpture cast in imported white and yellow Mexican corn. The sculpture is to be an adaptation of the Aztec calendar stone with the sun god front and centre, and fluorescent tube rays pointing out. The original religious characters of the calendar stone have been replaced with images and symbols of modern corn production and corporations such as Cola bottles, Hershey's chocolate, and other company logos. These new symbols are used to expose the overproduction of the subsidized corn sector in the United States and its impact on the local populations.
The piece reminds the viewer of Aztec art but also of their eventual downfall. The outreaching rays of light and the central sun god, eager for his hunger to be fed, is a critique of culture and economy in a world gone and the one we're living in today.
Watch how Avarice was put together below with some additional commentary from Mastrangelo himself.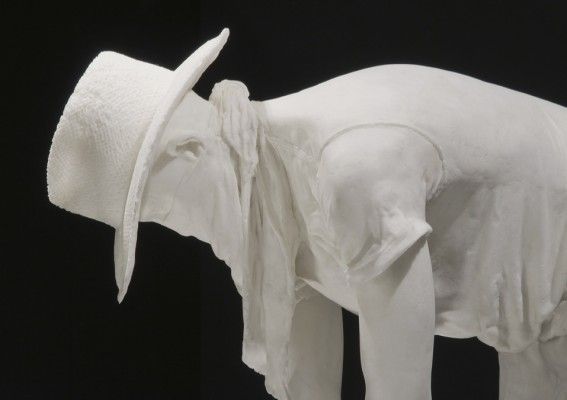 Another of Mastrangelo's pieces that provide social commentary is Felix, which discusses the powerful economy of illegal drugs - specifically cocaine. "It epitomises the socio-economic tension that I seek to depict in my work: from the margins of the undeveloped world, and through the toil of impoverished agricultural workers comes a drug whose chief connotation is luxury and expense." Mixed with irony, this piece creates a contrast between the bent over, labouring farmer who is far removed from its expensive cocaine-using counterpart.
In addition Mastrangelo has recently completed Al One, which sees a collaboration between sculpture and technology between Mastrangelo and Napster founder, Shawn Fanning.
The project involves social media, its role in human experience and the creation of another life online and will be shown next year. He also says he is currently working on two other solo shows, a large scale private commission which goes up in mid October, sculptures for Art Basel, and most surprising a TV show in the works.
Even though Mastrangelo's connection between his artwork and music may not be readily evident, he does think about what musicians are doing a lot of the time. He states, "Music has influenced my work in so many ways. I sample historical object, religious figures and all sorts of pre-fabricated objects to re-contextualize them in my sculptures. I feel music has been doing that for years. It's about mixing together different styles, eras and influences to make a new and unique work, with a nod to your history. I think music does this in the most eloquent and poetic way, and that's what I'd like my works to do."
Getting back to Mastrangelo's project with Beacon for TWWS, he is a close friend to the Beacon duo, Jacob Gossett and Thomas Mullarney III, with him being a big fan of the band since they came together in 2008. Mastrangelo says that, "We talked about doing something together very early on in the process of them working on the album. Beacon's music is a full sensory experience, and I think we both attempt to seduce through our respective languages. For me the sugar cast turns into velvet and almost forces one to examine it's surface and craft. It triggers multiple senses when you interact with the piece, similar to what Beacon does in their live performances. It's about crafting the full experience for the audience, so that they are fully engaged."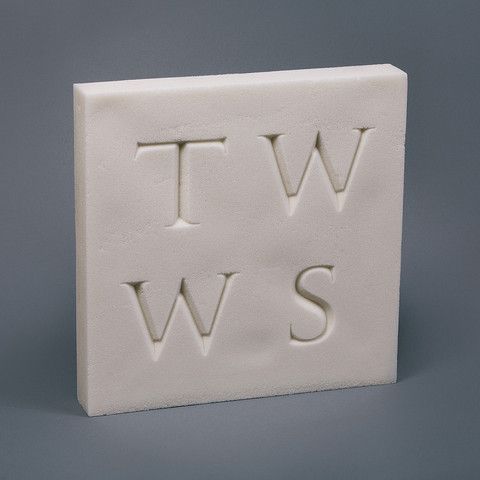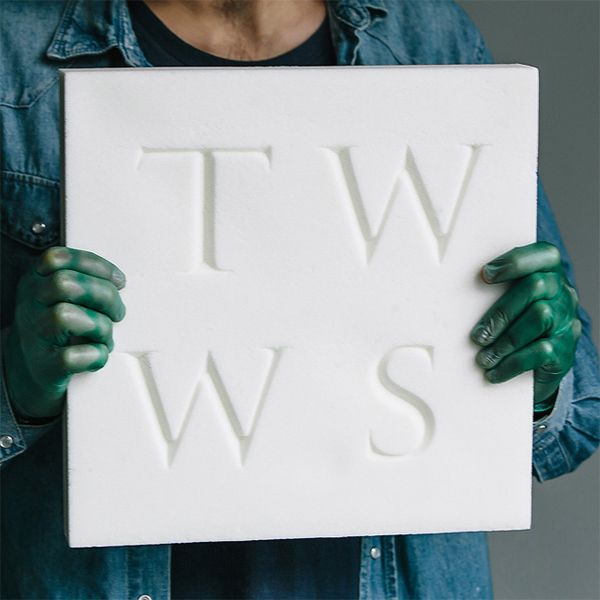 Beacon's album art is not the only thing getting the artistic touch; Beacon's live performances are accentuation by their use of video montage ejected right onto of the performers. Images in the montage include silhouettes of long-legged girls on scenes of desert and space.
It makes sense that both members of Beacon, Jacob and Thomas, have such a connection with their artwork as they first met as art students studying at the Pratt Art Institute in Brooklyn, New York. As Jacob was studying Painting, Thomas was forming a relationship with Sculpture which can easily been seen to influence the band's artistic decisions in the finalizing of their Deluxe Art Album.
Very few artists go as great lengths to create such a truly one of a kind album as Beacon and Fernando Mastrangelo has with TWWS. Overall Mastrangelo's work is filled with relatively direct social messages that are shown through very well thought out quality work. To check out more of Mastrangelo's art visit his website.