Sam Coldy is a London based graphic designer that certainly has a way with colour and composition to create works that simmer on screen as well as on print. When looking at Coldy's gallery of work, it may not be at first apparent that all his pieces belong to the same person. Coldy makes it a point to always try something new and unique for each project he is involved with.
In an effort to give everyone he works with something unique, he also is able to further develop and push his artistic skills forward. This creates a wide portfolio of works that include pieces infused with elements of collage to hazy textures to strong geometric forms. Even with the many directions Coldy's work has undertaken, he always manages to produce bright and noticeable pieces, perfect for album covers, which is exactly what Coldy has been up to. Having already impressive musical collaborations with O Children, Peace, Bondax, and The History of Apple Pie, his clientele also includes some big name labels such as Columbia, EMI, and even Nike.
The creation of the artwork for O Children's second album, Apnea, was an important design for Coldy as it took his work into a whole new direction. The focal point of this piece is a black orb surrounded by a fiery burst of colour. The black hole like vortex engulfs one's attention, making it hard to look away, while the wild colourful emotion surrounds the darkness. The hole even seems to be expanding the longer one stares into its depths. Resembling an iris as part of the eye and also as a rainbow show of colours, this piece is definitely eye-catching. Coldy's obsession for colour began with this piece, which now has been the basis for a lot of his work since.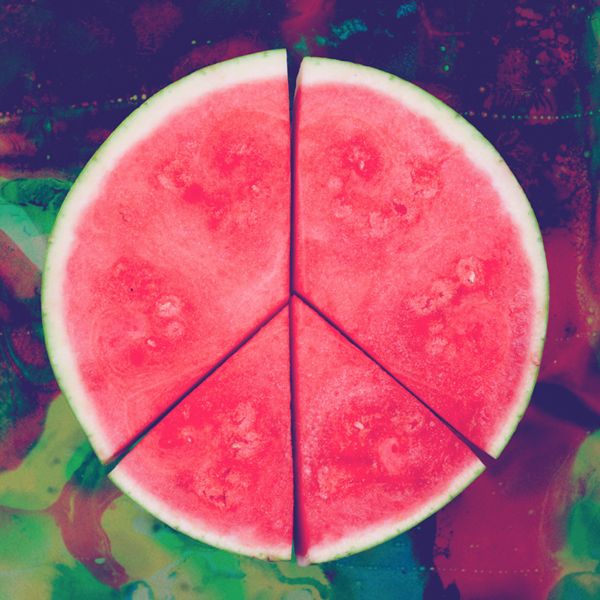 One of my favourite cover designs Coldy has created has been of Peace's Delicious EP. Many ideas were tossed between Coldy and Harry Koisser, singer and guitarist of the band. Coldy describes the process as, "I spoke to Harry a bit, and proposed a few ideas, one was to put Peace sunglasses on a black panther, but that obviously didn't get used. One idea that Harry did like was to take the EP's name and shoot 'delicious' foods up close--Harry made sure watermelon was in there. So we spent a whole day cutting up different fruits and watermelons then shooting them, as well as sweets and other textures. I then went away and made a few designs which developed into the watermelon cover." The watermelon used on the final cover design, shot by Ellis Scott and released early September of last year, has been cut into the international peace sign surrounded by waves of purples and greens reflecting the juicy tropical energy waiting inside.
Coldy is usually brought together with musicians through the band's label or management, either with direct commissions or invited to pitch ideas to go head to head with other designers. Like every musician has a different musical style, every design process Coldy goes through can be very different from the next. Commissioned works are usually accompanied with a sit down, or email and Skype session, with the musicians to discuss their music, what art they are into, and the direction they wish see themselves come across visually through Coldy. Then Coldy goes on to create a new project with what was discussed in mind. Pitched ideas that have won are then developed into a final concept and image.
The music inside Coldy's artwork does play a role in the designing process as well, either by representing the music or at least complimenting the music. Coldy says that, "most of the time I'll be sent some of the music--sometimes it's awful but I'll listen to it enough to get an idea. I think it's important to always give it a listen. The mood/feeling of it definitely influences any imagery I make... Occasionally though, the artist and I will agree on a more obscure or effective image rather than something literal."
A lot of the work Coldy has done has been with various London bands and artists. This is not because he has great personal connections to the music scene of London, but more because that's just where most people who want to 'make it' end up. Coldy describes London as "the centre of the UK, It's where most things happen, so naturally everyone wants to be here and succeed," a thought that probably affected his decision to move to the city nearly eight years ago.
Design work is not the only thing Coldy has under his belt, he is also quite the talented photographer. Coldy's photography was recently featured as part of our Flickr of the Day Series [http://thefourohfive.com/news/article/flickr-of-the-day-sam-coldy], which aims to highlight our favourite Flickr accounts. Most of his photographs are personal shots of friends and travels with no deeper meaning than to just capture the things Coldy enjoys. His photographs are all beautifully composed and often play with the effects of contrasting light and dark, usually with a light hazy effect from using film.
In addition to continuing his art, Sam is also helping to start a small record label, which should be up and running soon. He says there's nothing really specific in the works, but he will be spending more time working on projects of his own. Coldy feels, "I've been selling my soul and chasing the cash too much lately so keep a look out in the next few months."
To keep up with Sam Coldy follow him on Tumblr and check out his website, which provides a great gallery of his work.