There are a couple of islands almost on the polar opposite of this sphere. It's not dissimilar in the way it looks, the way it talks and the way it sounds. May marks New Zealand's self-celebrating Music Month. There's plenty going on above, below and beyond the accumulating cliches of hobbits, lamingtons and the use of the word "pash"*, and after having completed an explorative and immersive residency under the Southern Hemisphere's summer sun I'll be sharing some of the country's long established and surfacing creative gems I discovered along the way.
Part One: Camp A Low Hum
Taumata-whaka-tangi-hanga-kuayowo...
It's the middle of November and I'm on one of those everlasting Youtube adventures, from the warmth and comfort of my parents' modestly heated home, where I've been since graduating earlier in the year. It's an improvement on my last residence, but the winter is setting in fast and the reality of cycling in the dark, to and from a job in a hospital clinic where I'm continuously surrounded by coughs, sniffles, and wet lunged hacks, is destroying any spirit necessary to survive the next few months.
The video I watch is a highlight reel for a little known music festival I came across a few years ago while spying on a friend of a friend's holiday snaps on facebook.
What is it?... Camp A Low Hum.
When is it?... The Middle of February.
Where is it?... Wainuiomata. Just outside of Wellington, New Zealand.
Being the delirious sleepless hours of 2-4am, I find myself prey to a need to escape my current situation, an absence of long term commitments, the potentially destructive thought, that is, "THIS IS A SIGN!!" and a lack of waking brain power, which leads to the kind of logic and reasoning that can justify any spontaneous, late night purchase.
I wake up the next morning with a ticket to (what I shall now refer to as) 'Camp', a one way flight to Auckland, and a processing Working Holiday Visa application. I am to leave in two weeks time. Hello Southern hemisphere! Hello second Summer!
So, with this first entry, I'm offering you an insight into the world of A Low Hum, a DIY inspired institution/stronghold, founded by enthusiastic, mono-sylabled, bearded, Wellington based promoter, Ian Jorgenson, a.k.a. Blink. This worker bee has also recently opened a music venue, called 'Puppies' in Wellington, and released a book in the last year, called 'D.I.Y Touring the World' (an entertaining read full of anecdotes and useful tips from his own experiences booking and managing tours in North America and Europe).
Blink has a personable approach when it comes to communicating with festival goers. An email newsletter prior to the weekend reads more like an email from a well organised, no nonsense, yet humorous pal. I gather a better understanding to this approach once I arrive in the country: it's a relatively small place and it's tucked well away from the rest of the western world (save Australia). Really it's the perfect situation for nurturing any supportive community of shared interests. Everyone really does know everyone. They've played in each other's cities and crashed on each others floors. Many attendees have been attending Camp from the beginning, yet it openly welcomes a new generation of punters. With that in mind, Camp is run a bit differently to many small festivals. As stated on the website...
Seven different stages/environments.
Relaxed timetabling.
BYO.
Passouts/Freedom.
Respect to all.
No VIP areas or backstage passes.
No barriers infront of stages.
No media passes.
Every stage you can view from all sides.
A lagoon.
No sponsors.
Repeat performances.
Chaos.
No band announcements.
Close to 150 bands over 3 days. 70 of those on the "official" line-up.
Bands from New Zealand, Australia and around the world who aren't famous but rule.
No age restrictions.
Surprises.
Paradise.
CAMP
Note line 14, "No band announcements". A little internet research had led me to the conclusion that Thee Oh Sees, Mount Eerie and Pictureplane were among the international acts definitely set to play. I had my fingers crossed for Ducktails and Julia Holter (both, at the time, were touring the Antipodes as part of Laneway Festival). But that was it. That was all I could find. Until the arriving at the Boy Scout camp grounds, my main concern became finding others who were to attend (I should mention the only Kiwi I knew prior to departure had relocated to the other side of the Pacific!).
I was in luck, recently made pals who were attending included Matthew Crawley (an Auckland based promoter... interview here), Chris Cudby (one half of noise/dance/funtimes inspired, electronics act, Golden Axe), and Stevie Kaye (local music writer and DJ). A powerhouse trio of local and involved guides, with varying tastes, insights and experiences into contemporary and independent New Zealand music.

The Night Before
I arrive at the camp grounds in the dark, fresh off my first internal flight (Air New Zealand has the best safety videos!) and a couple of connecting buses. I am just able to get a hold of one of the guys who's reserved me a little space to pitch my tent. It is during this comical struggle in the light of a dim torch combined with the new tent that I meet Luke, a.k.a Disasteradio, a.k.a Eyeliner who is playing tomorrow. He's a technical whizzkid and we get the bloody thing to stand up, throw my bag inside and head up to one of the stages where there are animated, colourful shapes being projected onto a hillside and Pictureplane is DJing under a sky thats heavily populated with star traffic.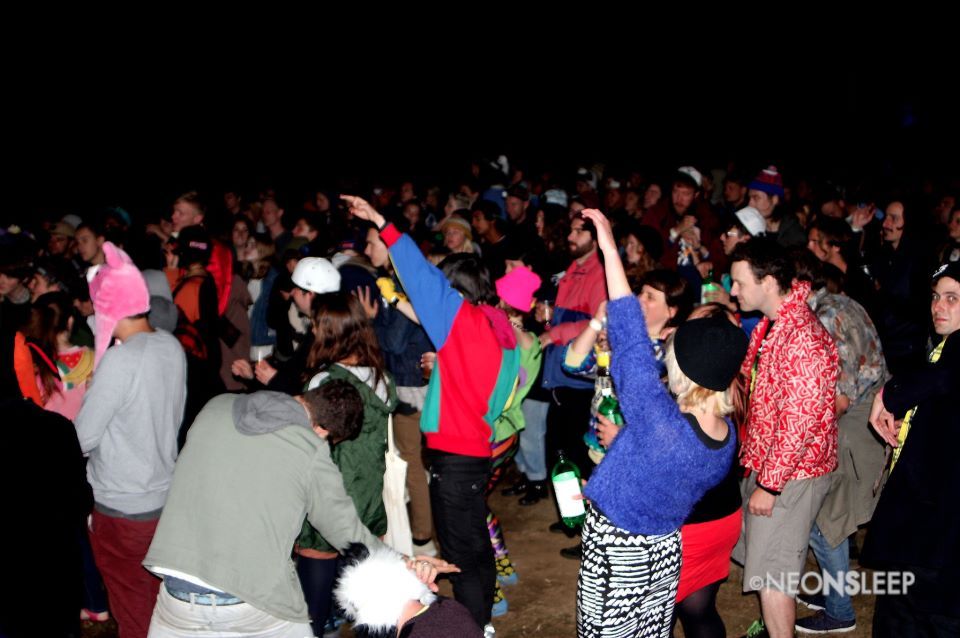 Reunited with my crowd I start pulling some shapes. It the most functional thing to do, of course, the temperatures really drop at night in the valley. Everything shuts down around 2am and we head back to the tents. We're still buzzed from dancing so I suggest a party in my tent. I am a heat vampire and initially this just seems like a good idea to warm my fits-three-bodies abode, but I figure it's also a good opportunity to make some new friends. About 6-8 of us fit in and someone plays some classic dance hits on their phone while we talk about goodness-knows-what and I get everyone to mark their recommendations of acts to check out this weekend on the programme.

Friday
Crawling out of the tent I am able to fully take in my new surroundings. I meet some of my group at a breakfast bap stand and make an interesting attempt of consuming this without losing the scrambled egg filling on our bush walk to The Journey stage. It's in this wooded area, with the vines, native bird calls, trickling stream and the dappled early afternoon sun filtered through the trees that Foxtrot, a Wellington based sound artist/composer is playing one of the first sets of the day. Ethereal, dissonant, reverb drenched, choral vocal loops engulf the area, seemingly coming from every direction. It's disorientating and beautiful and, occasionally, subtly jarring. Flo is relatively young blood on the scene and sits comfortably, for now, in the venn intersection of New Zealand experimental sound and slightly more intriguing support act for touring international acts (such as Baths and Dan Deacon), while she juggles her studies at The New Zealand School of Music and the recording of an EP.
A couple of hours later we arrive at the Forest Stage to watch Luke's performance as Eyeliner, a synthpop act that relishes in mundane nineties office aesthetics, a homage Muzak, with album titles/concepts such as High Fashion Mood Music. The remainder of the afternoon is spent meandering from stage to stage enjoying the natural surroundings and lounging in the shade of a bush overlooking the Lagoon Stage where Caroles (NZ) and Pines (AU) play.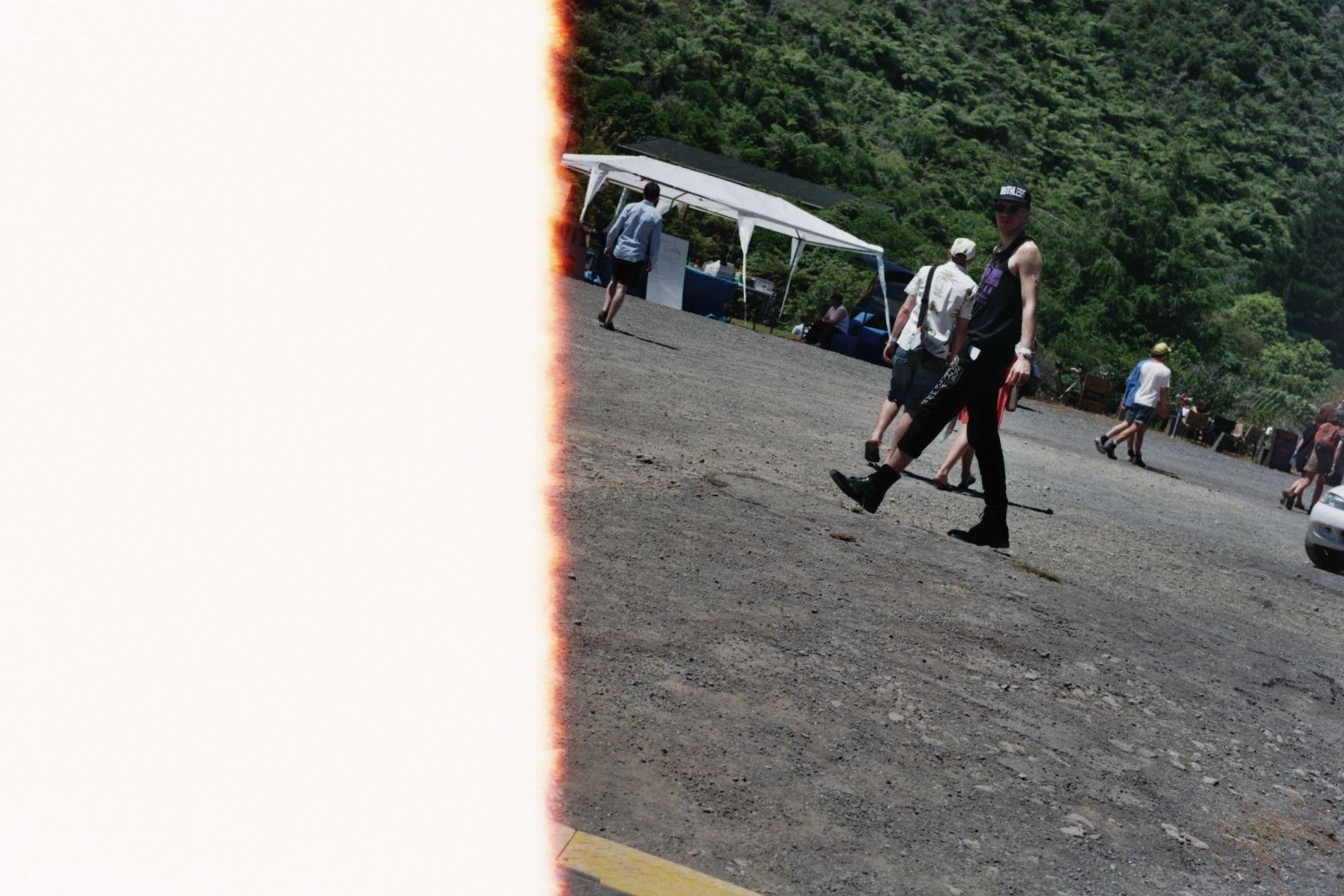 The highlight by far is Welington based throat singing/percussion/turntable trio, All Seeing Hand, which I can only describe as a deeply spiritual and sobering experience. A line of bodies draped in white and donning varying masks surround the performers. Mostly just standing. Omnipresent, haunting figures.
Saturday
It's back to the Journey Stage and we are soothed into the day with the lush, clear vocals of Hollie Fullbrook, of Tiny Ruins, a wholesome trio who have recently toured the UK and Europe, and been praised by BBC 6 Music and Mojo, among others. I was lucky to see them a few months previous, fresh off my long-haul flight in an equally beautiful setting at a cafe in Auckland, overlooking a park and the towering buildings of Downtown, at dusk.
Texan act Sleep∞Over, and young up and coming act, Totems (also of Caroles who played yesterday), offer differing but also great experiences in this elvin setting. Stephanie Fraciotti show's up again later, but this time in a last minute backing band pulled together by Phil Elevrum of Mt Eerie. The only practice they've had is during the soundcheck. This is one of the joys of Camp. Its protocal for the absence of barriers and VIP areas, acts as a catalst for a cross-pollination of creativity, the audience provides nurturing support and open minds to receive it. Later on we get our dance on to Leno Lovecraft, whose Bandcamp includes tags such as disco, experimental, glam, sex, New Zealand. Then it's Thee Oh Sees, who energy for live performance never disappoints.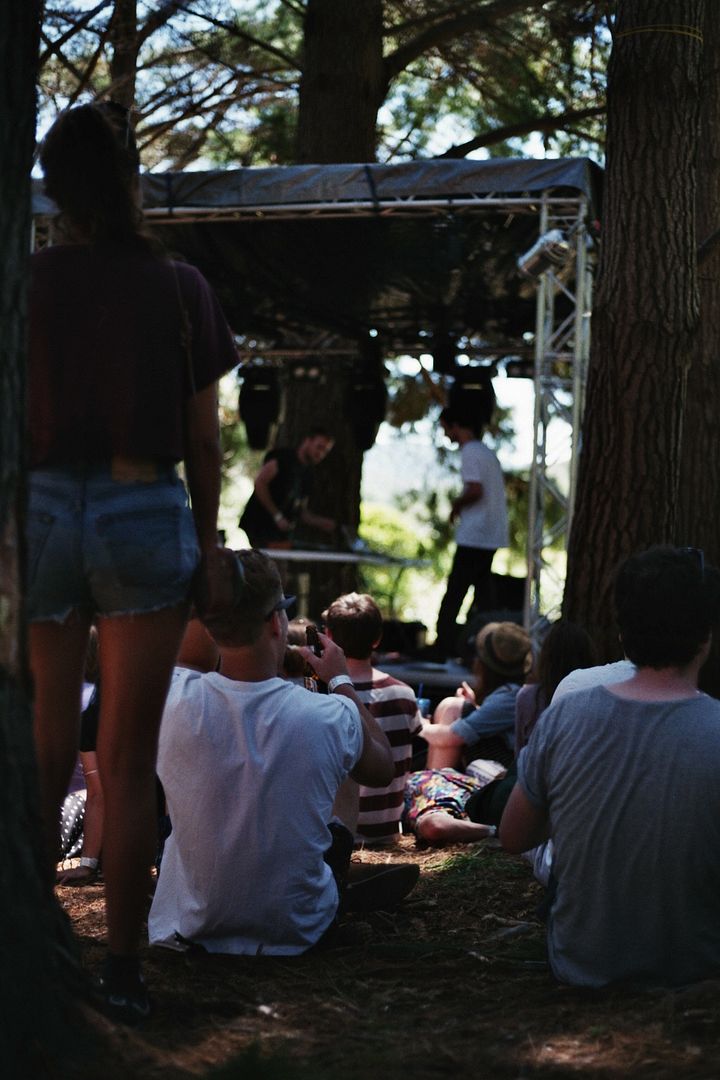 Sunday
If you think a festival that shows the same act multiple times would be cutting corners, especially when there are little clashes to speak of in the line up, you'd be wrong. Blink has this programing thing down to a fine art. West Coast Bullies for example are playing again today after being one of the lat on last night. They were on late. I am certainly stoked to see them again, slightly less hazy this time and I can see the waveforms of the backing tracks on the laptop (which is facing the audience, huzzah!), and fully appreciate perhaps coincidental openbook electronics approach. What this double programming also allows for is to give acts the opportunity to work with different settings. Mt Eerie played solo on the Journey Stage allowing the space for his more intimate catalogue.
Totems was promoted to a twilight slot on the Forest Stage, this time followed by Sleep∞Over, now bathed in the purple-blue rays of stage lights through the smoke machine. A special mention should be made to Brandon, who played several mildly erotic sets in several different bands throughout the weekend, including The Dobermen and Audio Tears. Only at the beginning of the month had he performed in all his bands as part of Brandon Fest! Which, from what I was told and what I heard conjured very fond memories of Hampshire's very own Sausage Fest. Also, Electric Fence, a drone metal act including an incredibly talented drummer boy of 10, Louis Amos, and his brother-in-law. He was so rock'n'roll that he played on his birthday and a speaker caught fire!
The party ends with Pictureplane, Szo Szo Modern (So So Modern), and Mongo Skato. We all wake late the next day. The weather, which has held out till now, finally breaks into a fine misty rain. The afternoon is spent in good old "windy" Wellington nursing foggy minds with coffee and Burritos. There are quite a few campers milling about town on the same wave. Some of them, luckily, don't have to have such a sudden withdrawal from the Camp experience, Blink has arranged for a series of just-announced shows at his new establishment, Puppies, that includes some of the acts that have played over the weekend. We, however, head back on our flights to Auckland.
*Pash - a verb equal to the british 'to snog'. Often used in combination with 'sav' (Savignon) and the mispronunciation of mexican flatbreads.