Azealia Banks' twitter account always makes for a interesting read, but last night it was fair to say that she was on top form as she announced she'd signed with Universal Records.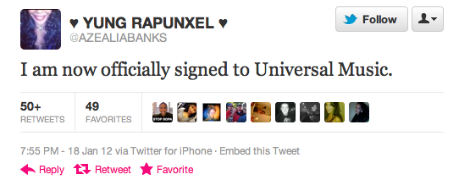 She followed this up with "Wow I just wanna drink a million bottles of champagne and do a million bell kicks right now" - which is understandable.
Regarding her supposed spat with Richard Russell when she turned down using his beats for her debut album, which led to the breakdown of her releasing through XL Recordings, she had this say:
"Gonna go pop up at @xlrecordings and do the Harlem shake in the foyer...Then me and @richardxl are gonna hug it out and play connect four."
She also announced that her debut album might be with us in May or June.