On the strength of last year's
Beast Rest Forth Mouth
,
Bear In Heaven
have vaulted themselves into the perpetual consciousness of the music loving community. With their blend of early psychedelic music and 70s krautrock rhythms, they've delivered a formula that should continue to deliver some interesting sounds down the line. We caught up with singer/multi-instrumentalist Jon Philpot.
Hello Jon. You've been on the road a while behind last year's Beast Rest Forth Mouth? Have you had a favourite moment?
There are so many moments… so I'll share one we just had. We just stopped to fill up and get a snack. Adam opened the door where some pre-made sandwiches were displayed and some super loud death metal screamed out in the quiet gas station. It was weird and cool.
How about a favourite city to play? You've done quite a bit of globetrotting; it looks like you've hit nine countries with a couple extensive treks across the States.
We don't have a favourite city yet. It's like picking out a new dress - we're still trying them all on. That being said, we had a great time in St Paul.
I was fortunate enough to see you at Harvest of Hope this past year and even in your midday time slot you were able to get the crowd moving. How is it different playing the new material live versus the songs from Red Bloom of The Boom? It seems like the older stuff would get a completely different crowd reaction.
Red bloom was spaced out. We were not interested in moving people, at all. We wanted to make noises, delays, reverbs, more nothings, less something's. Now, it's become a part of our music. As we continue building our live show it's becoming more entwined. It's fun.
In general do you have a different connection to the set of songs off of Red Bloom of the Boom? Despite their critical success, they never really caught on the same way Beast Rest Forth Mouth has.
I don't regret any of those songs, but we almost made them like we were getting something off our chest. Maybe we made them at the wrong time? Probably should have made them in the 90's. We just reworked a new live version of our song 'Bag of Bags 'and we might re-do a few more. We have to re-work them because we were 5 people. Now we are 3. Simplify, Reduce, Re-use. It's environmentally sound.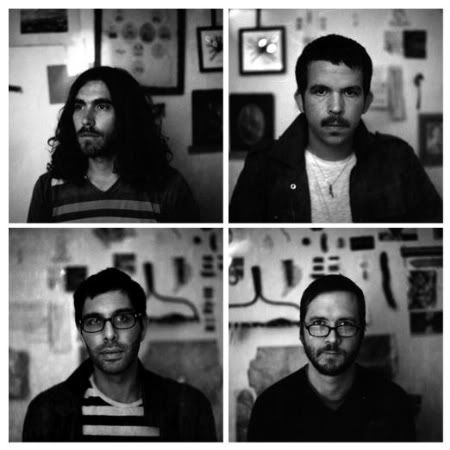 What is it like lining up the samples and the live drums? Is it like working with any other instrument or does it take a special sort of precision?
It's tricky. And we do mess up. We try not to… I guess it keeps us on our toes.
So far we've focused on the live show so on a different note, how does a Bear in Heaven song take its shape?
Lots of ways. It starts as a live loop or a drum beat or a sung melody. We then move into forming it's sounds, then we add some more notes, write some crappy lyrics, destroy the song, mellow it out, make it crazy, write some better lyrics, make it mellow and record it twice.
Do you write at all on the road? Or does it take a specific setting to get into a creative mood?
We're writing on the road. It's different. Kinda makes us work differently. But, that's not a bad thing. I like being confronted with different instruments and situations while making music.
Can you pinpoint any bands that had a direct effect on your style?
Giorgio Moroder, Human League, Tony Conrad, Robert Wyatt, Orbital, Sade and Led Zeppelin.
And other than music is there anything that has a tangible influence on your writing, lyrically or otherwise? It seems to me that there's an almost cinematic quality to your stuff.
Cinema is a big part, Adam and I have film making roots. Other than that, lack of sleep and the paintings of Charles Burchfield do a lot for me.
You can visit the band by heading to http://www.myspace.com/bearinheaven