Have you ever found yourself dazzled by laptop-glare, in the ailing moments of a caffeine high around 4am, while trawling the Internet for new music to adore? We all have – it's a vice; it's a burden we must bear. Scouring the web's hotspots for fresh sounds and then proudly displaying them for all to share is more than a hobby for us at The 405, it's a habit.
There are ways to make the process simpler, however. One of the most promising new methods for this is Beatclash; it's a brand-spankin'-new zone for lovers of noise. It's a completely fresh approach to discovering new music of the highest grade – it's not that's just new, it's music that's great; Beatclash achieve this by gathering suggestions from users and respected outlets, who curate the site's hottest content via the Reviewers function. They sort the wheat from the chaff so you don't have to – no need to slog through sonic dross anymore (though if you do fancy a slog, the Hype indicator helps you see what's blowing up right now). Combining the best bits of Internet radio, social networking and underground blogs, Beatclash serves to make those late-night (well, technically early-morning) states of delirium a thing of the past.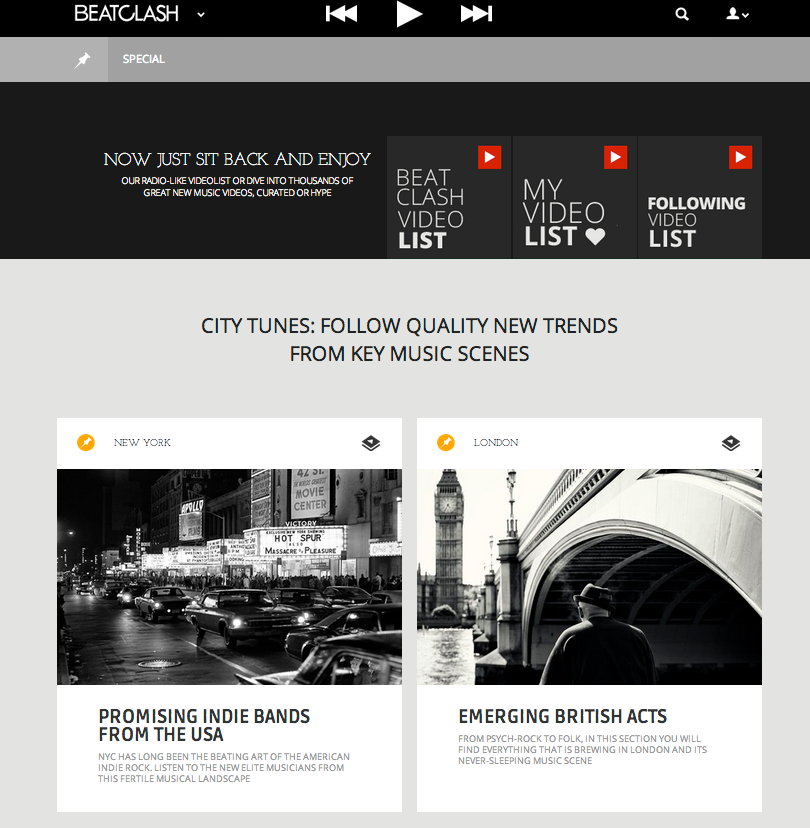 But Beatclash doesn't deliver the music by streaming in the standard way. It serves to guide your entire AV experience – the future of music, due to the increase of 4G and mobile technology, will become centred around the visual element, so what better way to delve into new tracks than by watching them unfurl before your very eyes? It's not just about listening to a song, it's about watching a skilfully crafted short film, a perfect representation of that sound designed by a handful of masterful artists, auteurs and up-and-coming directors. It's a more personal, memorable way of discovering new, quality tracks.
The first step to take when you arrive at Beatclash is to create a profile. You can sign in via Facebook or using an email address, and all you need to do then is fill in a few details (such as your favourite genres), and voilà, you're in. Find friends, follow likeminded sonic connoisseurs and discover white-hot tracks – make sure to check us out when you're all done! As soon as that's all complete, just click play and you can get new music poured straight into your ear-holes – it's that simple.
The Beatclash Radio is probably the first thing you'll come across – you can even use this without having a profile. Assembled using the site's complex algorithm, which re-evaluates all the videos available on the platform each week, ensuring the Hype Charts are indeed accurate, the Radio is split into three channels for your perusal – 'Beatclash', which airs the most Hyped videos, 'Following', which plays the favourited tracks of those you follow, and 'My Videolist', which should be pretty self-explanatory. In order to keep the music crisp and invigorating, and not just recycling videos, only songs less than 400 days old will be allocated a Hype Score – that way you always know what's on the precipice, either currently exploding or about to break. The best facet of the Radio is that it'll just play ad infinitum – no need to change channels, you can just leave it playing as you either explore the rest of the site or venture off to revise, socialise or whatever.
Another great way to discover new music on the site is to use the Reviewers function. Beatclash isn't just online radio, or a social network – it's also an editorial hub, where aural pioneers gather to recommend and review the world's cutting-edge releases. From esteemed bloggers to fervent e-journos, Beatclash has some of the foremost musical minds tailoring and guiding your new music escapades. If there's ever something you've managed to find before their cadre of tastemakers, pop along to the search function and add it to the database by recommending it to the staff.
The Special Selections is yet another method of engorging yourself upon the latest songs. In City Tunes, there are four primary channels, each taking their name and personality from a cultural metropolis: London, Paris, New York and Berlin. London and NYC offer up some of the best indie-rock either side of the Atlantic, Paris tells you what's going on in mainland Europe, and Berlin showcases the finest electronic music from around the globe. As well as City Tunes, there's the Guest Contributors Videolist, where you can view all the frontier-shattering clips added by the Reviewers – it's not often you get playlists this meticulously curated!
Currently on heavy rotation are Jon Hopkins, Tristen, erm, Steel Panther, and Holly Herndon – this isn't some mammoth YouTube-link dump, it's an intuitive, ingenious tool for discovering your new favourite music in its evolved, visual form, stuffed with options and recommendations from some of the industry's most respected voices. Why go through all the fuss and frustration of scouring the web or magazines for your new music fix when Beatclash can act as a one-stop-shop for all your cravings?