"Don't clap too much, I could be terrible"
James Yorkston's self-deprecation on Thursday evening said a lot about the show he was a part of. If ever there was an example of concert that yielded lots of unknowns, then this was it. Released last year, Beck's Song Reader was, perhaps infamously, composed only in the form of sheet music and aimed to combine tradition with technology to create an album for the digital age. In Beck's own words it was an album "to be pulled apart and reshaped" by the 'listener' who was encouraged to share their interpretation online. To this day no official recording of the album, or indeed any of its songs, exists and Beck has been reluctant to play it live. So when it was announced that the album was to be performed live at the Barbican, tickets were quickly snapped up.
The show boasted a stellar lineup, which added more mystery as to how the evening would play out. Was Beck performing every song with a rotating cast of collaborators? Was one half of the show to be musicians' interpretations and the other half the official versions by the artist himself? We were promised a diverse selection of musicians including; Jarvis Cocker, Guillemots, Staves, Michael Kiwanuka, Franz Ferdinand, Charlotte Gainsbourg and more. Each offered the enticing prospect of differing musical styles, which meant that the evening promised something for all tastes. We were not disappointed.
The format of the Song Reader show was not at all what I expected. For a start Beck was only due to be performing five songs that evening and for the most part each artist was performing individually with the specially assembled house band. Though there were a few interesting collaborations, such as when Beck, Joan As Policewoman and Conor J. O'Brien performed 'Do We, We Do' to close the main set. In many ways the show could, and perhaps should, have been billed as Beck presents Song Reader live.
I feel that the format of the show really helped to improve proceedings. Instead of hearing official versions of the songs, which would weaken the concept of 'Song Reader' by the very nature of their being a supposedly correct way of playing the songs, we were instead treated to a series of musicians offering their own interpretations. Even Beck's performances of his own material felt like interpretations.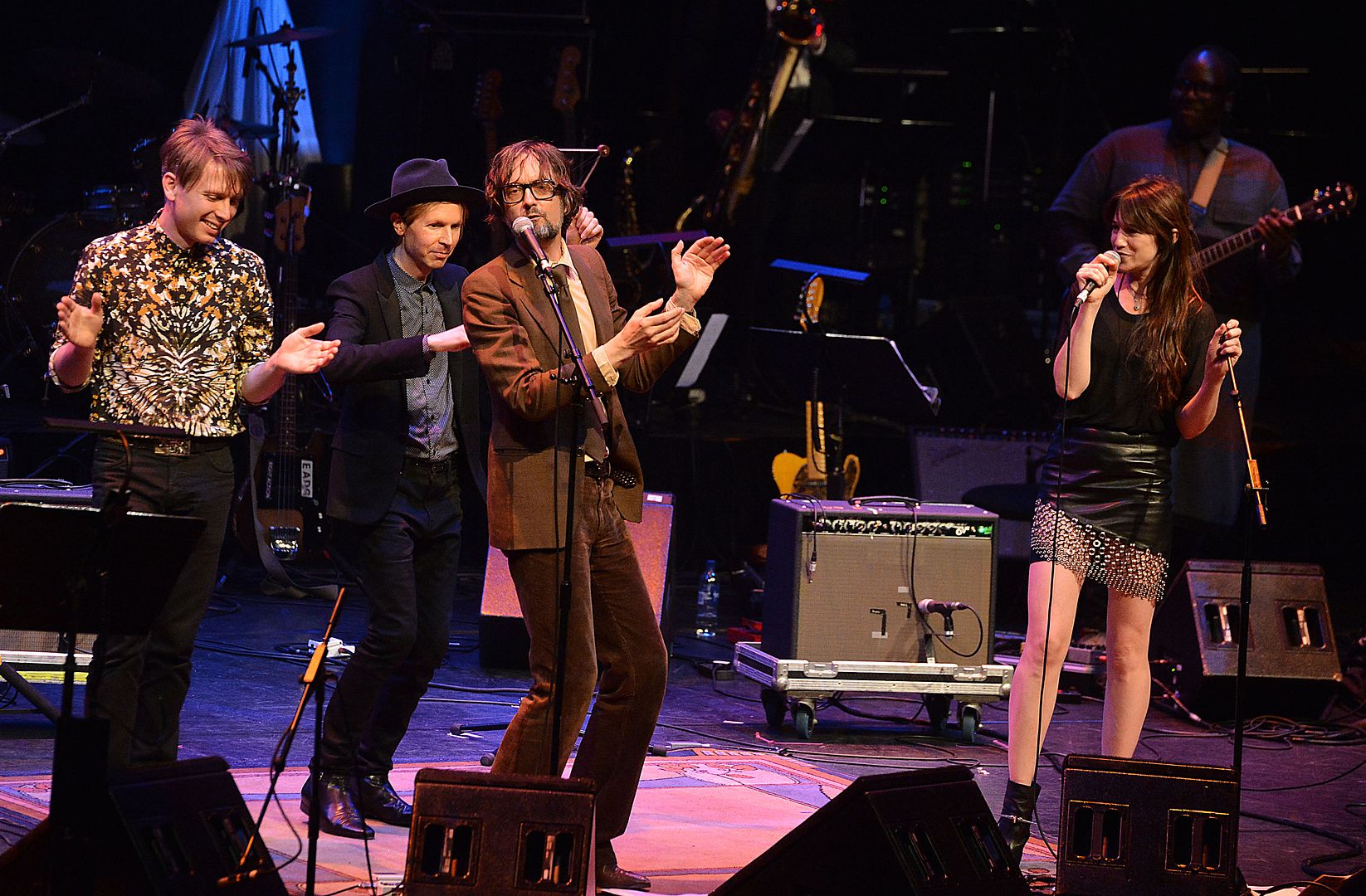 Each artist brought their own influences and styles to their assigned song. Michael Kiwanuka performed a soulful version of 'Sorry' that opened with him solo for the first verse and chorus. Staves meanwhile performed 'Now That Your Dollar Bills Have Sprouted Wings' with a strong country influence, which started with a cappella harmonies and ended with a raucous hoedown. Guillemots performed a dreamlike version of 'Saint Dude' that utilised guitar loops, dual drums and Fyfe's impassioned vocals in the first half, whilst the second half of the song was gleefully chaotic in a way that only the Guillemots can really pull off. 'Saint Dude' was the only song to be played twice, as Franz Ferdinand provided a spiky punk version to open the second half of the show. This helped to highlight the fact that all of the evening's music was malleable and shaped by the performers.
With so many styles on display that evening, it would have been relatively easy for the show to feel disjointed. All credit then to the house band, who really held the evening together. The band had been specially assembled for the show and its members could easily be described as leading musicians in their field. The band included; Seb Rochford (drums), Roger Eno (keyboards), Dave Okumu (guitar), Tom Herbert (bass), Terry Edwards (horns) and Leafcutter John (electronics). Ed Harcourt and David Coultier handled music direction and they most likely helped each artist shape and define their performance - something that Beck hinted at when he claimed that they had put the show together in just three days. Again, there was a range of stylistic backgrounds and this surely helped to make sure the band were able to tackle the various numbers and work them into a cohesive, almost soundtrack like, collection.
Trying to pick highlights from the evening is difficult. Each artist brought something unique to proceedings and the quality of the performances was fairly consistent throughout the night. Jarvis Cocker treated us to a rousing performance of 'Why Did You Make Me Care' that had him bounding around the stage to a Marachi inspired backing that was as melodramatic as it was energetic. The Mighty Boosh's comedic cabaret performance of 'We All Wear Cloaks' was hugely enjoyable, with lots of laughter and a stark contrast to the more serious performances. The four poets also deserve a mention for offering their own interpretation of the 'Song Reader' concept with Simon Armitage's 'Zodiac T-Shirt' delivering the evening's most beautiful moment to an appreciative audience.
I was perhaps a little disappointed in the way that the music tended towards more traditional genres. The electronic instrumentation provided by Leafcutter John was minimalist and there were a lot of performances taking inspiration from jazz, blues and Americana. Beck's own renditions called to mind classic Springsteen albums, and for an artist known for innovation there was nothing that evening that came close to the wild material of Odelay or Guero. However, I may have been looking for innovation in all the wrong places. Musically it may have been traditional, but conceptually it was highly experimental. The show felt like a real one off. Beck may do more Song Reader shows, but it won't feature the same lineup and he might not even perform the same songs in the same way. We may have seen Song Reader live but we are still no closer to understanding what these songs sound like. I left the Barbican on Thursday having just bought the sheet music and determined to finally pick up the guitar again just to see what I can do with these songs. I like to think that means the project and the show is an incredible success.