Welcome to the second edition of 'Behind The Art', which has been taken over by writer Stuart Fowkes. He explores the latest work by Amon Tobin, Gunning For Tamar, Kogumaza, Sleepy Sun & more.
If you have any suggestions for us, please send them to hello@thefourohfive.com.
Amon Tobin – Amon Tobin (box set, Ninja Tune, released May 2012)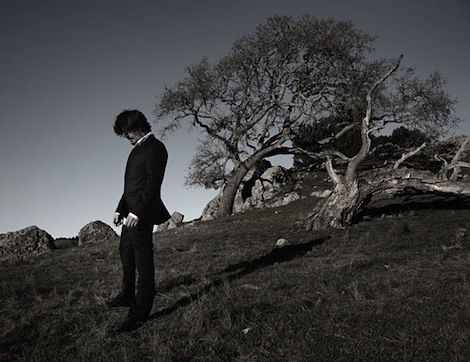 Amon Tobin has always been an artist who takes the most meticulous care over how his music fits in with its accompanying artwork and visuals, so how do you go about developing that kind of vision as a designer?
His latest release is next month's super-deluxe box set, weighing in at seven CDs, two DVDs, six 10"s and what seems like days of unreleased music, all held together by screws modelled on the mechanism of a flower press. According to designer Ewan Robertson, who also designed last year's Isam sleeve, "we felt that most box sets look like chocolate boxes or perfume boxes and wanted to do something a bit harder and more industrial in feel. To open it, you have to physically unscrew the box set, so it's an effort to get into but there's a reward once you get in - we felt that this really reflected how you need to approach his music."
The brief from Amon Tobin was fairly open, since the designers had worked closely with him on the aesthetic for the previous record, though he checked in at every stage after seeing an initial sample of the set backstage in London in November. Ewan reflects that "the physical process of making the set also reflected Amon Tobin's music: there's lots of drilling, screwing and processing, so it felt similar in aesthetic to the focus on raw material and how it's processed that can be heard in his music." It may set you back a hefty £110, but there's a lot of love in this little box.
****
Gunning For Tamar – Time Trophies EP (digital watch & download, Alcopop, 2012)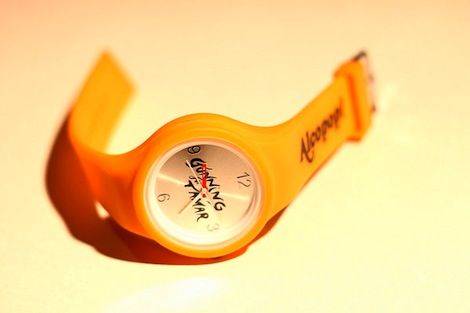 It seems that with everyone keen to knock the last nail into the CD's coffin, bands and labels are turning their hand more and more to increasingly-bizarre new formats to grab our attention. We reckon, though, that this is the first record you can use to tell the time, short of standing a CD up on its end and using it as a makeshift sundial. The title track gave the band the idea of releasing the EP on a watch, working with Alcopop throughout the concept and design stages.
When we presented accusations that this was just gimmicky marketing to vocalist Joe Wallis, he claims that "it's better to think of it as different ways to keep your fanbase excited, and I think creating releases that aren't quite along the normal lines is what's really special about independent labels." So far, their musical timepiece is proving a hit, with their fans emailing and tweeting pictures of themselves wearing the watches. The tunes aren't doing badly either – as Joe says, "it'd be sad if people were saying 'cool watch, shame about the songs.'"
****
Various - Brave New Wales (limited-edition CD, Fourier Transform, 2011)
'Beautiful music, beautifully packaged' is the motto of Oxford/Wales-based label Fourier Transform, whose catalogue includes an early album that comes in the form of a map and coordinates to discover where in the UK your copy has been buried. As label founder and designer Simon Minter puts it, "the label isn't concerned with any notions of mass markets, popularity concepts or traditionally bracketed genres – instead the belief is that music/sound that appeals to the listener is beautiful by default." Talking passionately about releases assembled from PVC slabs and electrical wire, he baulks at "having to resort to the horror of jewel cases or standard digipacks."
Brave New Wales, the latest release to roll off the meticulously-attended Fourier Transform production line, showcases some of the newest, and frequently weirdest music to come out of Wales, in a three-CD limited-edition box set numbered by the inclusion of raffle tickets. An enclosed map shows the location of every artist in the set to mark out that this sprawling range of music and genres hails from a geographically-small area. Similarly, the photographs in the set were taken by the label's owners on treks across Wales, to highlight how the landscape's diversity mirrors that of its music.
****
Sleepy Sun – Spine Hits (ATP Recordings CD/LP, 2012)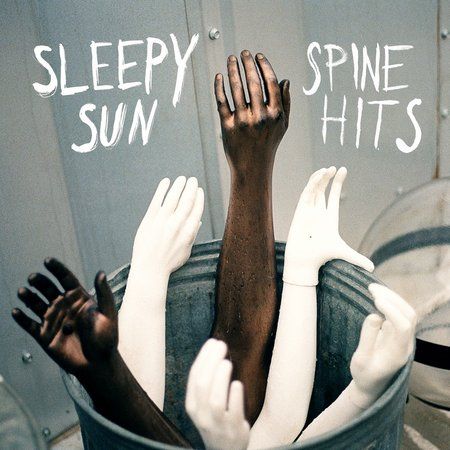 The sleeve for Sleepy Sun's third album Spine Hits is one of the more arresting cover images of the year so far, standing out in its simplicity but with a jarring, unnerving quality to it that means the image stays with you.
When we spoke to guitarist Matt Holliman, he told us that it was all the work of California-based artist Bobby Furst: "He has this extravagant compound out in Joshua Tree which consists of his residence plus a few Quonset huts filled with his work, parts and supplies, "junk", machinery, antiques, etc. This composition was one of his many outdoor pieces." The concept for the sleeve didn't run alongside the album production, coming in at the eleventh hour – Matt tells us that the band had run through a few prior ideas "but weren't completely satisfied by the time we finished recording'. Previous albums had been left entirely to the artists' discretion under the direction of 'create what you hear', but the band were more involved this time around. Matt adds that Brian Tice, the band's drummer, 'ended up going through many rolls of film while we were out in Joshua Tree and the cover shot was taken on the last day."
And how does this slightly-creepy image fit in with Sleepy Sun's music? He refuses to be drawn on this and remains cryptic: "We all have our own thoughts on how the composition worked with the music. It's important for the listener to do the same."
****
Kogumaza – Kogumaza LP (Low Point Records, 2011)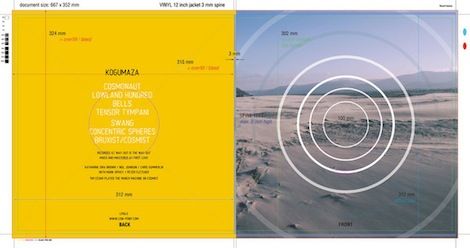 Generating two side-long slabs of cyclical, looping grooves and pulsing noise from two guitars and one drumkit, the Kogumaza album was going to need artwork that reflected the endless throb of their music. Following the great post-punk tradition of anonymous sleeves without so much as the band name visible, Kogumaza needed an image that somehow stood as a shorthand for the band and its music.
Guitarist Chris Summerlin, who designed the sleeve, claims inspiration from the Maestro Echoplex the band used during mixing: "I think the logo must have sunk into my subconscious as it's the six concentric rings we used on the sleeve in the end. I wanted those rings to either draw you in to a spot on the sleeve or give the impression that that point is expanding out of it somehow. The rings can either be seen as focusing in on a target or expanding out from it and I think that's the way our music should be heard – very small ideas and motifs that are focused upon and expanded out from."
As well as designing record sleeves and playing in the band, Chris has also worked as a noted designer of gig posters featuring everyone from Low to Mudhoney, but he explains that he's started to wind down the poster side of his design work: "I feel like we're entering a time where people who make music aren't being respected and, as a musician as well as a graphic designer, I don't want to contribute to that in any way. To me, it's absurd that a gig poster designer can earn more financially from a gig than the opening band does. As someone who makes music I can't support that and this culture of gig posters as a more important artefact of live music than the live music itself is contributing to the decline of live music as something important that has the potential to really change a person's life."
"The piece of art for the show should never lose touch with its purpose as an advertising and informational tool. So for me a record sleeve is less about advertising than a gig poster is and it can usually be more enjoyable to do because of it. There is often a heightened sense of pressure because of the permanence of the sleeve and how you're dealing with creating a visual counterpart to what is often someone's life's work but that usually makes the process more rewarding at the end. I love doing posters and sleeves but sleeves have the potential to be more fun."
www.honeyisfunny.com/kogumaza