Welcome to the fourth edition of 'Behind the Art', our columnist Stuart Fowkes' exploration of the stories behind some of the best new music artwork out there. This edition tells the stories of new albums by The Knife, Wire, The Besnard Lakes and Wolf People, via UFO documentaries, £1,000 special editions and synchronised digital dancing.
If you have any suggestions for the next column, please send them to art@thefourohfive.com.

Wire - Change Becomes Us
"I think it's really important to make nice objects, but it also doesn't really do one's ego any good to get an over-inflated idea of one's own worth. If what we are worth to someone is £7.99 then that's fine!" Wire's Colin Newman has been around for long enough to be realistic about the different ways people consume their music. For all the Wire fans snapping up one of four special editions of their latest album Change Becomes Us, of course there are probably another ten picking it up on iTunes – all fine for Colin, since "one can have a profound musical experience with an iPhone and a pair of headphones. I understand perfectly well that for some the rest is fluff!"
Wire, though, have been responsible for some album covers for which that hallowed adjective 'iconic' might be reserved (as one look at Pink Flag will remind you) - Colin reaffirms its importance as paramount: "Our most successful artwork contributes to and reinforces the aesthetic which defines the band."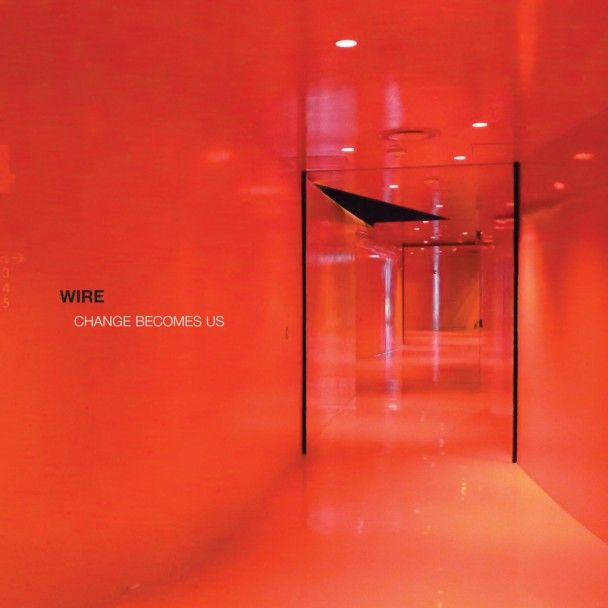 Change Becomes Us sits at an odd crossroads for Wire, released in 2013 but revisiting songs from just after 154 - so how does the artwork reflect this? Designed by Jon Wozencraft, who first worked on Wire's Manscape, the distinctive red images are of the public library in Seattle. For Colin, the artwork fits in with the music, but "not in an overtly obvious or even conceptual way. The title is 'Change Becomes Us' - it's self-referential in a way that I don't think Wire has ever been. In the title, "change" = "Wire". We often refer to Wire in terms of its one consistent conceptual backbone: it changes. So it's about "owning" Wire. There's also a double meaning about "change" suiting us but this just allows for the title to be a little to be more playful, which is no bad thing."
"The "change" element in the cover is that it is very different to previous Wire covers. The album that came before it (Red Barked Tree) had a slightly faux-vintage look that connects to something like Chairs Missing, there was also an element in that the image played with the transformative aspect of the title track. Here there's no conceptual link to the music."
For the artwork, Jon usually offers a diverse set of images for the band to choose from and Colin says of the final images that they "jumped out of the screen. I immediately thought they should be both full bleed and glossy on the sleeve in a way that the image would be unavoidable and stand out in any situation. The whole thrust of the artwork across the various formats then had to be about preserving that."
As well as the usual vinyl, CD and digital formats, there are four special editions with various goodies slotted in alongside, available from Wire's own Pink Flag emporium. The pick of the bunch as far as we're concerned? Try the album accompanied by a guitar played by Colin, and a chance to play in a Wire guitar orchestra in London. As special editions go, at a cool £1,100, that takes some beating.

The Knife - Shaking The Habitual
With artwork as striking and challenging as the music itself, you're not going to miss The Knife's new album on the shelves in your local record store, to say the least. Designer Martin Falck's intention was clearly to shake things up and unsettle the listener before they've even given the record a spin, but he also developed a calculated "feel of trial and error, of an open design whose first aim isn't to be perfect. We didn't want to create a slick and generic album design."
A comic designed by Liv Strömqvist lays the groundwork for the whole album design, with posters folded so each fold contains a square from the comic. On top of that, Martin created a typeface from Liv's handwriting called Live Fraktura: "We did this because there's not a lot of typefaces made by women out there. Karin and Olof [The Knife's members, y'know] also talked a lot about this Swedish prog rock record from the 70s that they listened to a lot as children, which also had a comic on it, so for the LP release we went in that direction. Unfortunately for the CD version,there's not enough space!"
Karin and Olof chose Martin and Liv to work on the design, and the process was open throughout, with band members and designers alike throwing ideas around. It wasn't a quick process, though, according to Martin: "Creating the idea and the feeling of the album took approximately two months, and then the actual production took almost half a year. It was a pretty complicated design and a lot of different editions [one- and two-CD editions and a three-LP vinyl]. These all contained different folds of the poster, which was quite big and we had to find the right paper, the right transparency (you know, all that boring but important stuff!). The albums were produced on three different continents and we had to make sure they looked exactly the same all over, which was a bit complicated."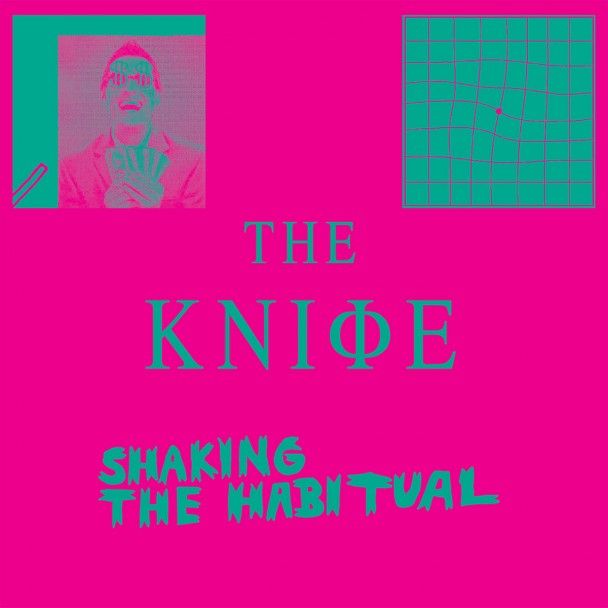 Martin thought long and hard about the aesthetic of The Knife's other releases before starting work: "for me the Knife always had this "dark-goth-witch-trance-gloominess" feel to them that I wanted to step away from, but when I looked through their releases I realised most of their covers are in fact very colourful and playful. Somehow Silent Shout is the album that I remembered and sort of "reacted" to."
Image is obviously something that matters deeply to The Knife, but for Martin it's an old-fashioned term, though he believes you can use design as a tool to channel your audience's expectations: "You can control them like Daft Punk's Random Access Memories - that cover doesn't let anyone down, but it also doesn't open up for something new. You know exactly what's going on and what to expect from the music and it's a fantastic looking piece of cover art, but very safe. Or you can create a myth about yourself like Salem did with their King Night cover. This is one of my favorite album covers because it just keeps on expanding... dreamy, smart, mind-opening and provocative. Seeing and hearing are two of the most connected senses. You can really change someone's impression of something when it doesn't look the way it sounds or vice versa."
Wander around the metro in Martin's hometown of Stockholm and you'll see huge digital advertising screens glowing everywhere - permanent inspiration for a graphic designer: "Imagine tired office workers going to work on a Monday morning, seeing a totally normal ad for the latest issue of Vogue and the person on the cover blinks back at you, or starts to walk out of the cover. I'd love to do a digital cover for a hard copy release. That would be so cool to see them in the store - synchronised dancing!"
Synchronised dancing on the next Knife album cover? You heard it here first if it happens.

The Besnard Lakes - Until In Excess, Imperceptible UFO
Montreal's Besnard Lakes are a meticulous band in their approach to everything, their album artwork as studied as the sweep of their music. They've succeeded in creating an artistic style across their last three records that's unmistakably their own, with Jace and Olga from the band coming up with a concept, and then artist Corrie-Lynn Tetz painting it - both Dark Horse and Roaring Night work as pieces of artin their own right, and their fourth album is another stunner when seen in its full 12" glory. We spoke to Jace and Olga about how they work together.
The concept this time around, explains Jace, came from watching a lot of UFO documentaries: "I was watching a lot of UFO documentaries. Some of them have some pretty far-fetched ideas, one of them going so far as to imply that aliens are Satan's black angels flying up from hell to fuck with us! Many of these documentaries had these great images of white light emanating from spaceships to illuminate old barns or houses - really striking images, eerie and mysterious, perfect for us. So I thought it might cool to show a house engulfed in that mysterious light, down the river from the setting of the Roaring Night cover to tie it all together. If you look into the distance on the UFO cover, you can see the radio antenna from the Roaring Night cover."
Corrie describes the design process as: "They usually give me some images to look at, this time it was a Black Sabbath album cover and some stills from an alien abduction movie. I think for all three records the process has been: Olga makes the three of us dinner, we get drunk at the kitchen table and at the very end of the night they tell me their vision for the cover. Then I go home, paint it and cross my fingers they like it."
The original artworks are small canvas paintings, which are straightforward enough but take a few weeks or a month to complete: Corrie then paints them 13" x 26" so when they are scanned and printed on vinyl jackets they are at the same scale.
The aesthetic running across all the band's artwork is obvious given that the same artist is responsible for painting all three, but Jace says the band are also "pretty aware of how the albums would look together as a collection, and try to create common threads that tie the album arttogether. I love how the artwork can almost 'speak' for a band. If it's well thought out, the artwork can help to define their ethos, with or without band portraiture. It's exciting to me how the visual image can send a hint to the listener, but since it doesn't directly 'speak', it only suggests, the listener can impose their own meaning - and this collaboration between artwork, band intention and listener interpretation can achieve some very unique and interesting results."
As a result of this finely-tuned attention to artwork and how it interacts with music (as well as straight-up beautiful images), Corrie tells us that The Besnard Lakes attract "a lot of old school, record collecting fans who email and try to buy the paintings or get prints" - surely the last word in compliments for a designer.

Wolf People - Fain
You can collaborate as closely as you like with a designer, but it's never quite the same as having a polymath within the band who doubles as a graphic designer and puts together the artwork themselves. Wolf People guitarist Joe Hollick is also a freelance designer, and put together the artwork for their latest album Fain, a dark treasure-house of hand-collected ephemera.
The band see Fain as a showcase of them at their most stripped-back and basic, so Joe wanted the artwork to be "dark and murky, as if you have to peer into it rather than have it shout at you. The most important way it fits in is the fact we had a huge chat about the band and where it was going a while ago. It puts a huge strain on our jobs and families, and we all realised that we only do this for sheer love and enjoyment, and if we don't enjoy it now, we will regret it forever. In our present music industry climate, there's no monetary gain or fame to be had, and we don't care about that, it's just about what we get out of it emotionally. This is why Jack called the record Fain, an old English word for giving thanks, doing things 'gladly'."
"I wanted the cover to represent this feeling: all the ideas and riffs are carefully made with a lot of effort and love, they're whittled down over a long time. With the sleeve I wanted to represent this with objects from our own family houses, they too have been collected over time and are presented here in a proud and composed way."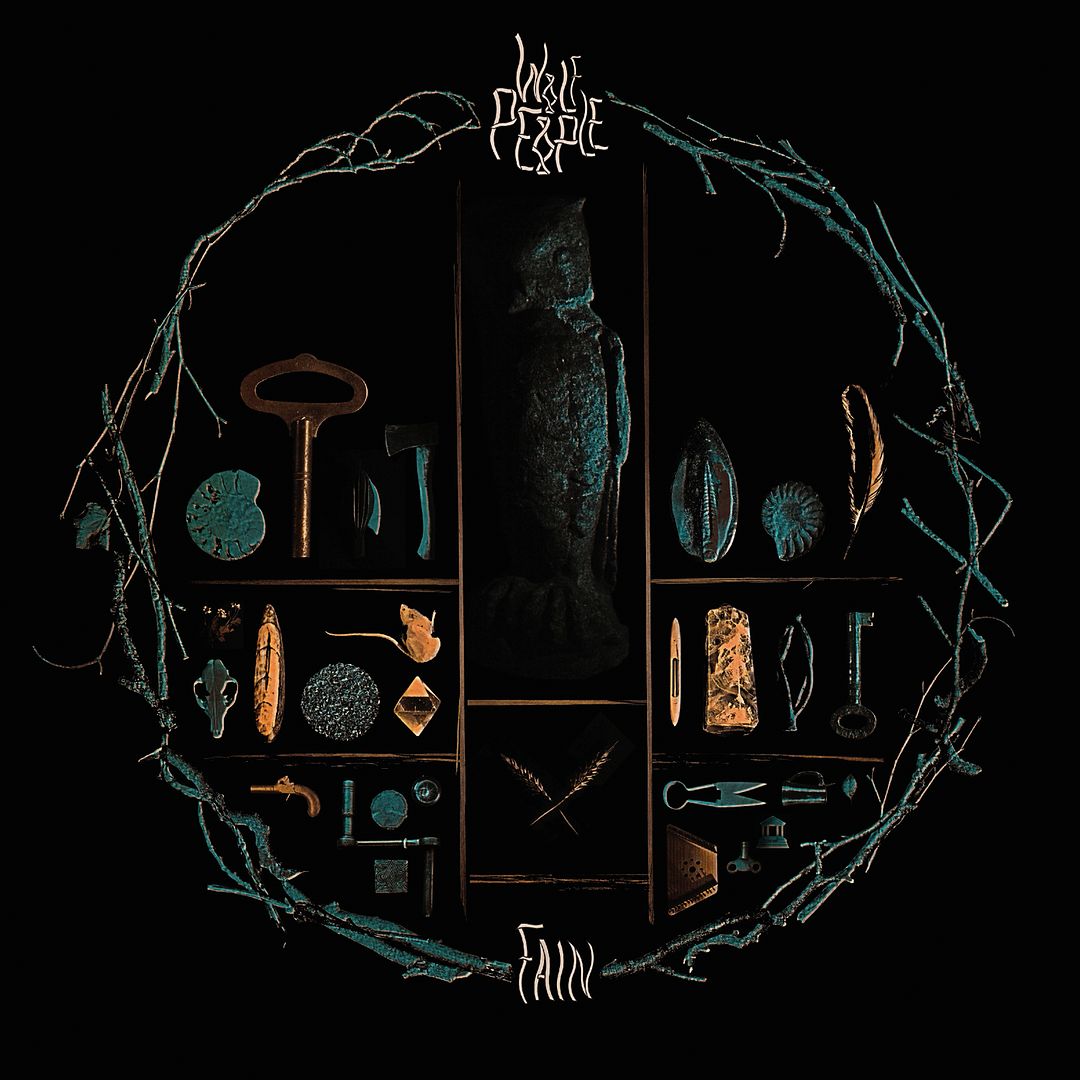 That hand-composed look was of critical importance not just in terms of how the record sounds, but also how Joe works as a designer: "I work a lot with computers at my day job, and I hate them with a passion, especially the way jobs have to be rushed out and often have to have hand-drawn touches faked to save time. I relish the opportunity to use processes by hand in my spare time, so with all the sleeves I've either drawn, made models or painted on glass, or as with Fain, photographed stuff, cut them out and put them back together. I like to get messy and do things that are tactile and feel as far away from a mouse and keyboard as possible, like being a kid again messing with Plasticine. I'll only use computers to scan in and tweak the colours, but I try to keep that as the end process only."
If you were to imagine the perfect apprenticeship for a record sleeve designer, you could imagine few opportunities better than working for the late Storm Thorgerson, as Joe did some years ago. He describes this as "not only an incredible opportunity, but a crazy and rewarding experience. Seeing and holding all the original works in studio, including the outtakes and offcuts just showed how immersive this whole area is, and just how much work and effort goes into creating something that has the huge responsibility of representing the product inside. It adds value to a record, it helps shape how you visualise the sound, even sleeves with no concepts or grand idea attached to them still add to the record at some level."
Joe's enthusiasm for his artwork is infectious, so it seems fitting to conclude with his take on what album artwork means for a band as a whole, rather than just on a record-by-record basis:
"What I do find interesting is that a band's artwork is a badge, it's a poster to show off on your wall, it's the way of projecting your taste to others when you don't have a device to play them the sounds. I remember agonising over the posters I put on my wall at university - they had to represent me. If you were carrying records on a train or bus home, it would occasionally get a conversation going with a complete stranger; it's the same with avatars and profiles on internet forums. It'll still be used as a badge: just the medium will change. People bemoan the end of the gatefold sleeve... that's a myth, there's still amazing artwork being produced, you just have to look harder."
Head here to read the previous edition of Behind The Art, which features Slint, Sigur Rós, Alt-J and Guardian Alien.