The news of Joanna Newsom's return with her fourth album, Divers, has left us tingling and excited. Alongside, the record's artwork teased by her label, Drag City, has caused just as much titillation as the 11-strong published tracklist.
Unlike the covers of Newom's previous long-players, the singer-songwriter does not feature on the Divers artwork. Instead, a beguiling image titled 'Wildflowers 52i' by artist and former NASA thermal engineer, Kim Keever, takes centre stage. To our eyes, it comes across as a blooming edge of a precipice, which overlooks some sort of menacing explosion at the bottom of its drop, but with a hint of optimistic morning sun coming up to shine on the whole momentous scene.
The 405 approached Keever to find out a bit more about the image and the series from which it is taken, as well as his experience of working with Newsom on the artistic representation of Divers. Here's what we found out.
. . . . . . . . . . . . . . . . . . . . . . . . . . . . . . . . . . . . . . . . .
Hello Kim. You created 'Wildflowers 52i' in 2008. What can you tell us about the origins of your Wildflowers series?
I had seen a nature special which talked about how flowering plants originated in China and did not migrate easily to the other continents because, at the time, some millions of years ago, the continents were splitting apart. A botanist had stopped his car along a country road in China and pointed out about 150 species of flowering plants that only found their way to England and America through trade with China in the nineteenth century. I found the idea very poetic and inspiring. I think of the Wildflower series as that point in time, millions of years ago.
How long does it usually take you to set up the scene for your shots and was the Wildflowers series typical in this respect or was there a different process used for this particular piece?
For this series, I collected small plastic flowers over a period of two years before I began the project. Building the scene took another couple weeks. This is the way I have worked for most of the landscape projects. Occasionally, a project will morph into several variations of the same landscape.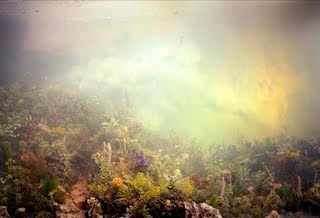 As you shoot on analogue and don't subsequently enhance your shots digitally, were the results for this series concordant with what you had in mind when you set out to explore this theme or were you surprised when you saw how the images turned out?
I was very happy all the way through the project. It all worked very well, perhaps because there was so much forethought involved. I often felt like I was standing on that hill as I made the photographs.
When were you approached by Joanna Newsom to use your work on Divers?
Joanna got in touch with me concerning the album about a year after she bought one of my works from a show I had in New York. We continued through email over many months as she placed the right images for the songs.
Was it this particular image which Newsom had in mind for the record's front cover or did you explore others as well?
I gave her a good sized selection of the best landscapes to choose from and she made the decisions. The Wildflower series has always been popular and I always liked the background poetry of the idea.
Were you familiar with Newsom's music before being approached by her?
Almost everyone I asked later knew Joanna's music, but I wasn't very familiar before the project began. Naturally, I have become familiar with her music and her amazing ability and quality of word play.
And finally, what are you working on at the moment?
I have generally reduced my paint in water idea to just that, paint in water. This has been a wonderful new direction for me in terms of color and form. I'm pleasantly surprised to find out just how random the paint begins to flow through the water as it disperses through the tank.
You can see more of Kim's wonderful art and the process behind it at www.kimkeever.com. Check out our Joanna Newsom Essential Playlist here. Two questions in this interview were removed at the request of the artist (Newsom).