The weather was supposed to ruin everything. A frightening forecast warning of a forthcoming lighting storm loomed right above the festival dates as music enthusiasts and festival goers prepared for the worst. The second annual Bestival Toronto was slated to take over the city's picturesque Woodbine Beach the weekend after rain had washed out festivals like Governors Ball so a similar fate was expected. But sometimes the unpredictable Canadian weather can turn out to be a positive thing. Sometimes when it's supposed to rain the hardest, the sun will shine the brightest.
That's precisely what happened during Bestival weekend, when the "summer of love" theme enticed 15,000 Torontonians to the city's east side, decked out in their millennial-meets-hippie best, for a diverse and eclectic line-up consisting of Jamie xx, Grimes, Odesza, Daughter and Tame Impala, with a headlining set from The Cure. Acts were scattered over the grounds between the Big Top, culturally appropriative Bollywood stage and the main stage that the entire dreamland centered around. The air was stiflingly humid, beer was surprisingly cheap and people began dropping like flies in their flower headbands and zany costumes before the sun began to set and things got magical for those that made it through the day without heat exhauston.
Day One saw back-to-back sets from Jamie xx and Odesza, who delivered lively mixes to frolicking fans. Jamie hunched over his equipment, blending an unpredictable arrangement of music that went from eastern flute music to '90s dance classics. Of course, Drake's 'One Dance' was thrown into the middle of things, because if a DJ comes to Toronto and doesn't spin any 6 God, were they ever really here? Odesza showcased their newly-arranged live experience, backed by a band, with new emphasis placed on brass instruments like trombone and trumpet. They delivered reworked versions of their own cuts such as 'Faded' and 'Big Girls Cry.' To round out the night, psychedelic alt-rockers Tame Impala took things to peak-trippy with gorgeous instrumental breakdowns and kaleidoscopic visuals as the Aussie band ran through Currents material. Although the sun had disappeared, Kevin Parker was still amazed at the day's temperatures. "I didn't know Canada could get this hot," he said.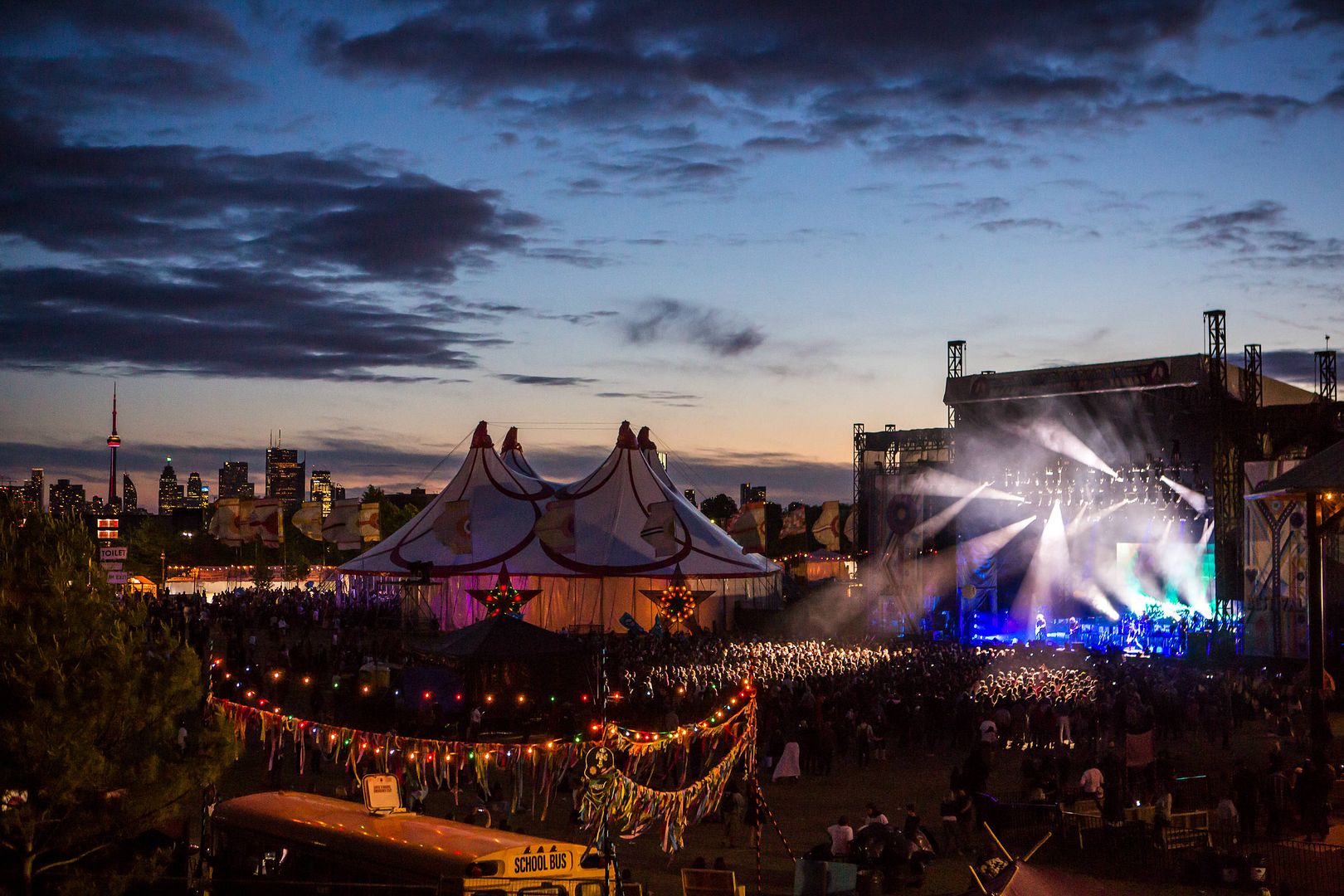 Day Two came a little differently, with a cool breeze and good vibes blowing through the recently clean grounds. After a night of binge drinking in the hot sun, things were a little mellower on Sunday afternoon when reverb-heavy indie band Daughter took the stage to deliver their minimalist brand of shoegaze-lite with accompanying haunting vocals from Elena Tonra. Only quirky Canadian Grimes could fly onstage, joined by a trio of back-up dancers, to completely erupt any gentle vibes. On her home turf, the experimental pop star (and recent Polaris prize nominee) felt comfortable enough to disclose that she was actually pretty sick. "I have a cold so if I sound like shit, don't judge me," she said. Not a soul there could. She jumped between instruments and bounded around the stage, offering a raw and powerful performance, which welcomed live versions of Art Angels cuts like 'Flesh Without Blood' and 'Realiti,' as well as older favourites like 'Genesis' and 'Oblivion.' The weekend ended with a two-and-a-half-hour set from legendary new wave five-piece The Cure, who delivered every single hit and everything in between, despite mass amounts of technical problems, (that were beyond their control.) And everyone left buzzing from the music, their sunburns and whatever substance they decided to take that weekend. Bestival win.