In one of the biggest gaffs ever, a recent leaked email dating back to May 27th 2013 from Arkane Studio's creative director Raphael Colantonio was published by Kotaku and NeoGAF.
In a preceding email, Raphael Colantonio informs his studio that Bethesda / Zenimax has greenlit a reboot of Prey 2 for development, under the premise of it being a 'spiritual successor to System Shock 3'.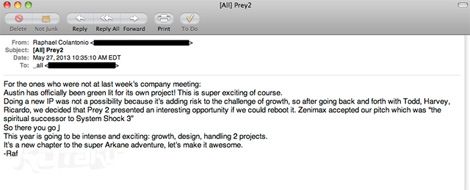 This basically undermines the denial that Bethesda has fronted that Arkane Studio's aren't working on Prey 2 or any game for that matter. They actively misled the gaming press to cover up for this game for... reasons?
To make matters worse, in a second email following leaked news about the game, Raphael Colantonio gives his opinion on the people who write about, preview, review and pretty much promote his games; According to Mr. Colantonio, journalists in the gaming industry seeking the truth about Prey 2's development are "Press Sneak Fucks". Nice!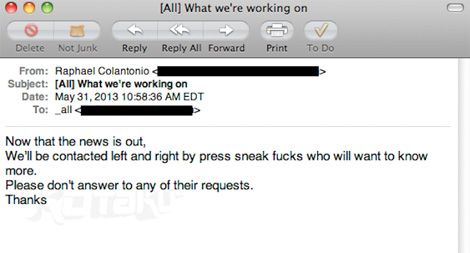 Thankfully, the videogame community is not without humour and a lovely Twitter profile (Thanks Ed for the find!) affectionally named after Mr. Colantonio's special name for us can be viewed here.
Jokes aside, this has all been flagrantly unnecessary, and being pushed into such secretive practices would be cause for anyone to feel people aren't giving you the chance to complete your project. However, I think transparency would have caused a LOT less snooping and guilty parties at both ends of the industry. If anything, with how damned awesome Arkane is at making games such as Dishonoured, I just hope they pull through and make something that's close to what System Shock was...
...or maybe this is just all coded language to confirm that Press Sneak Fuck is the new name for the sequel to Stealth Bastard???
Now, if you'll excuse me, I have to go sneak around, use cigarettes to find laser sensors, wear an eye patch, and declare "Metal Gear?!" in a confused voice as I go about being a sneaky press fuck.