You thought award season was over. The Grammys were handed out. The BRITs were awarded. But never count out Canada.
The Canadian music industry migrated to the nation's capital this past weekend, to celebrate their biggest names in music at the 2017 Juno Awards. And even the Prime Minister attended the star-studded event, as Justin Trudeau took to the stage to introduce the return of Canadian gem Feist, who offered a much-anticipated tribute to late icon Leonard Cohen during the broadcast.
The red carpet was strategically positioned inside an echo-chamber of screaming fans who came out to see bubblegum chart-topping artists like Shawn Mendes and Alessia Cara. Budding global stars like Jazz Cartier and Kaytranada took home wins for their latest projects. And comedian Russell Peters, who hosted alongside old-time legend Bryan Adams, wound up in some hot water after some seriously tasteless jokes. It was an eventful weekend to say the least. But while that was all very nice, we were interested in the what was happening behind the scenes.
Here's what The 405 overheard at the 2017 Juno Awards.
***
Adam Cohen on Leonard Cohen's prediction that Trump would win the election:
"He was one of the only people I know that had the most absurd prediction that anyone in my midst would dare have. And he predicted that Donald Trump was going to be the president of the United States, which of course made us all laugh hysterically. Plus, he was stoned out of his mind. But it turns out the old man was right."
Daniel Caesar on his recent success:
"It's surreal. Sometimes I feel like I died in my sleep and woke up in a parallel universe."
Kaytranada on potentially working with Erykah Badu
"I guess, I sent her some beats so whatever she wants, it's up to her to do something with the beats and it'll be hers. But she FaceTimed me though, so it was awesome."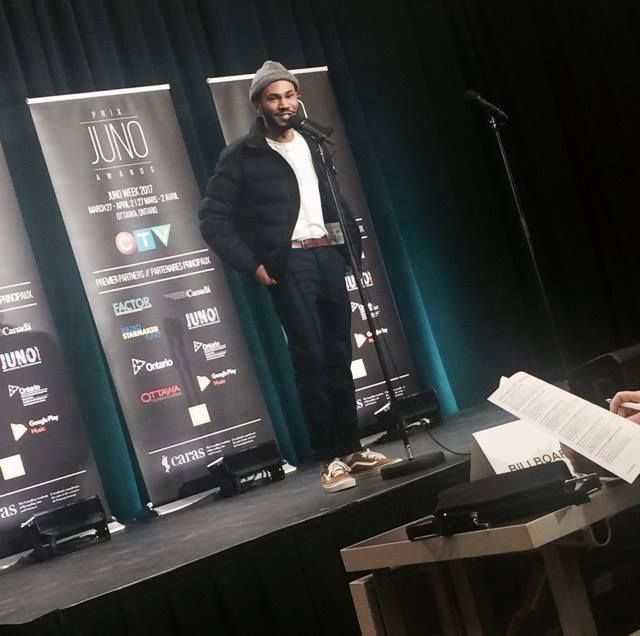 The Strumbellas on beating Drake for Single of the Year:
"I was just eating dinner and I took my shoes off and I was just relaxing and chilling out, because I was like, 'I don't have to go anywhere tonight. We're up against Drake and The Weeknd.' Right before the award, my wife goes, 'you should put on your shoes dude.' And I was like 'pfff, trust me, we're not going to win.' So when they announced it, I jumped up and my chair fell back and I just didn't have time, because I have these huge boots that take time to tie up."
Adam Cohen on Feist's tribute to his father, Leonard Cohen:
"Did you not think it was beautiful and touching and understated? And actually, and I mean this, especially in this arena, it takes a special type of courage to have it be as stripped down as she did it. It was a beautiful song. It was a touching performance."
Shawn Mendes on his teenage fanbase:
"I think I would hate to play a show where there were no screams and no teenage girls. There's nothing wrong with having a teenage girl fanbase. That's what makes the shows awesome and what gives me the energy to be so soulful and reach that threshold. I'd freak out if I didn't have that."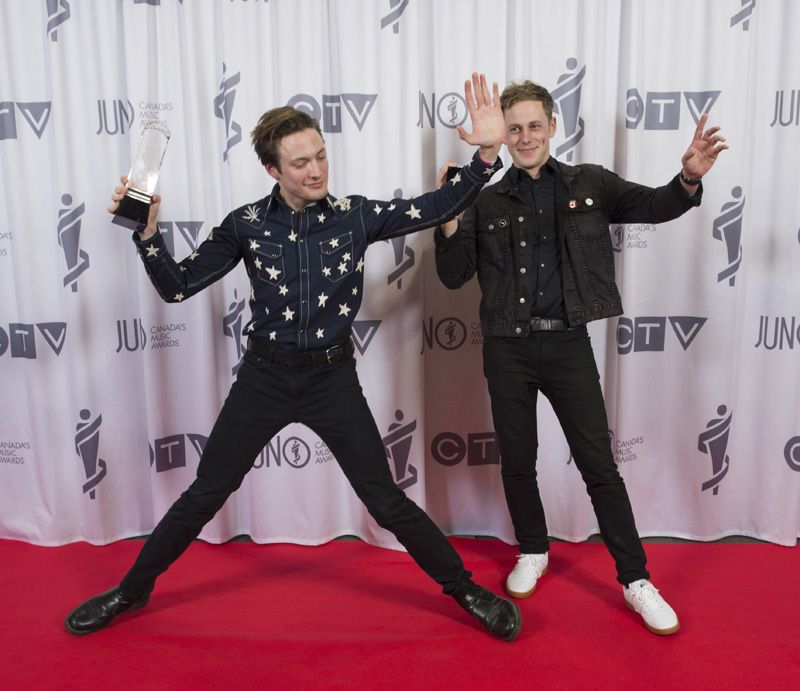 Leah Fay from July Talk on sexism:
"We live in a male dominated society and patriarchy reigns and so there's a lot of work to be done and there's a lot of voices that need to be elevated and a lot of people that need to STFU and make way."
Jus Reign on the global success of Toronto rap:
"Shoutout to Jazz Cartier. I was so happy when I heard he won last night. I feel like Toronto hip-hop in the 90s and 2000s was not taken seriously by the rest of the hip-hop community. There were a lot of great artists that came out. Classified. Kardinal. Choclair. But it wasn't taken to the level that it is now. Now, all these new artists are in my generation and are really putting on for Toronto hip-hop. It's actually surreal to see. This is mainstream hip-hop culture. Toronto is one of the biggest curators of hip-hop and it's unbelievable to me."
Weaves on what's next for them:
"A new album. So we're recording right now. We're hoping it'll be out in the fall. That's our goal."
Tanika Charles on award shows broadcasting R&B awards:
"It would be nice to have soul and R&B awards broadcasted because it's still a really a good genre. While community is great and we're all doing so well, I think there are certain things that could be addressed. This is really awesome, but why can't we have it announced? It's been a bit of an issue."