I
've already written this article. It was about the desktop music player sensation Spotify. I went on about its 4.8 million tracks, the nearly 3 million UK users, the numerous spin-off sites it's spawned, the iPhone app, Drowned in Sound's 'spotifriday', and then dribbled on about the collaborative playlist functions. Unfortunately, it was a very boring read. I realised it was all smokescreen, deployed so I could write about what really fascinated me. Not Spotify itself, but the people who call Spotify. So instead of a passing mention at these demanding retards, I have decided to devote the feature to a case study of one of their number.
A
t first I believed it was Spotify's greatest achievement – the platform for these glorious turds to stand upon and take the applause they truly deserved. God bless their naivety and endearing lack of intelligence. Oh bravo, I say. They have a zesty enthusiasm, the very joie de vivre that we fully developed humans have all but forgotten. How passionate they are in desiring absolute perfection from their desktop music player sensation of choice! Life is important. And the devil is in the detail.
B
ut the more of these voicemails I heard the more incredulous I became. The novelty had worn off and I had become ashamed to belong to the same species as these weak, snivelling little moaners. I briefly entertained the idea that these messages were setup by Spotify; actors paid not to sound like actors, reading out requests for improvements Spotify had already figured out and were waiting to implement. However, soon enough I learnt the truth – these people exist and they are serious.
I
was left in no doubt after tragically discovering my housemate had entered their ranks. At first he would talk casually about all the various pros of the application and I thought nothing of his new infatuation. But as every waking hour not consumed with the necessities of work and sustenance was spent compiling playlist after playlist, I noticed a change in him. He would talk with a rabid zeal about what Spotify should do, what it was missing out on, and what if only it altered so and so aspect. I would walk past his room and see him dressed only in his boxers, refusing to give in to sleep, hunched in the tractor beam of his Spotify window. And all the time a reassuringly deep voice would croon to him between songs, 'Call Spotify and tell us what you think.'
O
h, I could see he wanted to tell Spotify what he thought. I started to find scraps of paper with the sketches of different speeches, each one arguing for different modifications to the Spotify formula. The care and hard work put into these speeches was evident in the many revisions and rewrites littered across his bedroom floor. I could see he was concerned that it couldn't be too harsh or cutting, just the perfect mix of gushing praise to compliment the constructive criticism, otherwise his complaints would go unheeded. Still, like a wife a husband dearly loves but at times irritates him to the point of insanity, she had to be brought into line.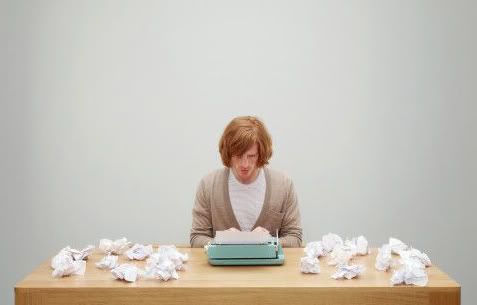 M
y worst fears were confirmed when I managed to look through his phone and discovered he had called Spotify 17 times in the last 3 days. I confronted him with my facts and expected him to be ashamed, but he met my eyes and declared he too knew the ridiculous nature of the situation – his message still hadn't been aired. It was clear he was developing the delusional character of a spurned lover.
I
n the end, he deleted Spotify from his laptop and banned all mention of the name within his presence. He began frequenting the seedy world of technology forums where he used only the most vulgar and base terms in referring to his old squeeze. It became like a vocation to besmirch the name of Spotify and champion the likes of Napster with blind obedience. As the weeks stretched into months, his bitter hate chewed him up from inside and eventually he came to believe CDs to be the only appropriate outlet to consume music.
I
no longer live with that particular housemate. He walked in on me when, in a fit of empathy for his plight, I called Spotify and in no uncertain terms denounced these ads as a poison enticing sane men to degrade themselves in unimaginable ways. My housemate walked upstairs, followed by my apologies, and packed his bags. Then, at the front door, he turned to me and said, 'It's no use. They won't listen.'