Some of you might have spent Saturday recovering from the Royal Wedding shenanigans (come on, own up) but we spent it walking the mean streets of NW for the Camden Crawl festival, which was celebrating its 10th Birthday party. Without meaning to sound too British, wasn't the weather lovely? Searing heat tends to bring out the best of us Brits, and this made the Saturday a pretty pleasurable experience. Despite the favourable weather, I missed most of the daytime programming, but who wants to spend the days inside anyway, right?
I kicked things off with Norwich based
Fever Fever
, who managed to bring some punk aggression to the Red Bull Arena. The band recently played some shows at SXSW, and it seems like it's done them the world of good as they managed to pull off a pretty confident set. A simple rule I like to go by is that if you can get security guards to bob their heads, you must be doing something right.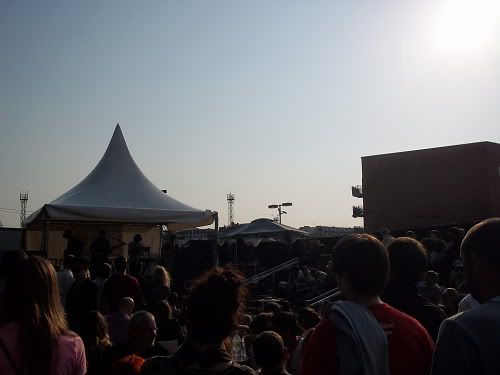 I then rushed over to the slab of concrete above the Roundhouse to see
Dog Is Dead
. I can't imagine a better band to play on a roof in the blistering heat. Playing a mix of their older material (like 'Young') with some of the more recent output, the guys looked like they were having a blast. It's a shame that the majority of the crowd seemed glued to the spot (probably due to the sauna like conditions) but it was enjoyable all the same. Can we have a full length album now, please?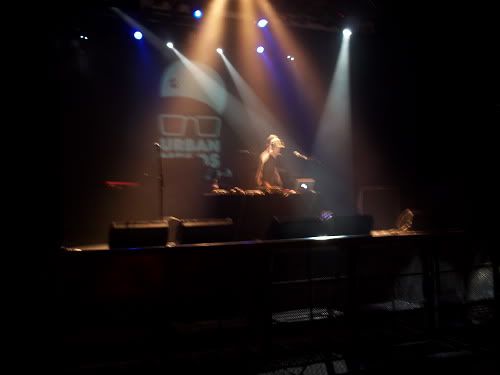 Being the lazy person I am, I decided to take the train from Chalk Farm to Morning Crescent rather than to risk missing the start of
Becoming Real
at Koko. If you've been to Camden on a weekend before, you'll know why I decided to do this. I haven't been to Koko for a very long time as I'm not really a fan of the venue (despite its beautiful appearance) but with its air conditioning working over time, I could have stayed their all day. After a few minutes soaking up the recycled air, Becoming Real (Toby Ridler) took to the stage. I feared the early set time (6:15pm) might make his music sound a bit redundant but I couldn't have been more wrong. The huge Koko speakers really complimented his sound and resulted in a unmissable set. It would have been much better at 2am though.
I then made the relatively short walk to the Black Cap for some Moshi Moshi related fun. First up on my agenda was the wonderful
Big Deal
, who we've had a crush on since last year. The couple could be described as a 60's husband and wife duo plugged into distortion pedals, but I'm not sure they're a couple. I know I've descended into a Grazia magazine style void but the dynamic is pretty important to why they sound so good. The setup is simple: one electric guitar, one acoustic guitar and dual vocals, but it's this simplicity that will draw you in. They're not making Muse like epics, they're singing about life. It's folk music with distortion. This could have been the most boring set of the weekend, but it turned out to be one of the best. Beautiful stuff.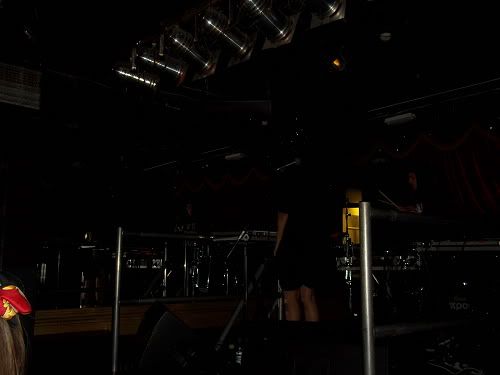 How do you follow a power duo like that? You put on another power duo.
Visions Of Trees
attacked the crowd with a blistering set, which included their 'hit', 'Sometimes It Kills'. Put simply, they sounded absolutely immense. My only complaint would be that Sara Atalar's vocals sometimes got lost in the mix, but she more than made up for that with her menacing stage presence.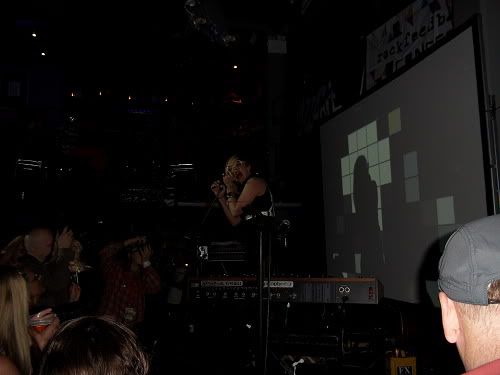 I then headed to the Jazz Cafe, which is about a 10 second walk from the Black Cap. See what I did there? That's called 'planning ahead'. Ok, I'll be honest, I decided to head to the Jazz Cafe early as I didn't want to miss Dananananaykroyd. N-Dubz could have been playing and I would have still got there for the same time, it just so happened to be
MNDR
that would be filling the void. All I really knew about MNDR (Amanda Warner) was the 'Fade To Black' track (which is ok) and the fact that she sang on that 'Bang Bang Bang' track by Mark Ronson & The Business Intl, so I was all too happy to talk to people about being alone at gigs via twitter on my phone.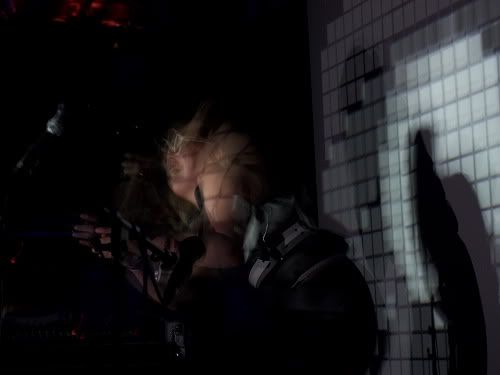 She actually happened to be pretty decent. A healthy amount of charisma, pop hooks and lovely visuals (crudely captured above) led to an enjoyable set. Now, in my opinion if you want to ruin a set, all you need to do is welcome Mark Ronson on stage. The so called 'Super Producer' (come on Mark, you coined that didn't you?) took to the stage for 'Bang Bang Bang'. It happened to be ok, the crowd seemed to dig it and all that, but I just have a real disliking for the guy. Sort of like when Ian Brown walked past me at Glastonbury, I really wanted to throw an egg at him but a) despite his height, he'd probably kill me and b) I didn't have an egg. Consider Ronson's appearance part two of my Ian Brown story, though I'd totally take Ronson in a fight.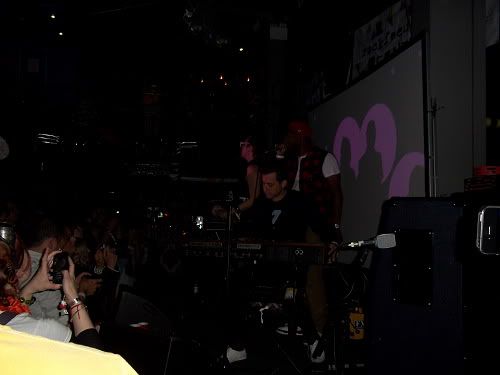 Now, back to the real world, it was time to welcome 'Britain's best live band' (I didn't coin that one, but I'm trying to claim it) to the stage.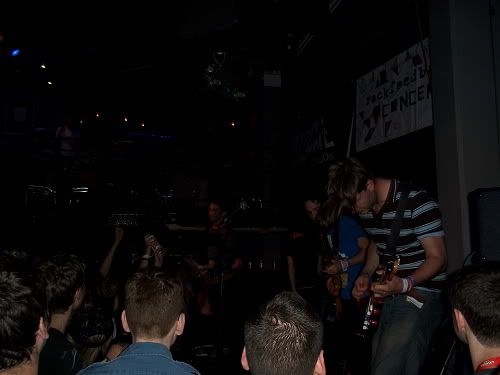 Dananananaykroyd
are the best live band in the UK right now, and they have been for a long time now. Imagine the energy of At the Drive-In, the dual vocal intensity of Blood Brothers and the ability to underpin the ferocity with pop hooks and you'll come close to what they sound like. That's part one of my why they're so good. Part two is their ability to get everyone involved; like getting everyone to sit down (yes, everyone) and jump in the air as they kick of with one of their tracks. The singers also spend a healthy amount of time in the crowd, which leads to a riot like atmosphere, but a fun one.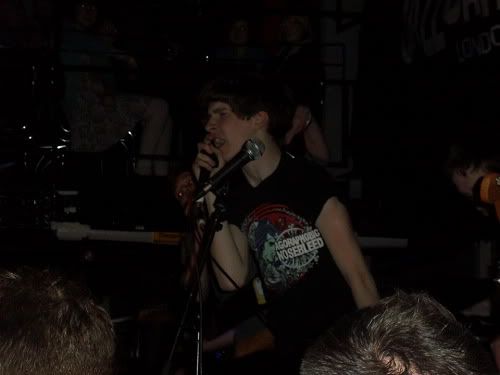 You could hate their music (not sure how) and still enjoy them live, and that's why they're so good. Most of the tracks they played came from their forthcoming album
There Is A Way
, which is always a risky move, but they pulled it off. Partly due to the party atmosphere they created, but also down to the fact that they know how to write a good pop song. What a great way to end the first day of Camden Crawl 2011.