Saturday (
review here
) at Camden Crawl was fun. A whole day of good bands, good weather and good people. Sunday, was a little bit different. I've thought quite a lot about how to approach reviewing this. I could use artistic license and suggest the I saw Odd Future last. I could play it straight and give you a play by play review in the order I saw the bands, or I could be a crazy and give you a swag (buzz word of Camden Crawl) report from the perspective of Tyler, The Creator. The possessional approach would obviously be option two, but as even as I type this words I'm finding it difficult to remember anything other than Odd Future's mental set. I'll try my hardest to be professional. We got to the Red Bull Arena early to guarantee a spot for Odd Future, and the passing time was first sponsored by
S.C.U.M
, who seemed to be doing the same thing. The recent video release for 'Summon The Sound' got us excited about seeing them, but they seemed to lack the wall of sound present in that video, instead we got more of a sonic hedgerow.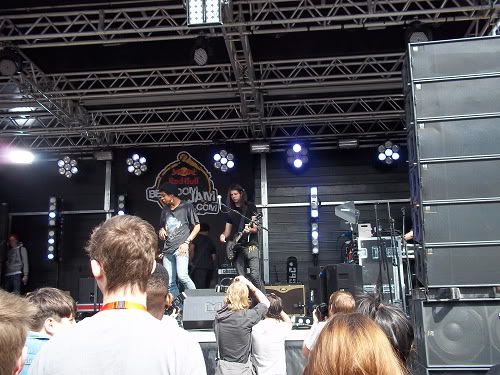 Cerebral Ballzy
hit the stage next and instantly caused a storm. Ok, well perhaps not a full blown storm. More like a storm sponsored by the Daily Mail, and set in St. Albans. Yes a circle pit erupted, but when it's full of middle class kids playing hardcore for the day, it becomes more funny than anything else. Before long, kids of all ages started to take up every square inch of the Red Bull Arena, all chanting 'Wolf Gang' or 'Golf Wang' in anticipation of one of the most hyped bands in the world, Odd Future. I'm going to present you with a bunch of images/videos that I took during their set. I didn't want to rely too much on the "a picture is worth a thousand words" adage, but a million words still wouldn't come close to describing the insanity and my fingers are tired, so I'll save the essay for another day. I'll start with a brief summary though. 1. Band comes on - crowd goes mental 2. They play a bunch of songs, including 'Yonkers' and 'Sandwitches' 3. They have numerous fights with the Security Guards and suggest we all break down the barriors 4. They tell the camera people in the pit to leave or they'll break equipment and won't pay for it 5. Hodgy Beats climbs a stack of speakers 6. Tyler, The Creator climbs a stack of speakers 7. Site managers go mental 8. Crowd goes mental 9. Hodgy Beats dives feet first into the crowd from the speakers, he then says 'I only weigh 120 pounds, why didn't you catch me?' 10. More fights happen with the security guards 11. One person sneaks onto the stage, this is followed by numerous people jumping onto the stage, which is then followed by everyone being on stage. 12. Show over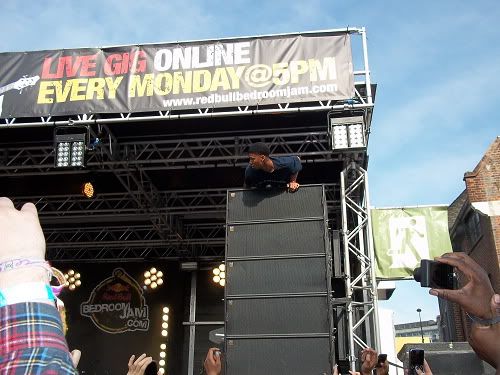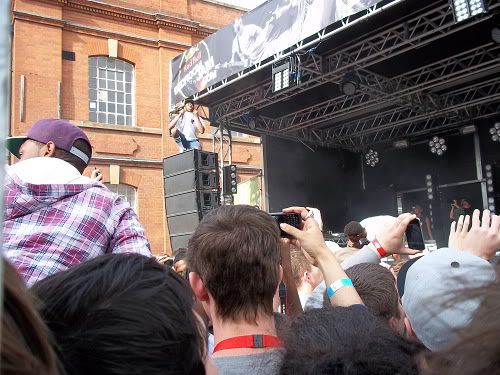 Pinboard Blog put this video together, which explains the mayhem a bit more. Hype band or not, this was one of the most chaotic and brilliant sets I've seen in years and essentially ruined the rest of my day. How could anyone come close to this?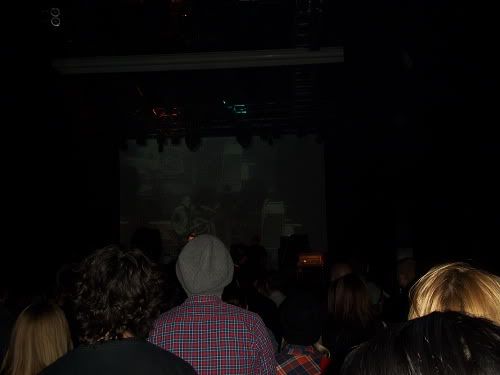 After a food break and a sit down to get over what just happened, we headed to Koko for Foo Fighters, no sorry,
Dinosaur Pile-Up
. Theres nothing wrong with sounding like every band Dave Grohl has ever been in (minus Probot) but it doesn't really make for anything special. Sure, they do it well and with enthusiasm, but it lacks any sort of emotion, whether good or bad.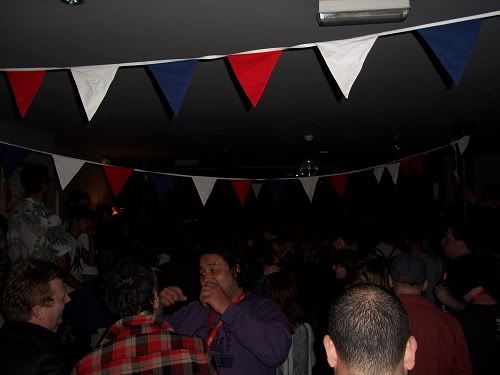 We departed Koko to head to see
Flats
at the Black Heart. Flats are another band who've been dealing with a lot of attention recently, and this is represented with the amount of people crammed into the venue. As their set progressed, the crowd got smaller and smaller, which sort of says it all really. We then crossed the road to head to the Jazz Cafe for the Wonderful
Marques Toliver
, who also played on Saturday. His
Butterflies Are Not Free
EP is absolutely stunning, so I was excited to see how he would pull it off live; unfortunately I was left a bit underwhelmed. His voice is stunning but without a full band setup it felt a bit empty. If I was a newcomer I would have probably enjoyed it a lot more, but knowing how the songs
should
sound, I was left a bit cold. We then headed over to Camden Rock for a few minutes of Star Slinger. He's been consistently brilliant over the course of 2011 and this was displayed in his set. I don't want to comment on it too much as we only managed to catch 20 minutes, but it seemed as if the crowd were tired. Next year he should play Koko at 12am on the first day, it's what he deserves.
And that's where I called it a day. Despite a lack of 'unmissable' bands to make the lead up to the festival truly exciting, you can't fault the consistency of the festival, both in its line-up and the good weather. Here's to next year!