Every so often we quiz a band about their debut album in attempt to find out how they feel about it. We want to know if they would change anything, how they feel they've progressed since it was recorded, and what rating they would give it out of ten. This edition focuses on Comet Gain as they look back at Casino Classics (March 16, 1995).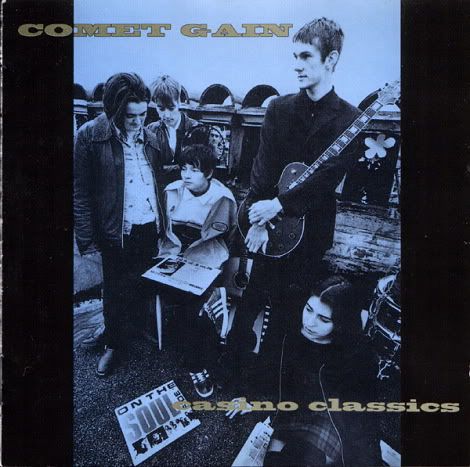 How do you feel about your debut record now looking back?
Our debut LP was a long time ago, I can tell because I look like a matchstick on the cover and I don't know who half the other people in the band are. We did it in Crouch End near where I live now, and every time I go there to buy posh pastry I tell my girlfriend "oh look, that's where we did our first LP before we had learned to play instruments." By the time I get to the bit about it being produced by the fella out of loop/the servants, who were both great by the by, she is usually running very quickly.
What do I think of it? I have virtually no actual recollection of it except misguided excitement - the initial plan was "ok if I write an actual song it will be groovy" to well maybe a gig should be the pinnacle and so on until we got to this point and realized, shit, don't albums have lots of songs on them? Where do we get them from? Well in my case I got a lot of bits of them from the likes of swell maps, Richard Brautigan, Honeybus (one songs chorus was basically a chorus from this obscure 60s baroque brit groop - all fine until some bastard re-issued the Honeybus records recently and I was  busted )but mainly this Buffalo Springfield/Neil Young chord book I had been given - at least two of the songs are just a moronic attempt at "flying on the ground is wrong" with out of tune singing...and the last track is some garage nuggets record riff, I don't even remember. Youth is prone to this gentle thievery, even the sleeve-notes were a rip off of those 60s cheesy band members biogs: fave drink-whisky n coke etc, though nearly all the bands I mention slavishly are still what I listen to - pathetic. But...I listened to it for the first time in years, it's a bit weedy. Not my cuppa tea.
If you could re-record the record, what would you change?
Well I can only speak of my half of the songs, the other songwriter then, Sam, who was actually talented at his art, we wanted different things I think, and I quite like a couple of those tracks of his - I doubt I even played on them much, I was probably walking around outside desperately trying to write last minute lyrics while drinking bad lager...but my songs are naive and a bit too all over the place in genre but that's always been the Comet Gain thing, liking too many different records and wanting to be like all of them at the same time without knowing how, so there;s a country rock song, a punk song, some 60s psych garage, tvops/jam mod things...I just wouldn't do it again but most of us say that about our mistakes and then we happily repeat them until infinity.
How do you feel you've progressed since you recorded it?
Well I now know at least 3 more chords and worked out how to hide the things your "stealing" better. Every few years I figure something else out and add it to the armoury, so in about 15 years Comet Gain will be competing with the U2's. We are gonna do bee-gee eye, which is the songs of 60s bee-gees done in the Liam Gallagher style...I'm growing my sideburns now. The first LP should always be that late night fumble before you work out what lips are for, and the aim is to never reach the grand heights you attain but to try your hardest to get at least a few more yards towards the exit. Our masterplan is perfect failure. King Midas in reverse.
If you had to pick one track from the record as your favourite, what would it be and why?
Well I quite like 'A Million and Nine' because I don't think I played on it, and it sounds like we were after, which was a bit of that postcard/northern soul thing. We still play a version of the first track 'footstompers' because the "music will save you my sad eyed dear" theme is still one O am trying to get out of my system...and maybe 'Turnpike County Blue' which was the folk-rock country thing I'm still trying for that Gene Clark "she's the kind of girl" thing, and it's nice to hear a young idiot trying it.
If you were reviewing the record, what would you give it out of ten?
I would give it B out of $.
Written by David Feck