Eleven years of noise, five albums, six years of silence and a come-back. Almost completely unknown in the UK while adored around Europe, Hawaiian band Chokebore is a mystery to many people. Playing loads of festivals in France this summer, the band takes some time to meet up with The 405 to talk about their career, songs, and the music industry. Let me introduce you.
July 1st, a tiny town outside Paris. A summer festival. Four people tearing up the stage with their incandescent sound. Who the f*ck are
Chokebore
? "
Well
, says Troy Von Balthazar (singer/guitarist) with his particular soft-toned voice,
we've been called sadcore, post hardcore, but we're just four people writing music"
. If you grew up with the likes of Pearl Jam, Nirvana and such, you've probably heard that voice. Maybe. Forming Chokebore in the early 90's in Hawaii, Troy Von Balthazar, brothers James and Jonathan Kroll (bass and guitars) released their first album
Motionless
in 1993, toured with Nirvana and The Butthole Surfers (amongst many others), released some more albums, underwent a few drummer changes (settling with Christian Omar Madrigal Izzo in 1999), toured endlessly, and distilled their wall of noise and sad songs… before disappearing in 2003. The band's reformation, announced at the end of 2009, was really natural to them, as James casually explains: "
I've seen Troy from time to time when he was doing [his solo project] and we hung out and Troy [said], 'Hey want to form Chokebore again? It would be nice to play songs and go to practice again' and so we were rehearsing in my house with John and Troy and it was cool, and then we went on tour again
". That first mini-tour in almost seven years, spanning five countries (Germany, Switzerland, France, Belgium and the Czech Republic) over the last two weeks of February 2010, was the proof that people hadn't forgotten about Chokebore: "
It was quite small, because we wanted to see if we could work together again, but we were really happy about this tour"
says John, quietly. James:
"It's nice and wonderful that seven years later, people are still around coming to the shows, still knowing the songs, telling us they were at a show a long time ago…
"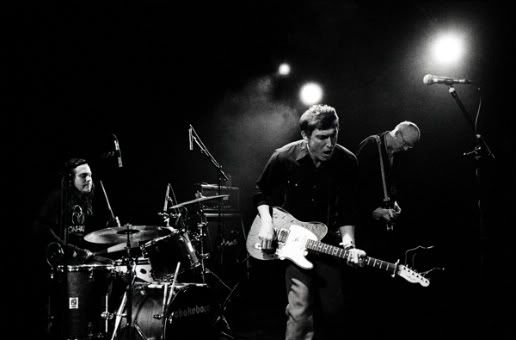 Paris, February 2010 © Magali Boyer
So, seven years later, what's different? "
I think we all really have a new approach on the band, we sort of agreed to try really well, and try to play good shows and focus on the music and make it strong. And not to be lazy, and write again
" says Troy. James adds "
We just started recording and writing songs for the first time since we split up, that's pretty interesting. It should be something different, after seven years
." A healthy approach, far from a complicated relationship with the music business: "
We never did very well in the music industry
." They all laugh. In 1998, after five years (and three albums, featuring masterpiece
A Taste For Bitters
) spent with Minneapolis legends Amphetamine Reptile, Chokebore dealt with Punk In My Vitamins, who released
Black Black
(maybe the most powerful and intense record of their career) in the USA in 1999 without any promotion, while the record was already out in Europe on Boomba Records.
It's A Miracle
: released in Europe by Pale Blue, it never came out in America. It's easy now to see how Chokebore reached cult status in some parts of Europe. "
[We've been] around for a long time. We played a lot, we played around Europe all the time, we played some good shows, we put a lot of energy into it
" recalls James. It's not difficult to share this point of view: Chokebore are a killer live band, a burst of energy. "
Playing tonight, that was great
", smiles Troy, and he adds "
We are on tour without releasing anything, so that's nice, but once we've recorded these new songs, we'll either self release it, or maybe with the help of a label
". Some new songs have indeed been recorded during the summer. Some cynical spirits might say it's an absolute must in this wave of reformations, but, as John states "
We like playing music together and we're happy to write new music together, that's the most important
." Well said.
www.chokebore.net
Live photo © Magali Boyer (
www.magaliboyer.com
)