A man walks past me and glares. Where I am is a court yard with a sign saying 'private property'. Only it's not so private, more of a back street behind French Connection in Covent Garden. He has no idea who I'm on the phone to, nor do I expect him to care. All I do care about is that he carries on walking rather than kicks up a fuss. If he does, this conversation is ruined. Who I'm talking to is Patrick. AKA P-THUGG. AKA One half of
Chromeo
. Patrick, or P- THUGG, which ever you prefer, explains that he's looking out over New York City's views from some tall building. I'm looking at a gob of spit on the floor whilst the man with the glaring face moves out of sight. The interrogation. Interview. Questions. Begin.
How did you get the name Chromeo?
Dave 1 called me up one morning and said 'chromeo?' I was like "chrome and romeo? Nice."
Who were your biggest influences when writing Business Casual, and did they differentiate from other influences you had when writing your previous two albums?
Well this album in comparison to the other two has a bit more of a 70's classic rock style to it. Especially for chords, chord progression and song structures. We were definitely influenced by Fleetwood Mac, The Eagles. 'Don't Turn The Lights On' and 'Night By Night' are the first two releases from Business Casual. Would you say that these tracks differentiated from the other tracks on the record? Half of the record is funk and electrofunk like 'Fancy Footwork', and the other half is more ballads, like 'Momma's Boy'-type songs. We kinda put a lot more complexity in the record as far as the chord progressions and vocal harmonies went; we even put a string section on a couple of songs, which came out really well. We just tried to put a bit more musicality without losing the raw edge and the raw tracks like 'Fancy Footwork' and all that stuff that people like. We tried to balance it out between having a bit of an evolution musically and staying fun.
So, how do you go about writing your music? Are you guys quite reserved and placid when you write your music, or do you follow the Keith Richards diet of cigarettes, drugs and alcohol?
(Laughing) No, we tend to stay away from that and let the music do the work. There's a lot of experimenting with instruments and synthesizers, you know? A lot of work and practice needs to be put in to fully understand the logistics behind it.
Which Festivals have you done this summer then?
We played Bonnaroo in the U.S.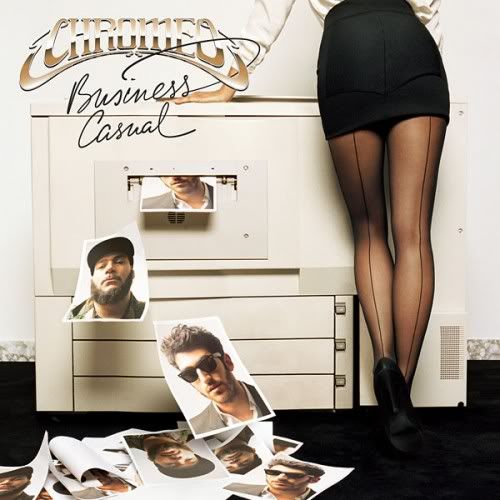 That's where Daryl Hall played with you guys, right?
Yeah, man. It was possibly the most surreal thing. We played along on songs that are mega, mega-hits, you know? It just felt really, really weird and really cool at the same time, you know, to take over the chords, to share a verse with Daryl on his own songs. It's our fantasy.  hese super hits… they have this crazy catalogue of big songs that you kinda forget, and when you put them all together it's like 15 mega-hits back to back and you're like, "Wow, these guys are larger than life."
In terms of music, what are your guilty pleasures?
I don't have many guilty pleasures when it comes to music. Everything is just either influential, or you're like, that shit it is awful.
If you could have written any song, what would it be?
Anything by Michael Jackson.
Are there any genres which you'd like to play around with, as your sound can be best described as an amalgamation of electronica , funk and pop, would you ever push the boat out and make a new hybrid sound, or are you content with your direction?
We're pretty content with our musical direction, but we're always pushing forward in search of a new sound, you know? That's was progresses us a band, and that's how we develop as artists, you know?
I understand that Dave1 is about to receive your phd in French Literaure, I'm sure he finds it quite refreshing having these two very different sides, in the sense that he can switch one off and focus on the other and vice versa, rather than just exhausting himself with one particular thing, and what about you, do you have anything where you can switch off the music?
I do the accounting for the group, so that's about it. (Laughing)
You can visit the band by heading to http://www.myspace.com/chromeo
'Business Casual' is out now through Backyard Records