I don't know about you but I'm in a party mood. I want to drink, I want to get high and I want some songs that will soundtrack my descent into debauched unconsciousness. This edition of Cloud Corner will feature songs that get you up off your feat, and leave you in a tizzy. If you want your band featured in this regular feature, send us a track via our handy soundcloud link (below)!

Sentient Machine
–
James Brown New Year's Eve Bash
Occasionally a song can be as good as its title. In this case this funky dumb shake your tail carefree barnstormer reminds me of a broken
Faith No More
jiving with Andrew WK in some low rent dive bar.
James Brown New Year's Eve Bash by SentientMachine
http://sentientmachine.bandcamp.com
http://www.myspace.com/sentientmachine

Young Paul
-
Ah-ah-ah
The eighties revival must be stopped - boil this unstoppable monster in the fondue set, brain it with a brick-like prototype mobile phone, call Patrick Bateman to swing the axe. Do something! Do anything! Electro-pop duo Young Paul delights and annoys us with bratty vocals and hipster poses.
Ah-ah-ah by young paul
http://www.myspace.com/youngpaulband

Micro Prophet
–
General
Enigmatic beat junkies Micro Prophet spring a surprise with this choice cut of prime romper stomp.
Micro Prophet - General(160kbps) by prophetmicro
http://www.myspace.com/microprophet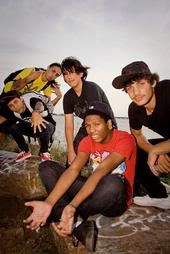 On Borrowed Time
–
I Killed The King
Sure, you could poo poo this selection. A group of emo looking kids who wear their hearts proudly on skinny jeans. However On Borrowed Time actually are pretty gnarly, providing this energetic dose of ambitiously driven melodic hardcore. Expect to hear much more from them in 2010 in rags such as Kerrang.
On Borrowed Time - I Killed The King by onborrowedtimeny
http://www.myspace.com/onborrowedtimeny

Damn Vandals
–
Electric Chair
Not a lot is known about Damn Vandals. Other then they are cut from the finest South Eastern cloth. 'Electric Chair' is a spiralling journey that plunders into the crypt of vintage post punk. Detractors might call them a poor man's version of The Horrors.
Electric Chair by Damn Vandals
http://www.myspace.com/damnvandals

Noisebud
–
Habitual Kill
Eerie, claustrophobic IDM. (Though strictly speaking not particularly intelligent since it is quite repetitive, though you could say that about IDM in general)
Habitual Kill-Noisebud by Noisebud
http://www.myspace.com/noisebud

Hemmit
–
Hold Out
Remember when Fu Manchu would sing a lot about their cars, to the point that it became a little creepy, way beyond Top Gear levels of automobile appreciation, to levels of mechanic eroticism? Portland trio Hemmit blend old school rock influences with brainless power chord fuelled punk. They too sing love songs to cars. If Herbie gives you an erection, then this could be for you.
03 - Hemmit - Hold Out by Hemmit
http://www.myspace.com/hemmit

Send me your track