Cloud Corner
is our look at the music sent into is via Soundcloud. We apologise for the delay since the last one and we promise it won't happen again. So grab yourself a coffee, put on some headphones and listen to some of our highlights from the last month.
Mikky Ekko
www.myspace.com/mikkyekko
This song is all about the killer chorus. When the ''ooooooo's" enter the frame, you know you're in for trouble. This is catchy as hell.
Who Are You, Really? by Mikky Ekko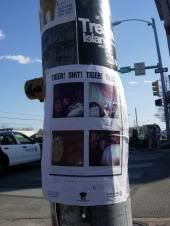 Tiger! Shit! Tiger! Tiger!
www.myspace.com/tigershittigertiger

This band are incredible. I could purchase a thousand words and spread them out like the Robin Hood of word-mongery but it still wouldn't be enough to describe how wonderful this lot are.
Tiger! Shit! Tiger! Tiger! - Whispers by WEARETSTT

The Deepsea Goes
www.myspace.com/thedeepseagoes
Although this track doesn't quite sound like the finished article to me, it certainly shows a lot of potential. Get a producer that can thicken up the foundations and you've got a slow-burning classic on your hands.
The Deepsea Goes - All Is Ripe by thedeepseagoes

Mafia Lights
www.myspace.com/mafialights
The word that instantly springs to my mind when hearing this track is JUGGERNAUT. It's an indie song with demon inside of it. Although I'm not a fan of their name, these guys are doing pretty well at the moment and are set to play the 1-2-3-4 festival
Canyon by Mafia Lights

The Car Is On Fire
www.myspace.com/thecarisonfirespace
The Car Is On Fire must be the first Polish band we've ever featured (let me know if I'm wrong!). Within the space of one song they manage to sound like a funk band, a summery pop band and a few others sandwiched between. The singer sounds like Adrian Jewett from TMSR and that can't be a bad thing.
The Car Is On Fire - Oh, Joe by thecarisonfire

Send me your track