I recently went to Club 2 Club in Torino, Italy. It was the 15th edition of the festival and my first time attending. This is an account of my trip.
Journey
I was travelling with two close friends, Max and Jess. They were my dancing and drinking partners. We caught a coach to Stansted at 1am. I don't really like flying but I met Sam of Floating Points at the airport and found he was on the same flight. This calmed me a bit, I thought "great, if the plane crashes loads of people would be disappointed, not just me." I sat next to Max, whose biggest aviation concern was his ears. I nodded off to sleep between him saying stuff like, "Jo, help - I can't pop my ears" and "If your ears pop too much do you die?"
Landing in Turin, it was early morning and super sunny. Being up all night and then being too excited to sleep was a somewhat recurrent theme of our trip.
We caught the bus through the beautifully highlighted autumnal colours. It looked like autumn but felt nice and warm. After sleepily finding our (tiny small) room, I slept for a few hours before heading out to get accredited.
Walking through Turin's streets in the afternoon/evening is wonderful - the light is moving and fading, highlighting different parts of the already beautiful buildings. At times, it also felt like we were pretty much the only people in the city. The long straight streets stretch as far as you can see. The solidarity this offered wasn't eerie or intimidating, but something to be savoured as though it was all there just for us. Soon we were in a hubbub of activity as we arrived at the festival headquarters in the AC hotel. There was a record shop, a vodka bar and NTS radio was coming live from a room with large bean bags. It was all very exciting with lots of stylish people everywhere.
Thursday
Max and Jess didn't get Thursday tickets, so I headed to Teatro Carignano on my own. It's a breathtaking building - grand and extravagant. Box seating lines the walls all the way to the domed ceiling. I discovered that Floating Points' orchestra was exactly what I wanted to see there. The elegance of the theatre suited their music while remaining contemporary. I had a nice time sitting, listening and gazing.
A busy shuttle bus took me to Lingotto Fiere, a former automobile factory which now served as a gallery and performance space. It was an immediate change in surrounding and music. From a beautiful 18th-century theatre housing an orchestra, to a kind of brutalist concrete box containing kitschy, garish and lush sounds- each holding its own merit and importance. In fact, the latter featured artists pushing electronic music in all directions. Surely the Thursday night line-up was a perfect example of what I'd heard about Club 2 Club championing forward-thinking artists?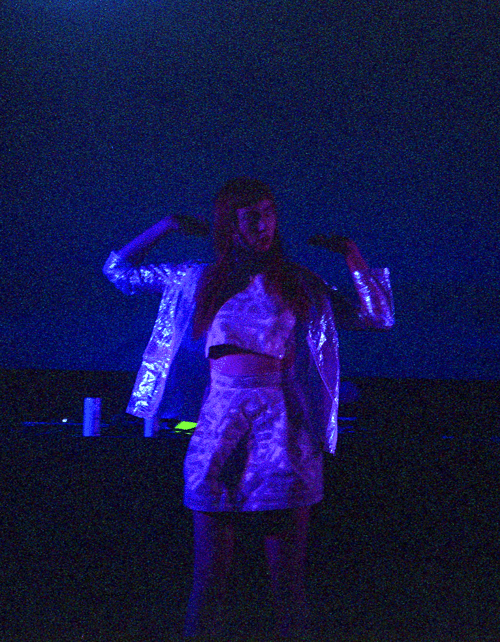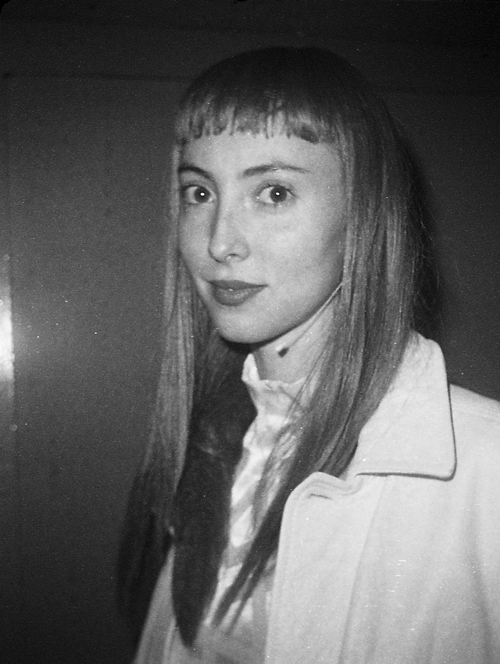 SOPHIE is a favourite. I know that PC music is somewhat divisive, but he really stands out - a great asset to them. His music is a mixture of harsh ear-wrecking sounds and infectious dance-inducing ones. He's also really friendly. I had a nice conversation about identity in music and how he sees no correlation between what he looks like and his music.
In contrast, his stage partner QT, performance artist Hayden Dunham's character, is seemingly all about image. She is pristine, the embodiment of the energy drink named after her (or is it the other way round?!). She mimes 'Hey QT' with perfect girl-band moves that I wish I could imitate. Behind her at the decks SOPHIE drinks a QT. While watching I hear two fans saying "Ridicolo!" but in an appreciative way. I consider it no more absurd than pop bands with any number of branded products. QT is the product, a perfect product... you dance to the music and then drink some QT for more energy, dance some more. I got given a can of it and was kind of expecting / hoping it would just be water and the ridiculousness would be revealed. (I later opened it before my trip home and it fizzed out on my bag, phone and airport floor, it was tasty though).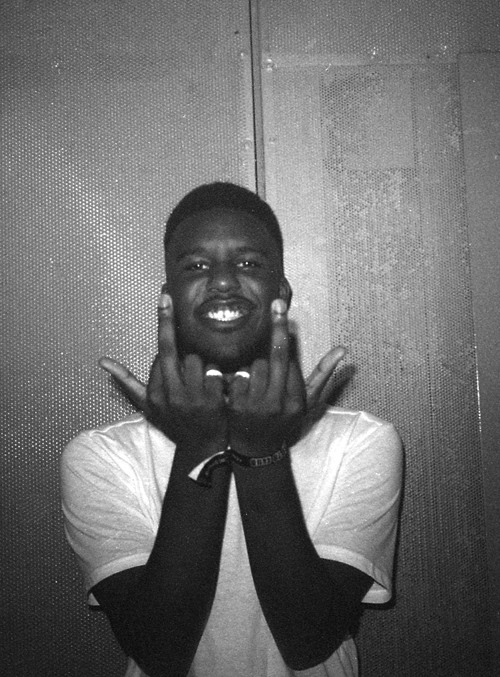 As the evening continues, the room starts to empty a bit. I'm a bit worried that the late set times will cause this to occur each night, but Mumdance soon gets everyone hoping around and staying. I'm really glad to see him punching the air hard in time to each mix; his energy is infectious. Novelist, the young grime gun, joins his pal onstage and brings more "energy flavour, energy flavour." His latest, 'Endz', is solid and Nov is dancing like he does in the video, his whole body moving but his feet stuck to one point. The two of them are clearly really enjoying what they are doing. I nearly go insane crazy when they pause and say "Lets do 1 sec." Novelist's quick delivery over a sparse understated production from Mumdance is a total delight. I was going wild with my black tracksuit on and we were all jumping.
It's late, I'm super tired and I leave before the end, which I was a bit bummed about, but I think it was needed.
Friday
Together, with Max and Jess, we go to the sold-out Friday of the festival. This time the 'main room' of Lingotto Fiere is open. Max says it's too big. It is impressively spacious and seems as though it could never be filled.
We catch the end of Holly Herndon's set - the mix of her audio and Mat Dryhurst's visuals is a total treat. Next, we let Carter Tutti Void wash over and engulf us. The sound is all encompassing. We are in awe of Nick Void as she got Max and Jess into the night, making us shake with her bowed guitar.
After a slight technical problem, Battles take to stage one-by-one. Each bringing a magnum of ferocious onstage energy with them, and it give us our first little dance around. Up to this point everyone seems very cool. Maybe too cool to dance, which is always a shame, but with time this disappeared.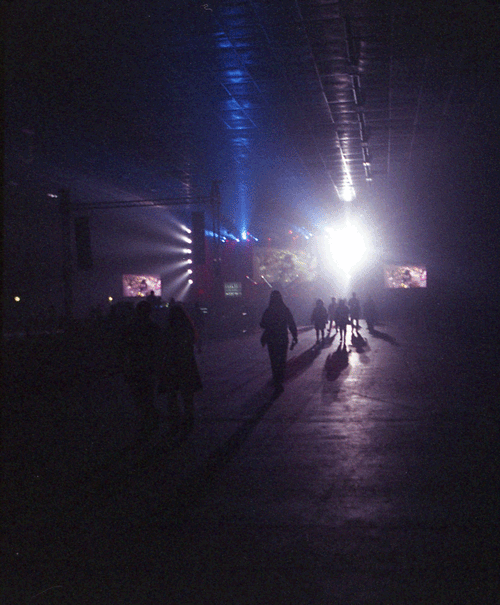 The crowd starts to warm up with Four Tet. Four Tet is always brilliant. We go to the front right where we can see the light show, hear the music and have room to dance. We pop open one of the bottles we snuck in, though Max ends up giving most of his drink to the floor.
Next up is Thom Yorke and this is when the capacity of the room is realised. He is half an hour late and during this time the atmosphere in the room grows and grows with a sea of excited people. Even in the grumpy photo pit there is a rise in mood. Finally he appears. I love his dancing, it's invested in his music.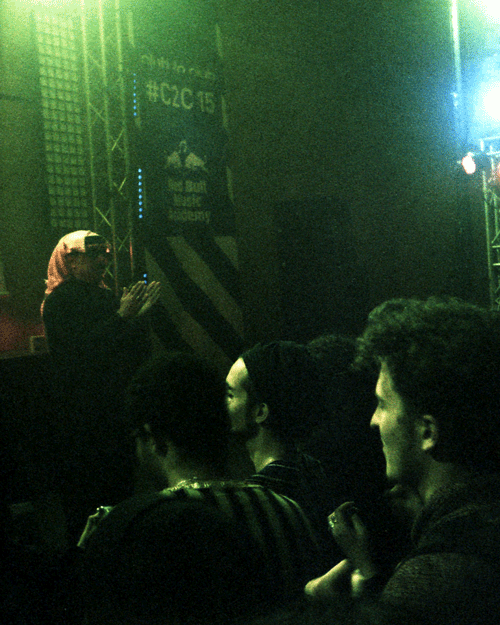 Soon, drunk Max says he wants something more fun than Yorke. We pop into the other room with Todd Terje, where we have a disco dance boogie woogie. Weirdly, we witness a guy trying to punch some nice boys from Berlin. That combined with some other dickish behaviour unfairly mars the room for us. After a while we return for the end of Thom Yorke.
For quite a few it seems that he is the end of the night, but others eagerly await Jamie xx...
Watching him feels euphoric and we didn't even get a hold of any drugs. Maybe it's the giant disco ball which is finally seeing some action after waiting high above all the other acts. Often I find parts of his music mawkish but this night it all felt right - it seemed the room was united into all moving to his music.
After finding out the bars stopped serving at 3am, we celebrated the night with the second and last secret bottle, danced until the early hours, got the bus home and slept and slept and slept.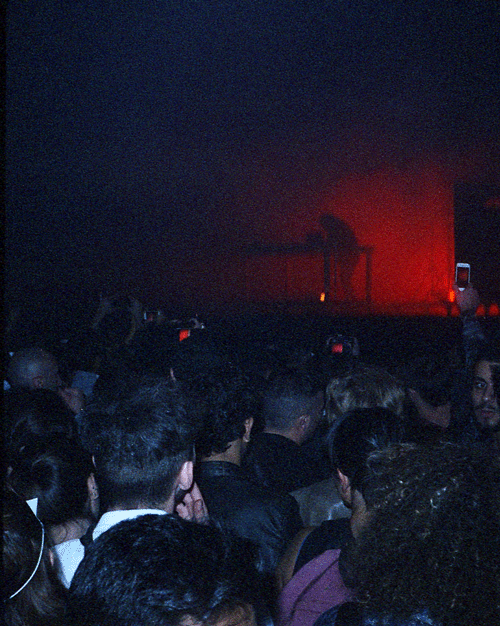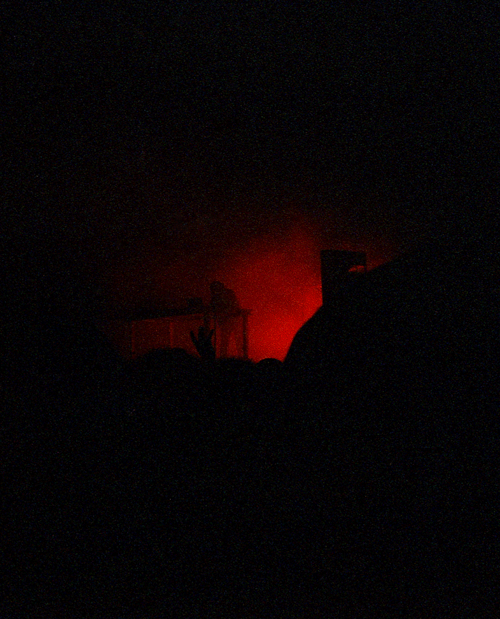 Saturday
After an afternoon/evening looking around the busy city we catch the bus to Lingotto Fiere. The energy and buzz that seemed to show itself in the latter stages of Friday was with us already. Saturday felt a lot more open, as though it was a night for dancing and partying.
I can't remember a lot about Saturday.
I remember being impressed that Nicolas Jaar could see what he was doing. He was surrounded by smoke and his lighting was low. It all sounded just so good.
We had snuck in a lot more alcohol after falling short on the Friday. After 3am, we were still left with lots of drink and becoming more popular. I was warned that it would attract attention. I wasn't in a state to be worried though. A girl explained to me that "In Italy we use this wine to cook." I said, "hey, great, in Italy we use this wine to drink" and then so did she, and lots of others.
Sunday
Sunday was mainly spent recovering. There was a block party in the early evening and it turned out I was still up for dancing a lot. I'm not sure this would have been the case had it been anyone other than Kode 9. His steady stream of relentless footwork tracks was exactly what I needed to get me moving and jumping. It was working on the rest of the crowd too, though it seemed to end all too soon.
Thinking about the festival, the main humongous room of 'club to club' held a lot of different spaces. It rang true to my experience of the city of Turin. It was able to shift and change in the light - like in the long streets it was possible to feel alone, while never being too far from a place you could immerse yourself in people. For me, this is a great and important triumph of the festival and location. The room was able to feel like a club (spilt and sticky red bull helped too) and yet also take on more than that; feel bigger than that if needed.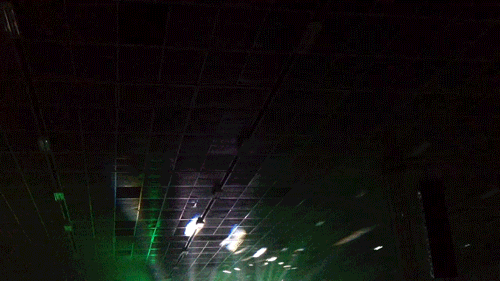 Club to club was a vibrant success in a city that feels like it has an awful lot to offer. The music had a natural progression from one artist to the next and venues seemed malleable to what they held. I look forward to dancing and gazing at these spectacles again. Hooray.
A Beautiful Gallery.