I want to preface this recap with the fact that this was my first Coachella ever; first time attending and first time covering. While I have covered smaller fests in the past, as a life-long SoCal resident, this was a Goliath for me; a chance to experience the hullabaloo. I wanted to experience as much as I could, namely catching as many of the performances as I could, but for the sake of the length of this piece, my editor's sanity, and your attention span, I narrowed it down to my favorite performances of each day. So here it is kids: a (mostly) unfiltered experience of losing my Coachella virginity.
Day 1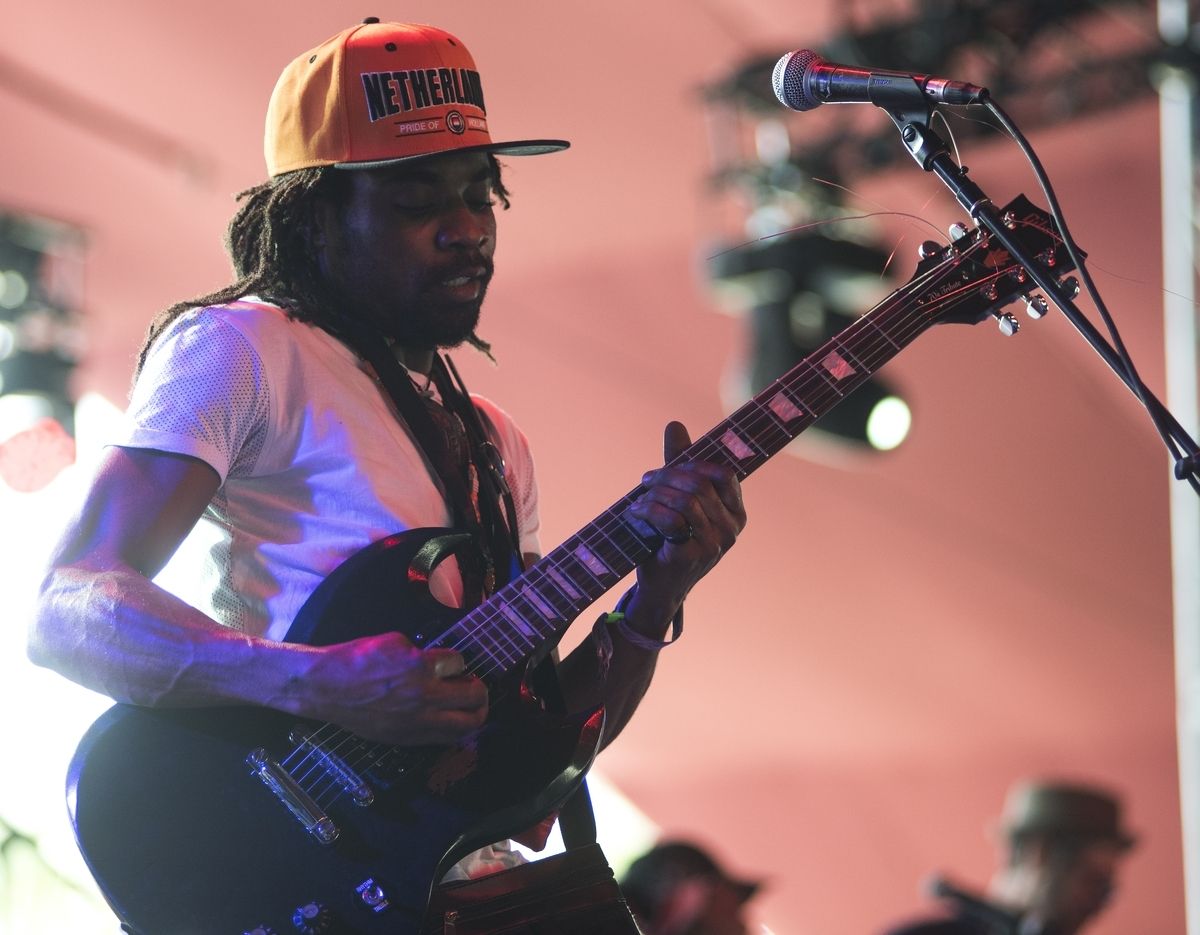 While I won't bore you with the details, I made it into the grounds about 45 minutes before gates opened. By getting to the grounds early (and I mean early), I was escorted, weaved, and shushed away by security and workers still prepping for the first day. I somehow wandered past everyone and onto the hot, windy grounds.
First up was and a chat and shoot with Mbongwana Star. They also happened to be the first act I was catching that day. The band was genial. And even though I don't speak a lick of French, I could hear the passion and excitement in their voices. And when it came to their set, that same intensity burst forth. The two lead singers are wheelchair bound and were dancing harder than anyone there. You couldn't help but smile and groove a little off of their vibes. A mix of reggae, dub, and heavy rock, Mobongwana was the very definition of multi-cultural; this Congolese band has overcome incredible odds.
Looking around at the attendees, it was an interesting confluence of old hippies, new hippies, hipsters, frat/ sorority kids, and wealthy 40-50 somethings all with VIP wristbands. But there was an undeniable thread connecting us all - a chance to hear live music and just let loose, if even just for 3 days.
I then shot over to hear some Nina Las Vegas. The Australian DJ perfectly captured the night club vibe during her 1:00 pm set. Arms were up and people were dancing and bobbing getting their limbs warmed up for the day. Even Nina jumped from behind her raised staged and danced, hyping the crowd even more. I wasn't quite drunk enough to get this loose but was working on it.
Next up was LǺPSLEY. For being so young, her voice is so powerful yet still so saccharine. Her music showed the dichotomy between young and old. While her voice exuded something out of a smoky R&B club from the '50s, the synths, and disco-y beats let you know she is a modern day artist. She also had a great rapport with the crowd, joking she got a spray tan because she thought that's what you do and because she's "pale as fuck". And while you had this relative newcomer blowing minds, just next door was the legend Mavis Staples. She brought out the old school soul, funk, and all around good times. It was encouraging to see so many younger faces in the crowd. Appreciation for all genres of music gives a lazy cynic like me hope. And while watching Ms. Staples perform, you couldn't help but smile. The joy on her face from getting to dig was infectious.
With so many artists and so many conflicting set times, how do you decide who makes the cut? For me, I sacrificed staying for full sets for most artists to catch even just a few songs from as many performers as possible. For others, it meant splitting up your group, flipping coins, to determine who would ultimately be rewarded your presence. All around, there were mass migrations of people strolling to find those performances that speak to them. That ebb and flow of bodies was some of the best art I saw at the festival.
Off to find a cold beer to set me right, I went to the nearest beer garden. The area was more crowded than a college house on Halloween. People were splayed every which way, high fiving, all while doing their best to double fist beers. After that, I needed some fresh air and crunchy tunes.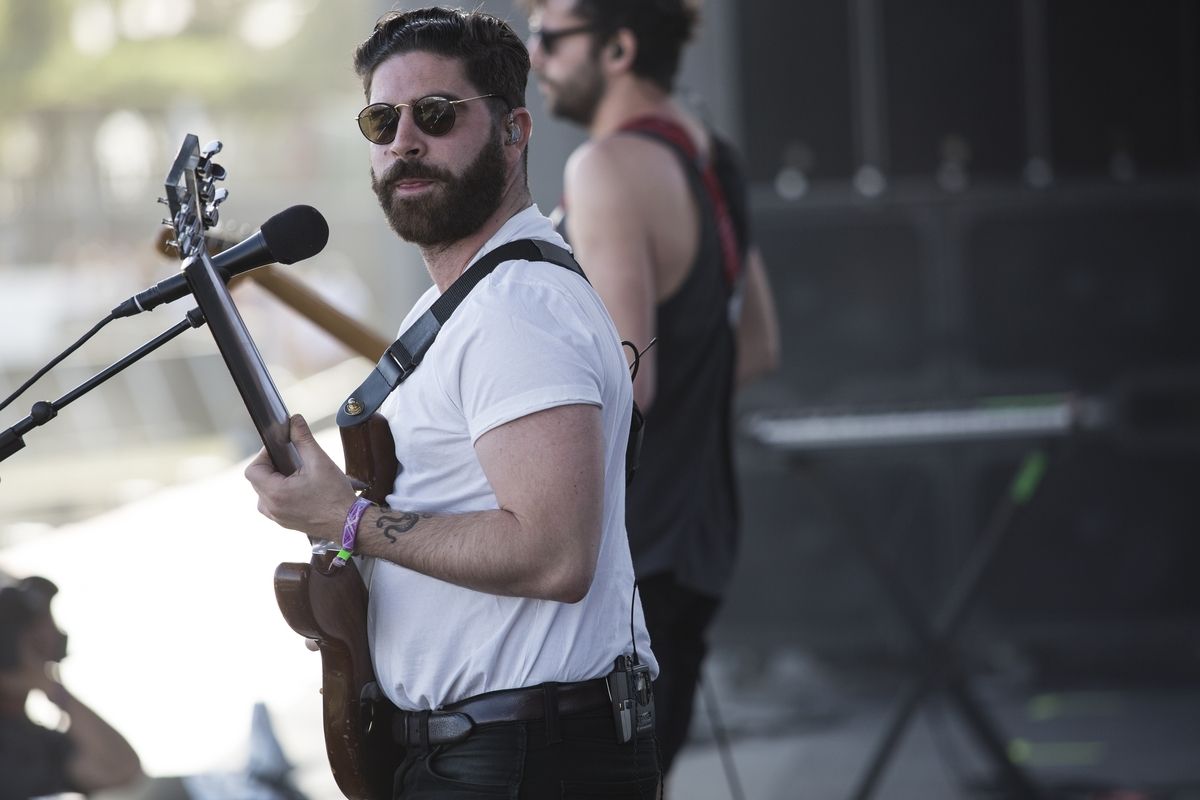 Foals brought some much needed rock to the sets. People were jumping and clapping along with nearly every song. The boys know how to put on a rock show. Even the 50 somethings next to me were getting into the spirit. They were doing bumps of nose candy off their dirt-caked fingers - doesn't get much more rock n' roll than that. Alas, I then rushed over to a tent to catch Christine and the Queens. Christine commanded the stage with her slinky dancing and choreographed moves with her backup dancers. In a chat I had with her earlier, she mentioned how Coachella performances need to be very physical - she did this in droves. The crowd fed off her physicality and were picking up what she was laying down.
Subjectively and objectively, Sufjan Stevens put on one the most memorable performances of the weekend. His set was haunting and transcendental. His voice and compositions drew you in and captured you, not letting you leave until the last note. The utilization of dynamics was showed why he is such a well-respected musician and performer. His backup singers had bewitching choreography and all had multiple costume changes. Sufjan utilized giant angel wings, a crazy silver get-up, and eventually some contorted balloon outfit. He fully embraced the mantra that with art, nothing's impossible.
Savages melted the faces and exploded minds of the crowd in their tent, rocking out harder than everyone. Their post-punk glory is something to be admired. The stage was their tabernacle and the crowd worshiped on bended knee. I thought it was impossible, but their sound was even heavier live. And when they asked the crowd to all pack to the front so they could see all our pretty faces, everyone willingly obliged.
Before LCD's set, I posted up in a nearby beer garden hoping the dirt caked on my face wouldn't fall into my drink. I made friends with a couple my age who were Coachella veterans. They informed me of Kanye's mic getting cut off during his surprise visit to A$AP Rocky's set. I guess even when Kanye West gives it his Kanye Best, adding in some Kanye Zest to the previously Kanye-less fest, going over set times isn't tolerated.
LCD Soundsystem gave a performance I won't soon forget. I was never a huge LCD fan growing up and now I am angry at myself for not being converted sooner. From the first note, the whole crowd was dancing. They even had a disco ball brighter than the moon to set the mood right. And I tell you, James Murphy can rock the hell out of a cowbell. And his Talking Heads-esque voice takes you to another dimension. The rest of the band was so on point it almost made me angry. Have you ever been so in awe of how tight and locked in a band is that you seethe, wishing you could somehow be a part of that moment only to know it is fleeting? LCD proved live instrumentation creates the best dance music. I mean even Mother Nature revered them so that the winds died just for their set. I mean, who else could sing "yeah, yeah, yeah" for minutes on end and keep it interesting? The song that pushed over the top was 'Losing My Edge'. It was difficult to tell if the calling out of youthful pretentiousness was lost on the audience, but it was almost an existential crisis for me. The most touching moment for me was the cover of 'Heroes'. A fitting tribute to the late David Bowie and a perfect way to end the night.
Day 2
I learned my lesson from the first day and arrived when gates were opening so I would follow all the proper protocol. I started the day off with a $16 burger while I planned my schedule for the day. One of the more useful tools for doing this was the Coachella app. You could set alerts for the bands you wanted to see; notifications were sent out with updates to set times/ cancellations and any special guests performing at various locations on the grounds. So, big ups to Coachella for skillfully running that all weekend.
The first band of the days that really struck a chord with me was Ex Hex. The all-female trio brought their garage-tinged indie rock to the excited crowd. The crystalline vocals complemented the fuzzed-out guitar and driving rhythms. But the band truly killed it on an extended riff-off during one of their songs. The bass player went first, fingerpicking arpeggios like no-one else's business; the drum breakdown had John Bonham shedding a tear from the other side; the guitar solo slayed.
Algiers brought the heavy and experimental vibe to their set. They rocked out and used backing tracks to supplement their sound. As an intro, they used an atmospheric bit with spoken words, in a very Boards of Canada or The Books kind of way. It was hard to tell if the band or the crowd were more exuberant during their set. The soulfulness of the vocals was something to be envied and just made the sound, that much more epic. At the end of the set, the lead singer broke the tambourine he was playing by just rocking out on it too hard, just keeping the dream alive.
I missed the first half of Alvvays' set waiting to do an interview, but I could still hear it from the press area. Once I finished that, I raced off to join the party. The post-shoegaze poppers brought their A-game. People were pogoing and dancing like nobody's business. They have a very crisp sound live, even with all the fuzz on their guitars. Part of what helps that are the vocals. They just weave into your bones. And of course, the set couldn't end without the infectious 'Archie, Marry Me'.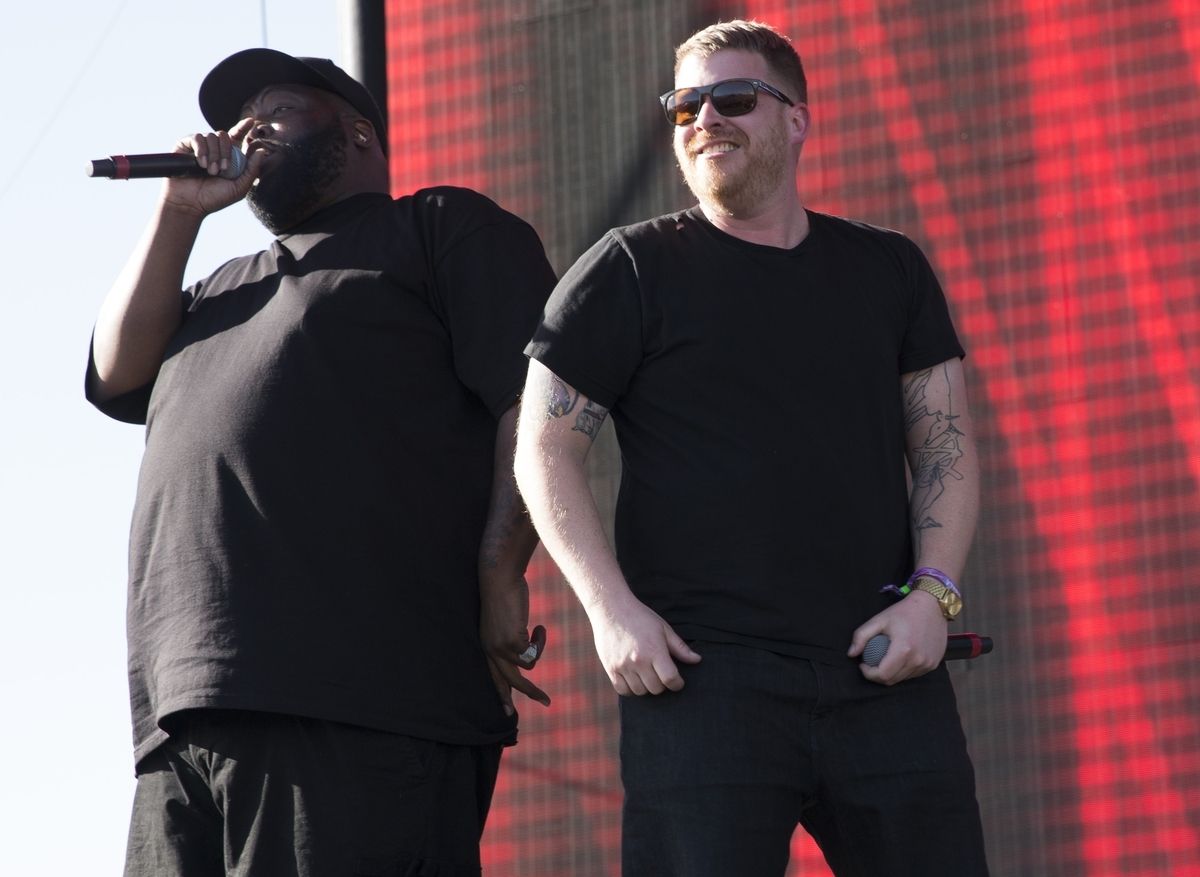 I then transitioned to a beer garden to catch Run the Jewels. As you may have heard by now, their set opened with a video from US Senator and presidential candidate Bernie Sanders. This got the crowd all kinds of riled up. To hear a politician genuinely state how much he admires Killer Mike ad El-P set the show up for a positive vibe. The guys put on a great show; their in-your-face style made for an engaging performance, especially when you consider the political messages of their songs.
Deerhunter had a packed tent for their set. Frontman Bradford Cox was enigmatic as always. Deerhunter is a band that excels at live sets because they understand how the sounds of their compositions play with each other and lock into something more than what you can get off a recording. In my humble opinion, they are one of the best pop bands out there at this time. They combine catchiness with pure musicality, especially on extended jams like 'Desire Lines'.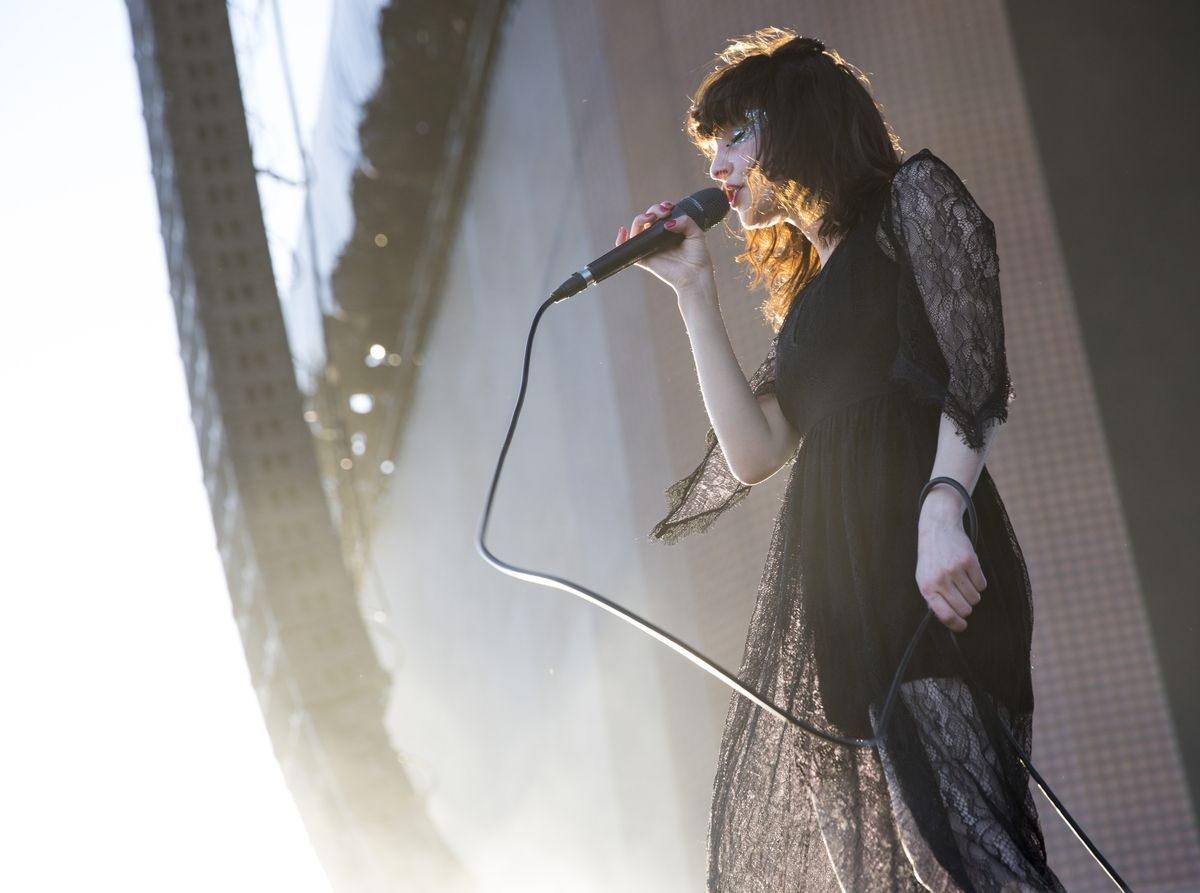 Whoever scheduled CHVRCHES and Courtney Barnett to have overlapping set times, did not plan well. While one is synth pop and the other is indie rock, they definitely share fans. Both are on the rise and gaining more popularity. The fact many had to choose to see one or the other is ridiculous. I started off with CHVRCHES and ended with Courtney Barnett. CHVRCHES played a great set. From the first beat drop, hands went up and dancing ensued. It was wonderful to see how much Lauren Mayberry has come out of her shell over the past couple of years. She engages the crowd and supplements the catchiness of the music. Courtney Barnett showed how much great band chemistry plays into live shows. They were so locked in and fed off each other's chemistry. Courtney didn't talk much during her set, mostly just saying, "Thanks!" every time the crowd cheered at the end of a song. It was interesting to see her not play electric guitar with a pick and not finger pick either. That style of playing lent to the unique sounds she got out of her guitar. And the solemnness she exuded when playing 'Depreston' was something to be envied.
Up next was Ice Cube and I was again faced with a dilemma. I knew I wouldn't miss his set; he's a legend and with rumors of special guests, I knew I couldn't miss it. The trouble came with the sets after. Guns n Roses started at 10:35, Grimes at 10:45, and BADBADNOTGOOD at 10:55. These were 3 equally exciting sets. But eventually, something's gotta give. In my case, it was my feet. My left foot was blistered to hell, my right foot was bleeding, and my lower back was in pain from someone pushing up off my shoulders out of the blue during an earlier set. Sitting, waiting for Ice Cube, my body had made my decision for me.
Ice Cube's set was good, but not great. While he is a natural entertainer and he can still rap well, it felt more like he was playing a role rather than being genuine. Even when he brought out members from NWA and his son, O'shea Jackson Jr., it felt like they were trying too hard to keep it "gangster" (as they put it). Ice Cube claimed that backstage they told him he couldn't perform "Fuck the Police" but I had a hard time believing that. Again, just more acting to get the crowd amped up. The biggest reaction of the night actually came when Snoop Dogg made an appearance and performed 'The Next Episode'. Snoop got a bigger reaction from one song than Ice Cube got his whole set.
Guns n Roses' set was interesting. Slash still kills it on the guitar. While I have never been a major fan of GnR, I can still respect how insane Slash is at the guitar. The rest of the band was tight, but the set lacked a certain luster. People had been standing for hours at the front of the crowd for this performance alone and I can't help but feel they were a little cheated. Their set was nearly two and a half hours long. And when they already performed 'Welcome to the Jungle' as the third song, I wasn't sure how they would fill up the rest of the time. Axl gave it his all. And while his pipes aren't what they used to be, he was still hitting impressive notes. While some may justify the lack of engagement on the fact Axl was chair bound due to an injured leg, he still did his best to shimmy in his seat and put on a show.
The trouble comes with a clash of the old guard and new guard. Guns is part of the old guard. There is only so much nostalgia that can save an aging rock band from looking out of place playing songs that speak to 20-year-olds of a bygone era. And it's not that rock music is dead; it's that their rock music is dead. You can admire the talent and still know that their genre of music does not speak to the youth and new ears of today. With this thought surging through my veins, I somehow mustered the strength to trek it across the field to catch Grimes.
Grimes never disappoints. Claire is a performer and artist in the truest sense. By the time I got to the tent, my feet forgot what was wrong with them and got me moving. I missed her bringing out Janelle Monáe, but caught Aristophanes for 'Scream'. It is always fun to watch the way she commands the floor and do her exuberant dance moves; it gets you excited and lose your own self-consciousness of how you're dancing.
Day 3
The Yellow Trail can be equivocated as the path into Hell. This is the route that connects the Uber lot with entrance gates. It is a rock filled dirt path that zig-zags its way across the compound for well over a mile. During the day, the sun scorched earth bakes you to a crisp. At night, the droves of people kick up enough dust to the point I am still blowing dirt out of my nose. As a newbie, I didn't bring a bandana to cover my face like many veterans did. This path in large received the most complaints. The trail mocks your aching muscles and bones, daring you to take another step so it can increase your weariness. A young man walking the trail one night said he now understood how the Israelites felt wandering the desert with Moses. Another group said the walk was harsher than crossing the border from Mexico into the US. And once you reached the Uber lot, there was no relief. Imagine thousands of tired, half-drunk people all trying to request an Uber at the same time. It was madness. The Uber drivers had just as equal of complaints. Not all were informed of re-routes on streets to reach the Uber lot. And once they did figure it out, the routes were changed each day so what they knew was useless. It was the definition of a shit show. You were better off walking an extra mile or two down the road and requesting a ride there. Why there were not multiple drop-off points and why it was not closer to the grounds, I couldn't tell you.
After making it back on the grounds for the final day, I enjoyed Girlpool's set. Their harmonies are just so strong and on point. They are able to play with such power and movement even without drums. The pulsing bass and electric guitar is an aesthetic they perfected and the crowd loved it.
Kamasi Washington and his band were on a whole other level. It was inspiring to see so many people come out to hear free-form modern jazz. Kamasi let the crowd know they were going on a journey and he would see them on the side, and man did they take you on a journey. The way every instrumentalist was so locked in and able to improvise off of each other makes you wonder why jazz isn't more popular with younger audiences. Impromptu flourishes and spacey segues were a perfect way to cool off in the desert heat.
Wolf Alice got the crowd thrashing in the heat of the afternoon. This is a young and vibrant band that is proving time and time again they are a force to be reckoned with. An older woman next to me commented to her friend how the lead singer (Ellie) looks so demure but anything but once she starts playing and singing. Her screams and wailing on the guitar is exacerbated by her haunting vocals on the more toned-down songs.
The 1975 put on a pretty good show. They have so many die-hard fans it is difficult to gauge an honest crowd reaction for this one. They opened their set with 'Love Me' which definitely grabbed everyone's attention. I've never heard so many females scream, "I love you Matty!" It was definitely a sight to behold. The band played a few too many slow jams for my taste, but that's just one guy's opinion. What did garner respect from me was when Matty spoke about the Brussels terrorist attacks. He spoke about how lucky everyone there should feel for being free and, "If we're gonna be free, let's do it for the people that aren't."
A band that was perfect for mellowing out to was Beach House. After years of failed attempts to see them, this was definitely worth it. Their music just lilted over the crowd and quelled the heated bodies as dusk turned to night. Their set took you to another realm. Their hazy dream pop washed you clean and left you refreshed.
I will just flat out say Sia had the best performance of the weekend. Her set was empowering, artistic, and just so well executed. Sia, for her part, stood on a stark white box, stoic, singing while her infamous wig blocked the upper part of her face. When the first song started, it looked like she was wearing a giant white ruffled dress. But suddenly, it started to move on its own. It turns out it was costumed dancers and who should pop out from hiding than young dancer, Maddie Ziegler. Each song had its own fully choreographed number, most with Maddie in them. There were some surprise guests, though. Paul Dano played a disheartened business man. Kristen Wiig even lent her talent to the stage. The only way to describe her set was performance art. Sia's voice is so pure and grandiose, she didn't need to move to supplement it. Her set was true performance art which Coachella was missing a lot of. The camera work for her set was impeccable as well. The shots were so crisp and clean, you were essentially watching a music video live.
Musically, the night went down from there. I met up with my college friend, Casey. She is a Coachella veteran and we had been trying to meet up all weekend. We were finally able to for Calvin Harris's set. While the crowd was exuberantly dancing, I can't help but feel it was just because they already knew what to expect and were planning on dancing no matter what. His set had very little dynamic and originality to it. Sure he played his hits. But it was surprising that as a DJ closing out the night, he didn't try and go out with a total bang and remix and just go nuts. Instead, it felt like he was just hooking up his iPod and when it was time for the next track, he just threw in a 15-second transition. He brought out Big Sean which was fun when Big Sean did his own song. He also brought out Rhianna, which should have been a better performance. She is an extremely talented singer, but something was off. Her voice sounded great, but the music turned out to be being played live. What do I mean? Rhianna was singing over her own vocals. Calvin Harris was "playing" 'We Found Love', but not doing the music live. Rhianna's original vocals from the track were still playing- not backing vocals, lead vocals. It made for a weird experience. Either Rhianna was supposed to lip sync or Calvin Harris just said, "Fuck it" and played the song off his iTunes and had Rhianna karaoke over her own song. There was also an unnecessary transition where he played the first half of Adele's 'Hello'. Not a remix, or a reworking, or anything like that. He literally just had the first half of the song play over the speakers and then jumped into something else out of the blue.
Not the best way to end the weekend.
I went with Casey and friends to listen to the finale of Bob Moses' set in the Do Lab- a cool tucked away dance floor that I wish I could have found more time to check out. And when it was time to go, we saw the avalanche of people heading for the Yellow Trail. Rather than commit suicide by death march, we went to the campgrounds and rested out bones in one of the art tents while aspiring rapper Versis serenaded the weary crowd.
But after an hour or so of that, it was time to depart and make the dreaded trek to our rides back to our hotels.
So, there you have it, folks. My recap of my Coachella weekend 1 and my first Coachella experience. If you need me, I'll be soaking my feet in the tub over the next few days and reminiscing about some truly memorable performances. No giant festival is without its faults, but it's through trial and error that things improve. There's a rumor that Coachella bought more land for next year and plan to add around 40,000 more people. I can't wait to see how things turn out.