The
Zavvi
stores might have closed their doors last year but it's still living on in the digital world we call the internet. Yes,
Zaavi.com
is striving and we should all get behind it before the likes of Poundland or 'Buy Now - Save Now' shops decide they want a cut of the online action too. Now that Spring is finally here and the sun has decided to get of it's lazy ass , zavvi.com has designed a range of exclusive T-Shirts to compliment the release of upcoming albums. Playing out like the grand national, Owl City are currently clinging onto the number one spot, with Gorillaz closely behind at number two on the zavvi.com T-Shirt charts! But with the release of ACDC's new album 'Iron Man 2' on April 19th, pre-order sales for the T-Shirt and album bundle have seen ACDC quickly climb the ranks and are tipped to steal the number one spot in just a matter of weeks! And it seems like it is the women shoppers on zavvi.com who are really shaping the charts, with a recent survey by zavvi.com revealing that a surprising 65% of all music T-shirts bought online are by females! Whether you're an ACDC fan or fancy becoming the Real Slim Shady, zavvi.com have a pretty cool range to meet your tastes.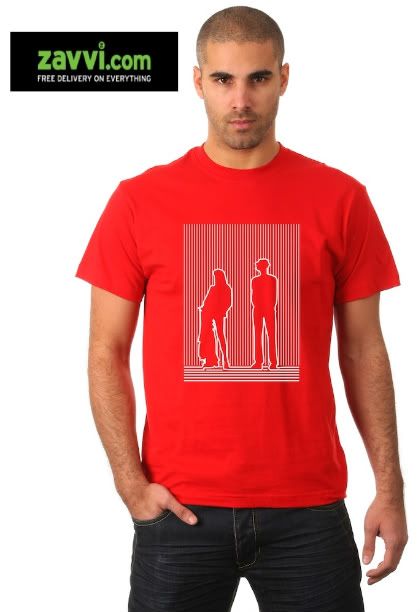 Our personal favourite is the White Stripes one (above) and to celebrate our great taste, we have four of them to give away! For your chance to win, just answer this simple question:
The White Stripes recently released a live album but what was it called?
a) Under Great White Northern Lights b) Under The Sea c) Under and Over
Send you answers to thefouroh5@gmail.com
Info
The T-Shirts will be available to purchase on their own (priced from £6.95) or part of a bundle (priced from £12.95). Click
here
for a full list of designs.