Last weekend saw an amazing few days of music and parties in the form of Converse Rubber Tracks, and I was lucky enough to be invited along. Here's what I did and my thoughts on the experience.
When I was young, about 9 or 10, I really thought that I had helped to popularise Converse in the UK. This was a genuine belief of mine. After a trip to Canada, I returned home with a pair of basketball man shoes (this is how I identified them). I soon noticed that loads of people were wearing the same shoes! 'Oh wow' I thought to myself...'people have seen me wearing them and are copying.' Obviously this was the only explanation, everyone was looking to a 9-year-old boy for fashion tips.
Telling this story growing up I was met with anger from my friends, they called me an idiot / a liar, stole my lunch money, punched my arms and face, and didn't talk to me (friends eh, what can you do). This made me question whether I'd really helped Converse. Perhaps people were coming to this choice of their own accord. This thought grew when I started to associate the shoe with certain types of music and the people that listened to it.
Then I didn't really think about Converse much at all... until last weekend.
With this story in mind I was very curious to see the idea flipped, what music would Converse present to people? What were the brand's choices? I was happy to see that their content partners included NTS and Boiler Room amongst others; good signs already.
Converse Rubber Tracks began on Friday with a live NTS INT broadcast hosted by Martelo with guests including Run The Jewels and Prefuse 73. I was unwell on Friday and missed this, but I heard, unsurprisingly, it reached capacity fairly quickly. Missing out on this event made me desperately keen to get better quickly... I had no intention of missing a boat party on the Thames, so, of course, I drank loads of wine (like doctors say) and went to bed early.
Saturday Boat Party
I got up and atom feeling good, caught a bus to Victoria embankment and met my friend Kieran who was joining me.
I had a few worries going into a 'Boiler Room' boat party; I thought everyone might be too cool and that there might not be much dancing. Kieran shared with me his worry of a dress code; on first impression it seemed like everyone was dressed stylishly in black, like you're supposed to do for Berghain or a funeral. I had green trousers and colourful t-shirt on and Kieran was dressed (in my opinion) like an off-duty policeman.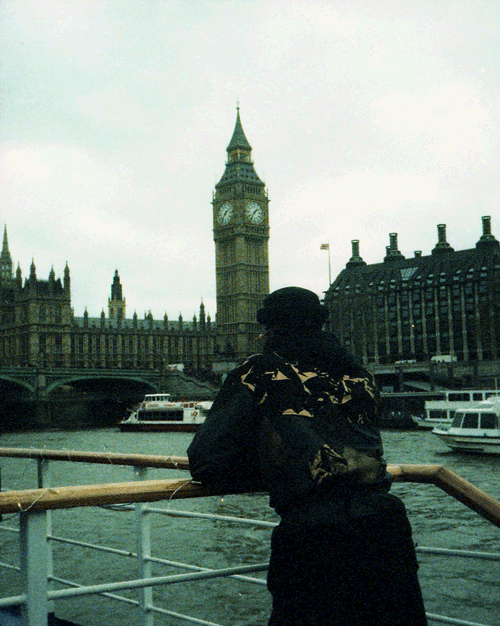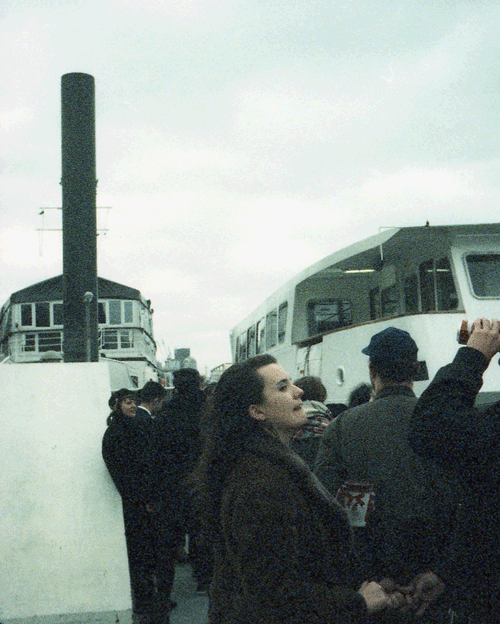 Eventually all fears were quelled and cast aside because, as usual, nearly everyone is nice and up for having a fun time. So instead of worrying, we got down to the serious business of getting drunk.
Arriving on the boat I was non-stop excited - rightly so being on a party vessel programmed by NTS, Rye Wax, Domino and LEX records. I headed to the upper deck and had a drink.
I let High Lucia ease me into the situation while I focused on the river tour of London. Cruising steadily passed the sights of London felt like being in a film with a super long tracking shot and awesome soundtrack.
I had my first little dance to Kasra V an NTS DJ playing what sounded to me like Italo disco amongst others. It was very easy and fun to dance to but as the party was still warming up I felt a bit shy. The dancing collective grew towards the end of his set and become a fixture from then on out.
More movement picked up with 'FYI Chris' making their Boiler Room Debut. They're a pair of nice young men both called Chris playing a great selection including their own hypnotic 'No Hurry'. I enjoyed their choice of dance floor sounds ranging from vocal samples of mumbled rambling to an wondering saxophone, it all sounded great. These two should be closely watched.
Next up were two live performances, the first from London-based beat maker / vocalist Palmistry.
He was one of the few acts that I had actively been listening to before I found out about the event and I was excited to see him live. Palmistry's soft and smooth singing/rapping over synths and deep toms was real good. I always find this kind of music hard to describe, it makes me think of artificiality but less vacuous a similar feeling I get from Future Brown or SOPHIE.
His delivery and voice are there but he seems almost unsure of it himself, hood up and leaning in all directions to avoid the audience, this only adds to the enjoyment. He is joined by South London DJ Endgame who in comparison is a steady anchor keeping the music / air horns coming and standing strong. The pair get the boat jumping about at a crucial time - the boat has moored and new people are joining the party. A perfect introduction to the situation as everyone is dancing, drinking chatting and enjoying Palmistry. A particular highlight is Memory Taffeta and Kieran and I both have a nice dance and agree that it's great. Which is surprising as generally me and Kieran hate whatever the other likes.
The second live act was Sam Dust, aka LA Priest. The performance was totally different but in the best of ways.
Sam seems very comfortable with who he is and his music reflects that. It's irresistibly funky, danceable and inventive. I don't find him an oddball at all, he's similar to Connan Mockasin or Dean Blunt in that regard. These artists do what makes sense to them and don't take it too seriously or frivolously. It was a pleasure to see him play, even if he was frustrated with the difficulty of sound on a boat, this became a part of the performance. Stating, "this is the noisiest show Ive ever played" so his solution is to "play the quietest song ever." At which point he gets the audience to sit/crouch down as he serenades us with 'Mountain'. Soon everyone is back on their feet as the best dance moves of the day are on display with 'Learning to Love'. He really embraced the situation he was in and made the audience a part of that which is one of my favourite things. He was also the perfect soundtrack for the light becoming night.
Back to DJs for the rest of the evening, I missed most of Medlar as I was having a good chat with LA Priest and also viewing the changed scenery as night had taken over and the city lights were colourful and bright.
I'd managed to bring a big bottle of rum aboard (that's what boat people drink) and Kieran and I were steadily getting more unsteady as the evening progressed.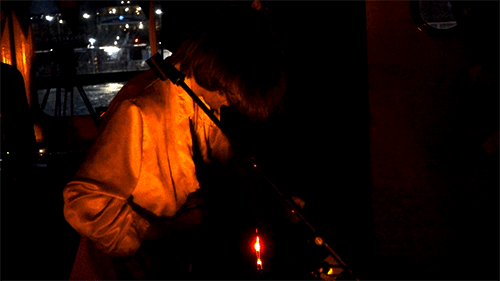 /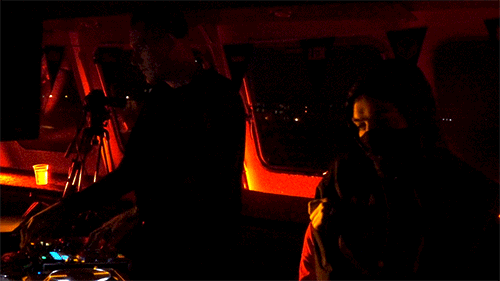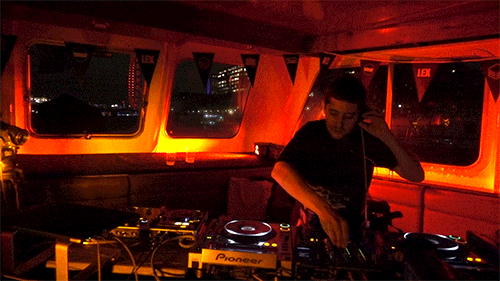 We had a great dance to Endgame who was flanked by a masked squad, dancing behind the decks. The setup and music had a somewhat sinister edge and made me feel really cool; writing that makes me feel really uncool, but that's what it did.
Next up was Prefuse 73 who I'd been a fan of for ages, I was very excited to see him. His offering was the most out-there, plenty of nice noises. Potentially at some points more for listening than dancing. At one point a guy asked Kieran "how can you dance to this?" and he replied "it's easy, just like this" and started waving his arms around.
Finally it was Night Slugs founder Bok Bok, his music was what was needed at the end of the day; a recognisably UK sound through and through. The perfect accompaniment to returning to Victoria bank and seeing the iconic London sights lit up in their glory.
I was very drunk and happy at the end of the 5+ hour party. Unfortunately, prearranged plans were keeping me from heading to the 100 Club to see Run the Jewels and others.
Sunday Kelela 100 Club
After my Thames voyage I continued into the night and everything got very hazy. I woke up earlier than I wanted to and was unable to remember much about the night before. Spent the majority of the day in bed drifting between sleep and watching Buffy against my will (sort of).
For this part of the weekend I was joined by Mae, my ex-girlfriend turned close and good friend. I was feeling very spaced out and we were unsure whether we would make it to the 100 club. Mae's love of Kelela soon jogged us back to reality and we came to our senses and left.
Leaving the house we went via Dalston Curve Garden and got food and energy from 'Latto's Pizza'. I'm not being a joker when I say his pizza is the best. Dalston Curve Garden is a special place to sit and eat, a weekend must for any London visitor/resident.
We catch the tube and arrive at Oxford street to the glorious Christmas lights and grandeur. Mae's initial reaction to being in central London for a night is 'yuck' mine is a feeling of wonderment, as I'm from the countryside (so is she, but she's got the London look).
There is a large queue to an unassuming door, we head downstairs to the famous underground 100 Club. On the stairs, there are plenty of Rubber Tracks / Kelela posters. Mae tells me she needs to steal one before we leave (criminals eh, can't take them anywhere.)
The place is packed out and super busy, it feels like the place to be. As a result of certain activities from the night before I am very aware of my space and the space around me. I see plenty of photographers who are probably getting paid in amongst the heaving crowd and figure I'm in no state to join them (so there's a definite lack of photos, but I'm sure you can find some somewhere.)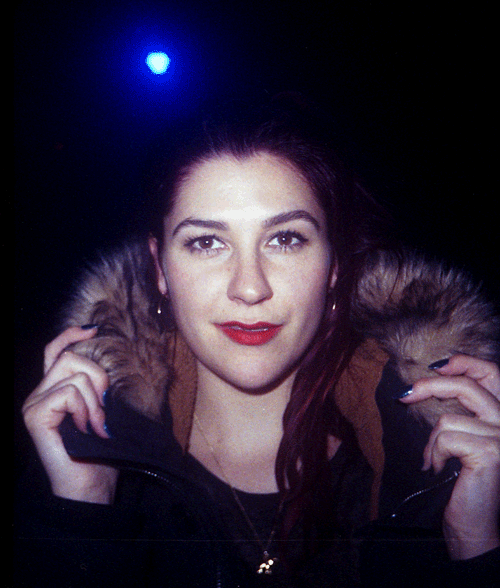 We arrived late and catch the end of Georgia. I think any band having 2 drummers is instantly indicative of rhythm-heavy, energetic music, and that's what's delivered. I find it similar to seeing Kate Tempest with her band in the early stages of them being formed.
We find a spacious spot at the right hand of the stage. I am feeling tired/trippy and am keen for Kelela to begin. Looking around the room, I see a similar kind of patience for the star of the show. However this feeling is quickly forgotten as music for singing and dancing starts to play. I look up and am pleased to see Moxie behind the decks.
I like Moxie a lot. Her selections and mixes are always well crafted, seamlessly including old/new/underground/mainstream and all. Her choices suit the room perfectly; energy I thought I didn't have comes to me and the whole room comes alive more so.
I can't say enough good things about Moxie. Her involvement is a great example of what (I think) Converse was trying to do with these Rubber Track events.
The music is cut off abruptly and a line of people are hurriedly making their way through the crowd. Kelela appears on stage followed by a load of camera people and the like. The whole crowd is almost instantly entranced by her.
Everyone dances and sings along, while me and Mae have a 'lil bop. Mae sings along to 'Message' - "if I was your ex-girlfriend."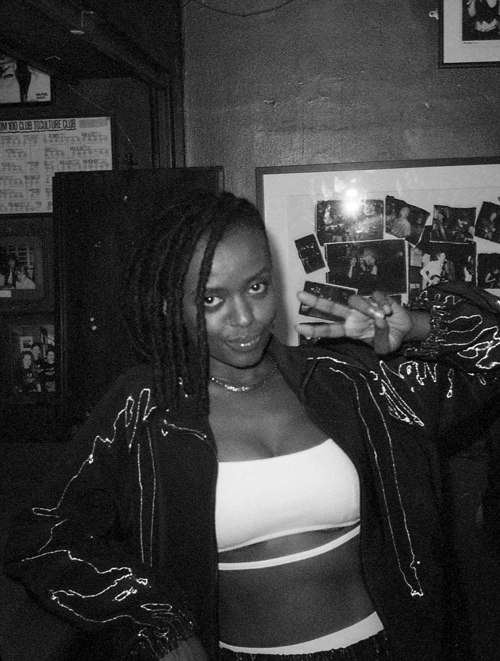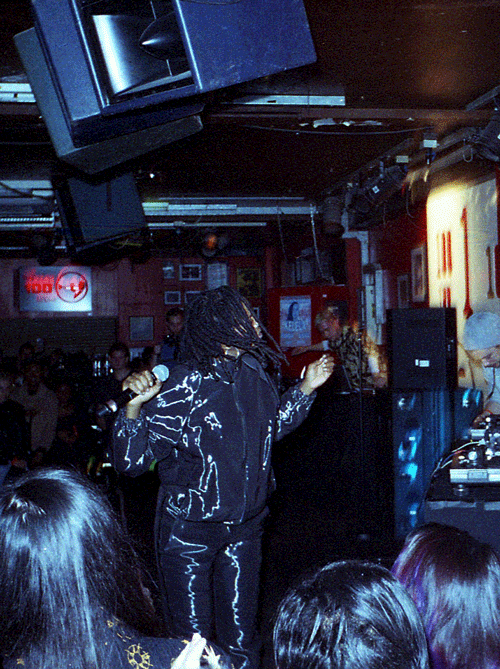 She is effortlessly entertaining, taking interest in, and singing to a stoic security guard. Both are performing their respective jobs amazingly. I wouldn't be able to ignore Kelela's gaze. While singing, she surveys the crowd and her looks are mesmerising. As a rising star Kelela doesn't take this audience reaction in her stride - she is clearly appreciative. She sounds sincere, in the way only Americans some how can, as she sings to us, "it was my dream to be here singing to youoououououououu." This genuine sentiment makes me appreciate how special this event is.
Kelela is a perfect example of an artist taking the best from all worlds, her wonderful voice and involvement with Bok Bok and other pioneering UK producers propels her into a space where she can present these excellent productions to people who might otherwise not hear them. She thanks those of us who have been listening since her mixtape - the thing that alerted everyone to a wonderful new talent.
I believe the same goes for Moxie, her effortless selections can bring plenty of new music to new ears (e.g. she made me listen to 'Hotline Bling'). For this genre-spanning ability she is one of my favourites, plus she's just really friendly.
The show ends and Kelela is very gracious, posing for all photos and chatting to fans. Mae encourages me to get a photo and under her reliable council, I do. We head out and are given a free poster on top of the four others Mae has 'stolen'. We head home for sleep and more Buffy.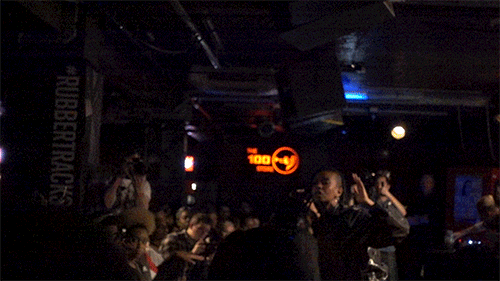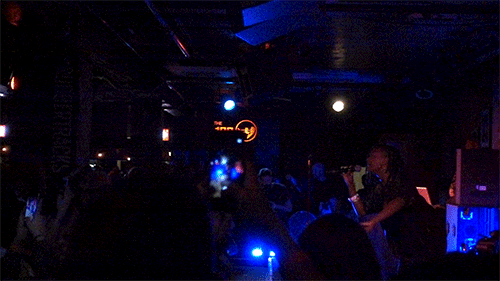 Thinking about it, Rubber Tracks got it all pretty spot on. They and their partners championed music and musicians who are either just emerging with, or for many years have been making important music that is carving out its own space.
With this London edition, they bought a lot of UK talent together and presented it in the heart of the capital with really special and unique shows. Plus it was all free! London was tied to these events, whether it was the passing of famous buildings on the Thames, or the legendary club in the centre of the city, Converse Rubber Tracks managed to marry the music and landscape with great skill.
I had a great time.