At a first glance, you might be mistaken for thinking that Craig Burton was just a member of a marauding army of rowdy fans seething to unleash a flurry of elbows and kicks in the mosh pit of any other Saturday night metal gig. Covered from head to toe in ink, leaving barely a patch of pink flesh to be seen and sporting a pair of black jeans and a black t-shirt branded with the logo of some hardcore metal band you've probably never heard of, Craig blends perfectly into the scene that he was worked so hard to capture. Within the last year UK based Photographer, Craig Burton has become one of the most up and coming and well-known Photographers around the hardcore and metal music scene in London. Craig's other main area of work is based around the Tattoo scene, which is where he first made a name for himself as a photographer. With a strong passion for adorning his anatomy with tattoos; stemming back to when Craig was a mere 15 years old, Craig has had his skin embellished by tattoos in over 5 different countries and has collected tattoos from some of today's top artists. He has found that due too his heavy coverage of ink, that it works as an advantage when working in the areas he does, as he finds people are more inclined too open up too him, knowing his love for what he does in his work is also in his blood and lifestyle. Craig also credits his choice of living a Straight Edge lifestyle (which means he doesn't do drugs, drink alcohol or eat meat) down to being the main strength and foundation for his work. Amongst all of life's trials and tribulations, Craig has never lost sight of those who admire his work; giving away much of his precious time to talk to his fans, making his work all the more worth while. Craig Burton is a real class act, with a great talent and passion that is often imitated but never duplicated! We here at The405 wish him the best of luck in all his future endeavors! Craig took some time out to kick back and give an exclusive interview to The 405, check it out!
How did you first get into doing photography and when did you realize it was a possible full time career for yourself?
I have never really been a 9-5 person, all I ever really wanted to do was travel. I have traveled most of the world, almost all of Europe and parts of the United States and various other places. During my travels I started taking loads of photos, when I returned to the UK, there wasn't much else I wanted to do, so I just studied a little and started taking photos! I based a lot of my work around the areas that interested me, tattoos, music… and people, And then just kind of fell into it… people started checking out my work, and I just pushed my work out there! The thing I have found with photography, it wasn't getting into it that was the hard part, it's maintaining it! Being creative and coming up with new ideas…  Its also a very competitive field, its hard to slow down, you have to keep the momentum going.
What cameras do you use?
I only use Canon Camera's. I mainly work with a 5d, as it's a great full frame camera, great quality for printed or published work, I also use a 30d for back up. I use a wide rang of Canon lens, 24-70 and 17-40 are the lens I mostly use.
Who or What inspires you to take photography?
Well I could come up with a cock and bull story with deep meaning… but to be honest I think that I motivate myself to take photographs, because I love what I do, and I everyday im trying to achieve more in my work… its an amazing feeling to do something you love and have it attract the attention of others… I often get kids writing to me asking for advice or tips, and no matter how busy I am I always try to answer them the best I can, because at the end of the day, everyone has to start somewhere and what goes around comes around haha! Its little things like this that inspires me. But I do study a lot of film direction from Tim Burton, his use of colours, the way he can make a film feel a certain way by just adding a colour… its really cool haha!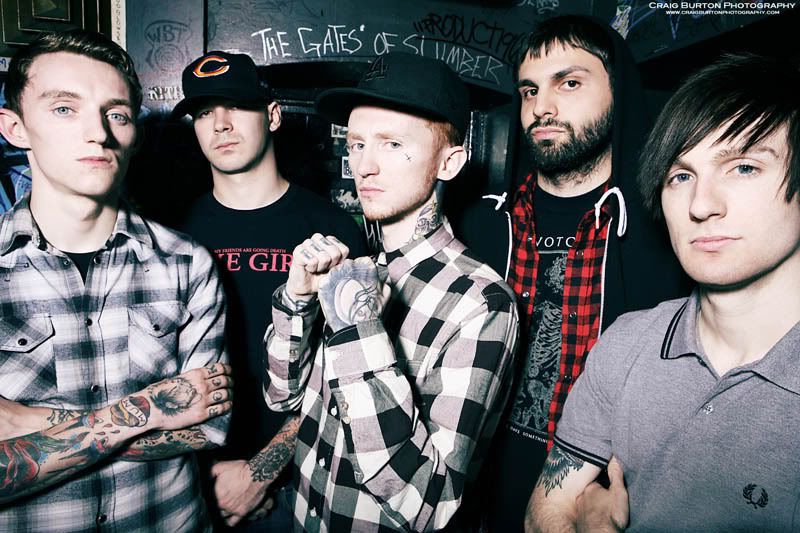 Would you say that living a straight-edge lifestyle influences your perspectives some what when working? In terms of what you want to shoot or in conveying a message etc.
When I first made the choice to become straight edge, it was a decision I made alone, I didn't do it to fall in line or become part of a click, I knew in my heart it was the right choice for me at that point in my life. And it's a choice that has made my life what it is today, it gave me balance and strength. Its as much a part of my life today as it was then. But at the same time my straight edge life is a completely personal choice for me, what other people choose to do with their lives is their choice. I don't preach it or force it on people. And to be honest in my experience the people that go on about it, are normally the people who drop out! Im a strong believer that people need to find their own way in life, and if I was to have hidden meanings in my work, then I feel that would be an abuse of what im doing! But saying all that, if someone was to ASK me about straight edge, then of course I would be more than happy to help or answer any questions
You're also an avid collector of Tattoos. How many tattoos do you currently have? What are you looking to get inked next?
HAHA this is a question I get asked at least 5 times a day…. And to be honest I have never really counted! I actually get tattooed quite often though…. As I also photograph tattoo conventions all over the world for tattoo magazines, so I pick up tattoos from some of the worlds best! I think the most I ever got at one convention was 11 haha! And that was a rough nights sleep.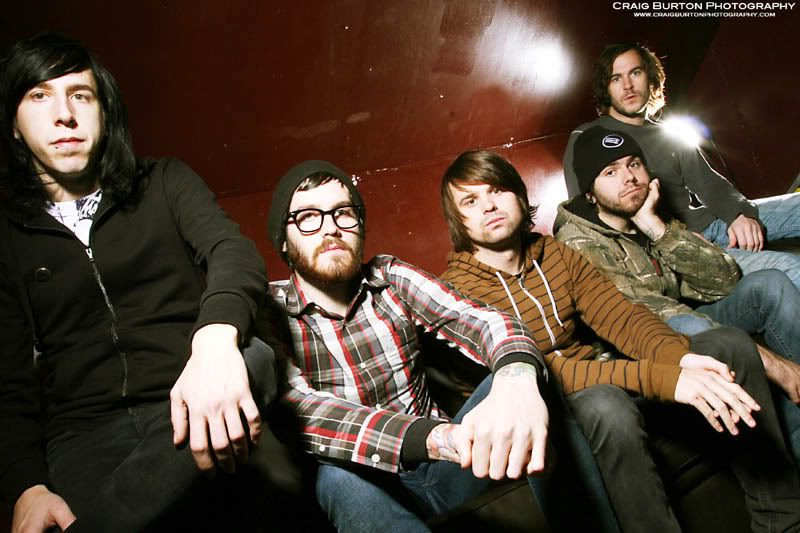 Out of all your tattoos, which one means the most to you and why?
Hummm that's a tough one haha! To be honest most of my tattoos mean a lot to me, as they all relate or remind me of something, either places I have been or to remember some point in my life, but in general tattoos are just works or art from people you respect. I am however proud of my head tattoo haha! As it was hell to go through and without having actual meaning, its basically saying that I feel comfortable enough with my life and body to do pretty much anything with it haha!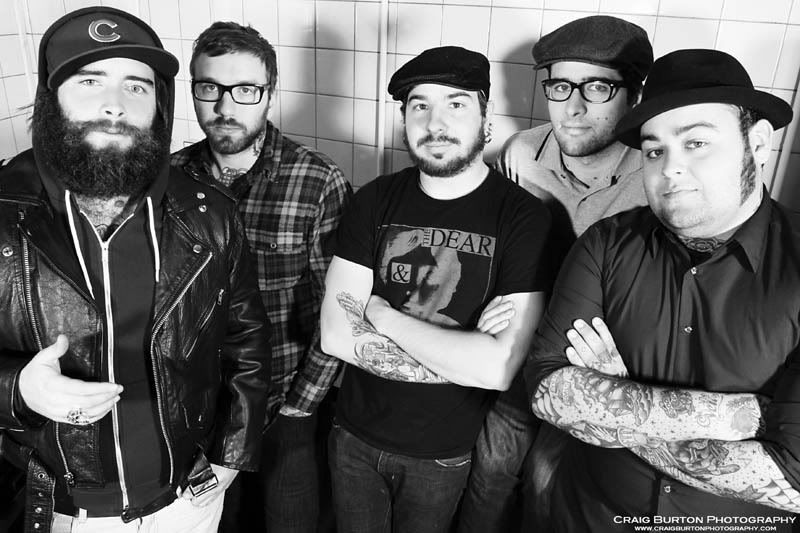 Have you ever been injured whilst taking any photos?
haha luckily no! But one of my studio lights blew up! At Give It A Name, this year, I was half way through shooting a band, and I saw smoke, so I said to the guys please don't smoke during the shoot! And they were like??? What??? Haha! I looked over their shoulder and the light was on fire haha!!!!.... We all lived to tell the tale though
You've also taken photos of bands such as Gallows, Alexisonfire, Killswitch engaged and many many more. If there was one band(or artist) past or present that you would love to capture, who would it be and why?
Well im a huge 80's rock fan so id love to have been shooting bands in that time! Maybe catch Guns and Roses in their prime haha! But now, I would really like to shoot portraits of Marilyn Manson, I have shot him live which was great, I just like his style and he always brings so much to the shoot! Also Slipknot would be an amazing shoot! Id really go to town on that shoot haha!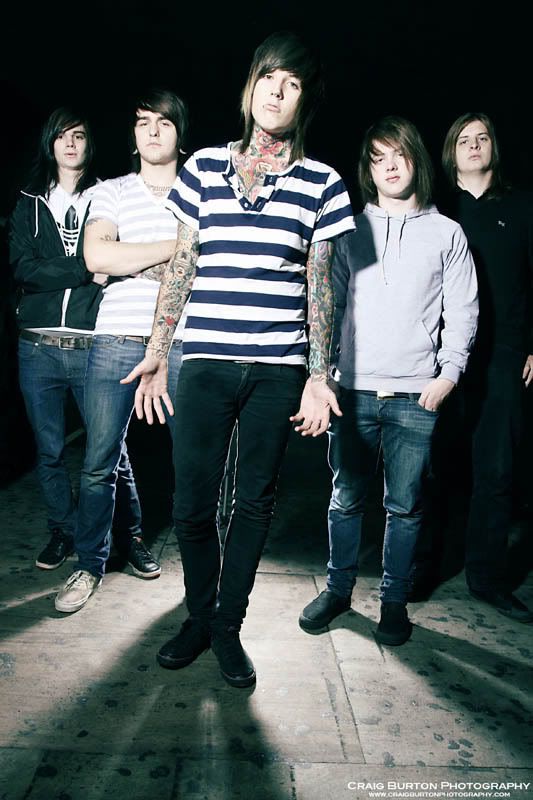 What is the key to never getting bored or tired of what you do?
Well the first thing would be to really love what you do! and always challenge yourself, I think the second you start to become complacent that's when you could become bored… I guess its kinda hard trying to find the line between work and fun! When that becomes blurry that's when you start to question what you do! Luckily ive always been very into what I do, and I don't stray from that! I photograph the things in love that I love and what interests me!
Finally, where do you see yourself in 5 years time, in regards to you work, new projects and any other general aspirations that you have in life?
Well being alive would be a good start ;) haha. I would still like to do what im doing… getting to travel and working with new and interesting people! But if I have a goal id say Id like to start my own magazine… I have had some great ideas, and id like to put them to the test! So watch this space…..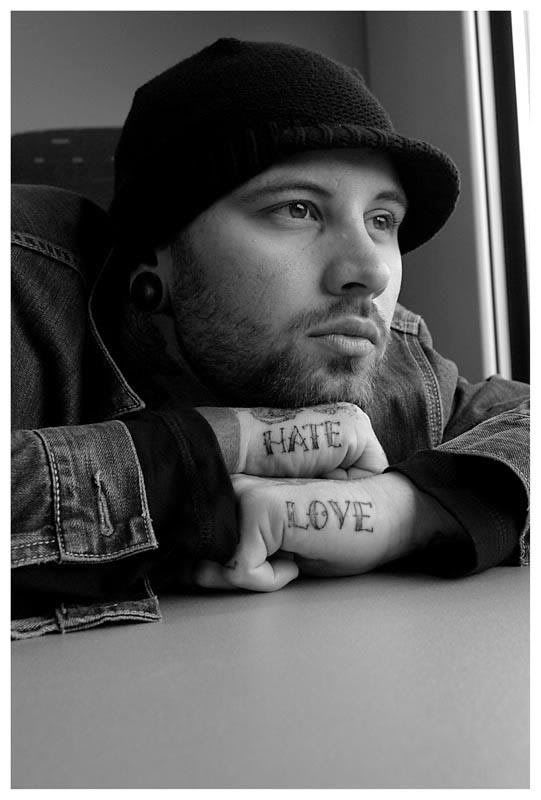 Be sure to check out more of Craigs awesome work by visting his official website
here
and his MySpace
here