What can you get from a charity shop? Literally so much. In the past I've personally acquired Japanese ukiyo-e prints, a typewriter, a tailored suit, countless books – and all of it for bargain-bucket prices. And by occasionally popping in to your local charity shop to make a purchase or two (three, four, etc.) you're helping a good cause. It's a win-win scenario.
So we thought: what a great idea it would be if we took some artists to charity shops, made them buy stuff, and then asked them why they've bought what they've bought. It's a simple concept, but we think it works. Shows character. Depth. Soul.
Here's what Cristobal and the Sea got their hands on when we let them loose in a charity shop.
Joao
I got the first book of South Park's scripts. I thought that it would be the type of book that I could just open on a random page, every morning, before going to work, and it would give me some form of spiritual guidance. I was right. Today, for example:
GRANDPA: Kill me, God dammit!
STAN: No! I can't even kill a deer!
I can relate to this because I, too, have a grandfather.
Ale
The fact is, I bought a camel mug because two humps are better than one, just like my job situation.
PS. The camel symbolises patience, tolerance and endurance, qualities which I undoubtedly require to deal with Joao on a day-to-day basis.
Leila
This empty piggy bank of a smiling monkey with a generous belly seems to symbolize today's Cristobal and the Sea routine: A busy and happy life but whose earnings are still well meagre. However, although it is empty, its big belly is fed from a real desire to pursue, step by step, a bit of a common dream. It is ultimately, a happy monkey that probably represents the hope of the moment where the possibility to live our passion, becomes reality. That day would mean that Cristobal and the Sea will have conquered enough souls to satisfy the functions of that object. For now, it seems that simply observing this monkey's belly and its happy naivety, is sufficient, while reminding us that money does not lead to happiness
Josh
I spent 50 pence on a blue, strengthened cardboard belt box. I bought it, mainly, to honour the person who had the great good nature to think 'maybe, maybe somebody else would appreciate owning this box that came for free with this wonderful piece of leather around my waist', and took it to the charity shop one afternoon. Because if I didn't spend that 50p, I can just imagine that belt box sitting there amongst everything else for all eternity, waiting all forlorn for somebody to appreciate its complete and utter uselessness.
Actually, not really, I bought it because it's got an Armani Jeans logo on it and I need something to keep my surplus pencils in.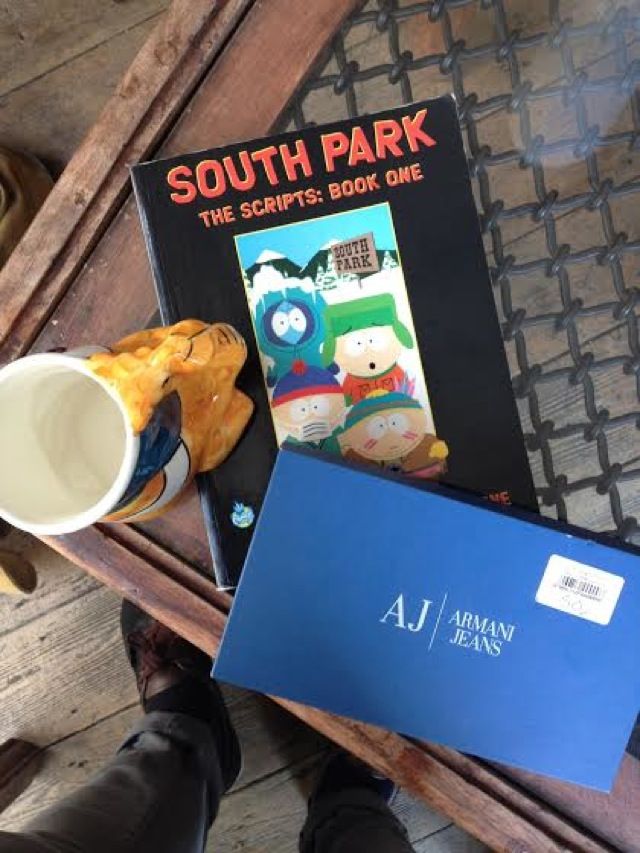 Their debut album, Sugar Now, is out on October 2nd via City Slang. Listen to 'Sunset Of Our Troubles' below.