When
The 405
were invited to an exclusive playback of the new
Crystal Castles
album, we replied 'yes please' whilst performing a spasmodic happy dance, with only our email account as witness to this act. But would the new
Crystal Castles
album (titled, er,
Crystal Castles
) be an album to happily spasmodically dance to? The eponymous album was recorded and written seemingly influenced by a
Lonely Planet
guide; producer and
CC
member
Ethan Kath
utilising a church in Iceland, a self-built cabin in Ontario, and a garage behind an abandoned convenience store in Detroit according to the Press Release.
Due to be released on
June 7th
, the explosive Canadian duo's first material for 2 years shows a lot of promise and beholds a feat of production, sensory overloads and gothic synths. The following provides a track-by-track breakdown of our first impressions – and among the first impressions in UK.
1) Fainting Spells
A minimal build-up with thumping kick-drum slowly builds with a layer of slightly nightmarish sampled sounds, including heavily distorted
Alice Glass
vocals (almost unrecognizable as vocals in fact so sampled/produced they are). Reminiscent of
!!!
's reverb style of sound and layers, a little 'euphoria break' gives the track time to breath before a sudden end. The sound of a forest at night having a heart attack, animals pulsating - an excellent, brooding mess. A sign of things to come?
2) Celestica
More structured than the opener,
Celestica
features a reverb heavy
Alice Glass
voice, but surprisingly melodic – and dare we say soothing? Almost shoegazey. Yes,
Alice Glass
, soothing. Chorus kicks in satisfyingly each time, but again slightly darker in tone than the
CC
we're used to. To be played at 5am in the morning as your world crumbles around you and the shadows mock you.
3) Doe Deer
Ah here we are, this is a more classic
CC
aesthetic, 1 minute 37 seconds of an incessant noise attack at a ridiculously fast 160bpm (Or thereabouts). A catchy, constant lick is present throughout that threatens to get annoying, but never does due to the short- sharp adrenaline injected nature of the track. Think
DFA
at their best. The first screeching of Miss Glass we hear, and welcomed it is. Abrasive.
Doe Deer is also to be released on an extremely limited 500-copy run to coincide with Record Store day on April 17th. Certainly worth checking out, if you're lucky.
4) Baptism
The more hardcore fan base of
CC
will have heard
Baptism
at their lives shows in the past, but this sees the first studio recording. After some traditional tuneful bleeps in the introduction (which continue for much of the track) it explodes 40 seconds in as the vocals wail into an almost uncomfortable, lyrically inaudible high-pitched sequel. Having said that, the following could be made out when repeated for the 3rd time: "this is your baptism and you cant forgive them" Some sampled loops layer towards the end, and again we have a track with the chance to breath, as minimal soundscapes thrust in.
5) Year Of Silence
Starts off from the first beat with what can only be described as a 'fat' bass heavy intro, which actually never ceases throughout in four-to-the-floor fashion. But 15 seconds in… some familiar vocals… but, who IS that? Could it be… yes. It's definitely
Jonsi
from
Sigur Ros
. A lyric from
Inní Mér Syngur Vitleysingur
is on a loop through the whole track; in fact, two separate
Jonsi
vocals are sampled and overlap at various points. Most consistent track so far.
6) Empathy
The first minute is a relatively minimal affair, heavy on the mid/high frequency treble vibe, the frequency designed to make clubbers feel disconcerting and disorientated (not that that's difficult, ho um). The treble-infused repetition of the main melody is an ever-present, and this combination with downbeat, reverb-heavy indecipherable vocals make the whole thing sound like a foreboding nightmare (that word again). The caustic end works terrifically well in this respect, which cuts-off abruptly.
7) Suffocation
A thick, though soft ambient 'wall-of-noise' crops up at the start and regularly throughout that wouldn't be out of place in
Maps
latest album. Though when this is cut throughout the verses, we're treated with some lovely angelic, and of course distorted vocals that are allowed to shine through the quietness. Rises, falls towards the end, classic dance build up, to a crescendo… then… fades.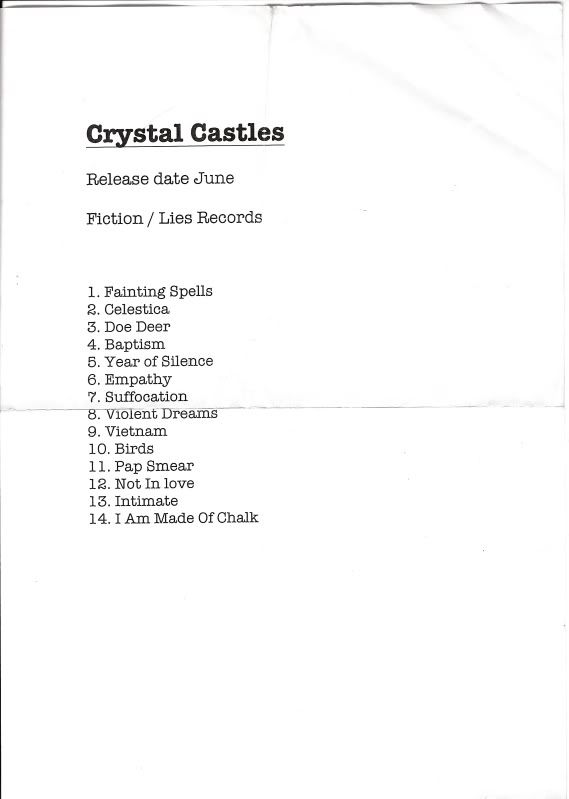 8) Violent Dreams
Here we have a subtly trippy affair, with sounds that go then cut then go, and features many layers of various electronic noises – though to be fair this is common through much of the album, a lot of production is evident. We even get a church organ that slowly evolves, and the track certainly lives up to it's name. Peaceful, yet disconcerting again.
9) Vietnam
A constant through the album as a whole is the voice used an an electronic tool, just another instrument/sample to play with and mangle – this is not a criticism. In fact, it is used often expertly, and
Vietnam
probably sums this up in a microcosm. The most 80's sounding track, the melodies/bleeps wait until 2/3 minutes in to surface, a track that builds and deconstructs throughout.
10) Birds
After a heavy drum intro dripping with attitude, a what can only be described as a "zap!" on every fourth note takes hold, leaving a slightly aggressive, angry mood. The end turns into a 'fight-electronica' scenario.
11) Pap Smear
Something that has not been heavily apparent on the album has been the 8-bit/chiptune style that the first album was synonymous with, preferring to use a broader spectrum of production styles.
Pap Smear
however includes these classic bit-bleep noises, and post choruses choppy noise chaos ensues. A satisfying car-revving bass is a nice little curveball at one point.
12) Not In Love
You know you're getting old when an intro consisting purely of electronics sounds nostalgic, and
Not In Love
encapsulates this. Glass's robot voice leads to a very optimistic sounding chorus, in fact looking at our rambling notes it's described as "quite lovely", and underlined. Twice. A light, dare we say gentle feel, that ends well (no abrupt cut-outs here which
CC
love on this album),
Not In Love
may well be something special.
13) Intimate
Another track that has been aired frequently live (they often close on it) the malteeser-light electronic bleeps that sound like pixellated rain evolve over the course of the track. A proper crowd pleaser that builds, featuring next to no vocals, it's just there to be enjoyed and danced to. Layered sound, wall of noise, house of fun. Quite brilliant.
14) I Am Made Of Chalk
A supremely messy first 20 seconds before a breakdown, only for some 'gurgling noises' to appear sans beats. Another builder, the drowning vocals are barely even recognised as vocals. Need more time to judge this one, potentially something there. So there you have it. Bear in mind this was only our first listen, so full judgment cannot be called – though it is a promising state of affairs for the self-titled album. Less reliant on 8-bit 'chiptune' beeps, though more reliant of production values conversely. We often hear of artists becoming 'over-produced' these days, oft leveled as a criticism, but
CC
here are smart and subtle enough not to fall into this territory of the banal and bland. A shift in direction in content and style is present, proving to hold a darker edge possessing tracks that could soundtrack your nightmarish comedowns.
Potential standout tracks:
Intimate, Not In Love, Doe Deer and Celestica.