Dad Rocks! recently completed a (drunken) tour of the UK with Tall Ships, and this is what happened during the first half of their adventure.
5 days in this tour. We're sitting in crowded tour-van called Melanie and watching Double Team with Jean Claude Van Damme and Dennis Rodman. Everyone is smiling. But let's begin at the beginning.
Nikolaj and I arrived in Standsted from Denmark, after saying goodbye to the lovely company that is Ryan Fucking Air. Sweethearts, bless their hearts. We went straight to London to meet up with the awesome team-members of Tall Ships and the tour-crew that is Tony the vibe-tech (aka Tobias Hayes ex Shoes and Socks Off, Meet Me in St. Louis, currently Love Among the Mannequins and Bermuda Ern), and the always beautiful driver of the tour, (n)Owen. If you put everyone inside the small Pink Mist office, including a couple of record-labels, we look like this:
After about 15 minutes of making out with each other and picking up merch, people got extremely hungry and bought food at a nearby supermarked, which is normal. We than had a nice little time playing Tetris and were soon on our way to the mysterious city of Cheltenham, where frogs, soundguys and fiddles roam the night at a local venue there. They decided to build that venue next to a guy that complains over bass-frequencies when he has the chance to, and then to install an immigrant called Mike behind the sounddesk forever and ever. He seemed pretty happy though. The rider was glorious including Famous Grouse and donuts. And the meal was a fucking chicken-lasagne. So good. The gig was sweet, and Tall Ships rocked the house and melted peoples faces with their instruments. The crowd then went home with some merch instead of faces. Just plain heads without anything and merch. (A coke machine just saved Jean-Claude and Dennis Rodman lives. And it's refreshing.) After another game of Tetris and a good handful of vibes we walked into the night with the rest of our Famous Grouse to got ready for some wild partying, but instead we went to bed and slepped.
Next day Tony the vibe-tech woke up like this:
We were now heading for Kingston to play New Slang. But before going the venue Tall Ships had rehearsels in the very famous town of?!? – There was a fairground there selling bands:
Dad Rocks! and Tony the vibe-tech spent 3 hours at a Tesco, where we met some wonderful people. Most of them were just getting groceries and didn't talk to us, but that was OK. We were busy buying things ourselves. Got some food. Ate it. Saw a rat. Show was awesome. We were joined by Rachel on trumpet and Neil on viola. They are playing most of the shows with us. They're kind people. Rachel taught us how to say 'Lick my porksword' in Irish, or whatever that language is called. We taught her the danish word for porksword, which is svinesværd. Similar.
We drove straight to Brighton after the show and Ric from Tall Ships was DJ'ing on the way. Mostly stuff like Slipknot and Chope Suey by System of a Down. We also listen to the Jurassic Park soundtrack a bit. We rarely see dinosaurs, especially not in Cheltenham. Not anymore. When we woke up in Brighton, Tony the vibe-tech took me and Nikolaj to the sea. Tony had never seen the sea before, so it that was a speciel moment. Look: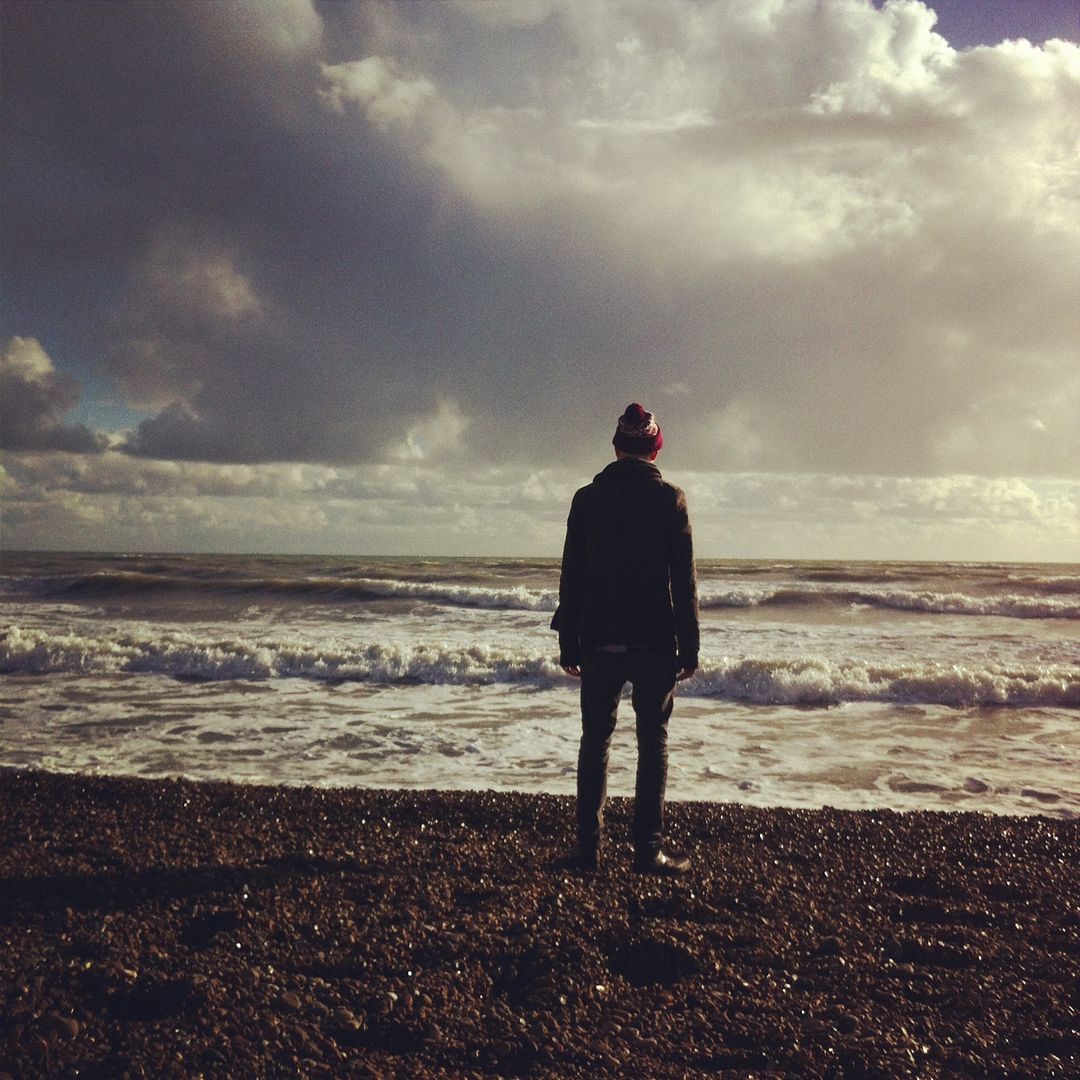 He told us about Bryan Adams songs and what they're about. Apparently Bryan Adams is a bit of a dickhead. Never knew. He has a song about packing his girlfriend in cause she uses up his razors, and this and that. She must have been a horrible girlfriend.
Brighton was rammed. 300 people there having fun. A lot of fun. Tall Ships melted faces again. Everyone was picking up their faces after the show with shovels. Putting them back on. Looked so wrong from the merch-stand, cause of the fact that they'd been melted of and no one could afford any surgery. We then went to listen to Mike Diver DJ'ing at a pub and got very drunk. Tony tried ordering a sandwich in Subway, and the little indian guy couldn't understand a word he was saying, especially when it came to picking sauce. That went really wrong, and later we told someone nice to fuck off. It's a good thing we went to sleep. Helped Tony take his shoes and socks off that night.
The first thing I did when I woke up was buying fish and chips. It took about an hour to make, and I found myself looking at the menu dring that time cause they were serving deep fried mars bars. I really wanted to try one, but didn't because of some ancient animal instict that wanted to me live a bit longer.
Norwich was amazing. Not only because of the fact that we created a new game, that involved finding a random Bryan Adams song on youtube and a fart-soundboard, but also because the audience was absolutely beautiful. We were joined that night by the amazing double-bass player Peter, who flew over from Denmark, and is now doing the rest of the dates with us.
Rest of the night was a combination between cheese, cats, whiskey and lack of sleep. This resulted in us sleeping for too long and in Tall Ships picking us up in the morning after knocking on doors around the neighbourhood, and finally finding us like this.