Iconic former Can front man Damo Suzuki will be touring the UK again next week, with a triptych of dates in Brighton, London and Liverpool. Each date looks special, and each date will be performed with different "Sound Carriers" - Damo's name for a band of improvising backing musicians. Each gig will be entirely different and special with each show being improvised on the night. The dates are as follows:
Beat On Promotions present:
Brighton: 19/06/12 - Green Door Store
Sound Carriers: Ann Shenton (Add N to (X)), AKDK, Feline1
Tickets: £8, available from WeGotTickets, Rounder, Resident, Ape and Endless records, Brighton.
The Quietus and Sonic Cathedral present:
London: 21/06/12 - Shacklewell Arms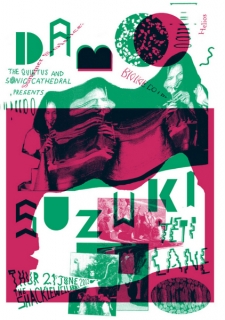 Sound Carriers: Yeti Lane (also performing a set before)
Tickets: £8, available from WeGotTickets
Harvest Sun and Behind The Wall Of Sleep present:
Liverpool: 22/06/12 - The Kazimier
Sound Carriers: Mugstar
Tickets: £7, available from TicketLine