Legendary DJs Derrick May and Andrew Weatherall talk to Joanne Shurvell for the 405 at Le Festival de Radio France et Montpellier this summer
Words:
Joanne Shurvell
Photos:
Paul Allen
'I needed to be naked on top of the mountain.'
Andrew Weatherall
'The audience is my enemy. My job is to destroy them.'
Derrick May Le Festival de Radio France et Montpellier, an annual international music event now in its 25th year, provides an eclectic mix of classical, jazz, world and electronic music, with over 100 free world-class concerts in open-air theatres, squares, cathedrals and festival halls. This year's festival (12-30 July) featured exceptional performances by techno pioneers Derrick May and Andrew Weatherall. Tohu Bohu, the electronic strand of the festival, was programmed by Pascal Maurin and Edith Rolland and I was fortunate to catch up with the programmers and the DJs during the festival. London-based
DJ Andrew Weatherall
is well-known as the producer of Primal Scream's groundbreaking
Screamadelica
and remixer of New Order, The Happy Mondays, Saint Etienne and Bjork, among others. Today he continues to DJ worldwide and release music with Keith Tenniswood as Two Lone Swordsman and under his own name with the Rotters Golf Club label. The influences of rockabilly, soul and rock are evident in Andrew's music, a skilful blend of dance, house and techno. Fans will be treated to a new release early next year under the Rotters Golf Club label. 'You're rocking a good look' was
Andrew Weatherall's
reaction to photographer Paul Allen who was nattily dressed in a white straw trilby, silver trousers, a bling designer t-shirt and a green single-breasted linen jacket. 'Most photographers dress like shit.' Mr Weatherall was sporting a snappy '50s rockabilly look but apparently if we'd interviewed him last month, we would have been treated to a handlebar moustache circa 1905. We met the DJ at one of the festival's fantastic outdoor venues, the appropriately named Place Dionysos, right before his set. As this was clearly a man with a keen sense of style, I decided to start our conversation by asking him how important fashion is to him and if it influences his music.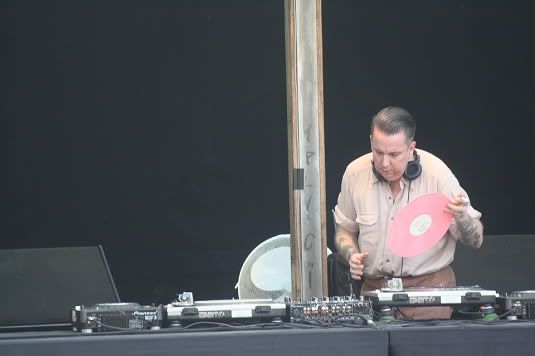 JS: You have a distinctive style and seem to have an eye for fashion. Have you always been fashion conscious and why the rockabilly look?
AW: I've been obsessed with style and certain ways of dressing over the years. I was more into fashion as a younger man because you try to find your identity and follow fashions when you're younger. But for the last 10-15 years, I've been more interested in style rather than fashion. I got involved in first wave of rockabilly revival in the late 1970s so I had that look then. But when acid house came along, we all grew our hair and went a bit hippyfied. For the last 10 or 15 years I've resorted back to '50s rockabilly.
JS: How and why did you make the transition from music journalist to DJ?
AW: I wasn't really a music journalist; I did a bit of writing and when acid house first began to happen around 1988, some friends at NME asked me to write a club page but it was always edited badly which was frustrating. But I met Primal Scream via NME; I was the only man in the world who liked their album at the time. I got asked to do a live review so I went and met them before their gig at Exeter University. The piece was called - Sex Lies and Gaffer Tape.
JS: When did you actually start earning a living as a DJ?
AW: The last job I had before becoming a full-time DJ was constructing film sets. The turning point came when I got promised my first film job abroad but the art director's brother was on holiday from university so he got given my job. I was of two minds: I enjoyed playing music and I enjoyed constructing film sets but I thought there was more long-term future in building film sets so I was very undecided until then. But when the film job got taken away from me last minute, I thought that DJing couldn't be any more precarious than this. So if it hadn't been for that guy's brother I probably wouldn't be sitting here talking to you.
JS: Where in London do you live and why?
AW: I've been based in Shoreditch for 15 years.
JS: Well in that case you must visit PayneShurvell, my new art gallery in Shoreditch on Hewett Street off Curtain Road!
AW: (laughing) - Is it proper painting? Not this conceptual nonsense is it? I'll definitely come and have a look. That's why I like living around there because even though I've had a studio in Shoreditch for 15 years, I'm still discovering stuff and there are galleries and the like opening all the time.
JS: What have been your major musical influences?
AW: The first music that gave me that kind of tingly feeling was in the early '70s when I was 10 or 11. At the time there was a '50s rock 'n' roll revival going on in Europe. That was the initial music that I liked; that and Glam rock- glam rock is just rockabilly with shiny trousers on – Marc Boland was ripping off Web Pearce, a country swing guy–We like to Boogie is just Teenage Boogie by Web Pearce, a 1940s country record. I'm getting goose bumps just thinking of that record.
JS: So what music don't you like?
AW: Because I liked glam and raw rock n roll, that's why I liked punk. That's why I didn't like Prog Rock – it was too pretentious and complicated for me. Girls, guitars, cars…. I liked a rawness of punk. I've been lucky enough to have lived through four major music and fashion movements: glam rock, punk rock, post punk, and acid house. Everything is so homogenised and information is spread so quickly that I don't think you'll ever get those individual scenes again.
JS: Do you enjoy performing in front of huge audiences?
AW: I love the experience of a really big gig like Glastonbury. I like the weird feeling of being part of something bigger than yourself. I only do it a few times a year because it's not something I get off on but I like it because it's kind of scary being in front of that many people. A few years ago I was feeling safe and ghettoized so I decided I needed to sing again and get up on the stage. I needed to get out of the comfy underground ghetto I was in. It's very easy to remain underground and discuss everything and slag everything off. I needed to feel scared. "I needed to be naked on top of the mountain."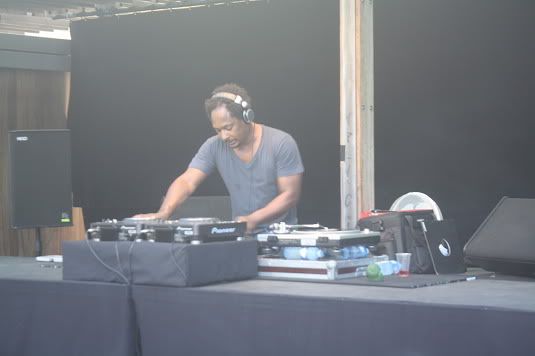 Detroit techno pioneer Derrick 'Mayday' May's distinctive sound has many influences, from the German electronica of Kraftwerk to the electro funk, soul, and jazz of his hometown of Detroit, Michigan. 'Nude Photo' and 'The Dance', both on his own Transmat label, along with the seminal 'Strings of Life', brought Derrick May worldwide acclaim which he continues to enjoy today. Photographer Paul Allen and I arrive poolside at Le Jardin des Sens, a chic Montpellier hotel, to meet Mr. May. It's the day after Derrick's sensational DJ set at Place Dionysos, one of the highlights of this year's Radio France festival. We settle in for an afternoon of chat about music, photography, and travel.
JS: Your music style has been described as George Clinton meets Kraftwerk – is that accurate?
DM: Actually that was my description of the genre of music at the time to the music journalist Stuart Cosgrove. I told him to imagine one keyboard in an elevator and you have Kraftwerk standing here and George Clinton standing there and they're stuck in that elevator together. That's Detroit music; it's a complete mistake. It wasn't just about my music. It was about all Detroit music.
JS: You haven't made any new music since the early '90s. Do you have any plans to make more?
DM: I'm not interested in making new music. My record company is doing really well. I'm running that and touring. I help young people all the time; not just young people but I help a lot of people make music. I think it's really important to keep this genre of music qualified. It's important to make sure someone comes along who can add to the backbone. Right now we don't have many people who are making this music that are good. You have a handful of guys in the world who truly know what they're doing. It's more important to support guys like that. I think it's good we didn't become popstars. We used to do remixes for everyone, people like ABC and Paula Abdul; it's good but it's bad. You get known as the guy who just does that. That's why I stopped making music. I got tired of that. I got tired of the whole idea of pimping myself. So I help other people; that's what I do. I love that.
JS: You seem to have a keen interest in photography and those photos on your iPad look pretty serious. Have they been exhibited anywhere and are they part of a future project?
DM: I've exhibited in Japan a couple of times. Now I'm working on a book; I've got thousands of photographs that I've been taking for the past 15 years. A New Zealand publisher called PQ Blackwell who publishes beautiful coffee table books is publishing the book. The publisher approached me and he's coming to Detroit to sift through the thousands of photos to decide which ones to use for the book.
JS: You've stated that your mission is to save the world from 'bad music'. What is bad music?
DM: You're goddamn right! I'd define 'bad music' as any kind of music that is soulless. It's bad news when DJs attempt to go down the serious 'genre' road. Or when DJs jump on the bandwagon of another DJ and it becomes a fad that screws up. Like Minimal. The music is not so bad but the joke is all the guys who got a career out of playing this music – it's unbelievable. But once the fad dies everyone loses because there's no substance. Everyone moved to Berlin and made minimal thinking they could make money and it didn't happen.
JS: When I talked to Andrew Weatherall last night he said he liked to be taken out of his comfort zone by playing huge venues. Do you feel the same way and I'm assuming you know each other?
DM: We've never met although we definitely should! For me I just want to hit it. The audience is my enemy. My job is to destroy them. That's the way I approach any gig. I want to hurt you. I want you on your knees. That's my approach. I don't care if there are 50 people or 50,000; I'm going to hurt you. It's a fight between you and me and I'm going to win.
http://www.rottersgolfclub.co.uk/
http://www.myspace.com/twoloneswordsmen
http://www.derrickmay.com/
http://www.myspace.com/derrickmay
http://www.festivalradiofrancemontpellier.com/2010/annonce-concerts-musiques-electronqiues
Joanne Shurvell - jo@payneshurvell.com