The Disney Store have today withdrawn their Joy Division inspired tee shirt from sale. The tongue in cheek mock up of the cover to cult album Unknown Pleasures had caused some outrage among fans of the legendary group. A spokesman for Disney had this to say:
"As soon as we became aware there could be an issue, we pulled it from our shelves and our online store to review the situation further."
However, the bands very own Peter Hook has called the t-shirt "quite a tribute", the bassist went on to say "in a funny way, it's quite a compliment for a huge conglomerate like Disney to pick up on a poor little Manchester band that only existed for a couple of years, it's quite startling." The image itself is in the public domain and a design that the band themselves borrowed from the cover of an astronomy encyclopedia, merely reversing the colour scheme.
So, why the outrage towards this particular design, is it because they are a big company? Disney aren't the first to manipulate the design, below are just two examples I chose out of many you can find online. The two designs are by H&M and Carhart, both big brands in their own right and neither of them have been met with the same up roar as this most recent incarnation of the design.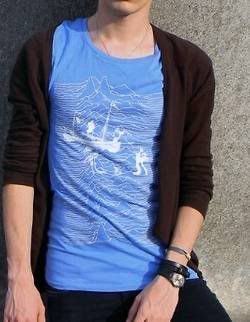 If this is an argument against Disney themselves, I find it hypocritical. We've all probably contributed towards Disney's profits at one time or another. I like the design and I'm hoping they get re-instated by the time I myself go to Florida next month because I think I'll buy one as a souvenir - it certainly beats the usual tourist fodder sold in theme parks. For once, I'm inclined to agree with Peter Hook, it is a tribute, fitting or not and if the tee shirt does make a comeback Disney should donate a percentage of the profits to a charity in aid of epilepsy.
Disney aren't the first and they wont be the last to use the image. The fact that a band like Joy Division have touched enough people to make it worthwhile using the design says more for the group and their music than I think a lot the tee shirts critics appreciate.