Firstly, an apology - there were meant to be more photos than this. When The 405 asked us to compile a photo diary of our day at the annual Shhh Festival we got right on it, and took numerous pictures throughout the day. Then I got them developed and more than half of them seemed to be enveloped in a thick fog that is definitely absent in my recollection of the day. This was mainly due to our selection of Photographic apparatus - a Piss-Poor Although Admittedly Cheap Disposable Camera From A Leading High-Street Chain (henceforth referred to by their more popular acronym 'PPAACDCFALHSC'). So unfortunately that means this documentation is less than complete - no pictures of Max (our bassist), no photos of us playing (though play we did), and no documentation of the near-riot that broke out after it transpired that Stuart Braithwaite's set would consist entirely of one single 40-minute acoustic version of 'Like Herod'. Still, hopefully you get a sense of the kind of madcap shenanigans we got up to…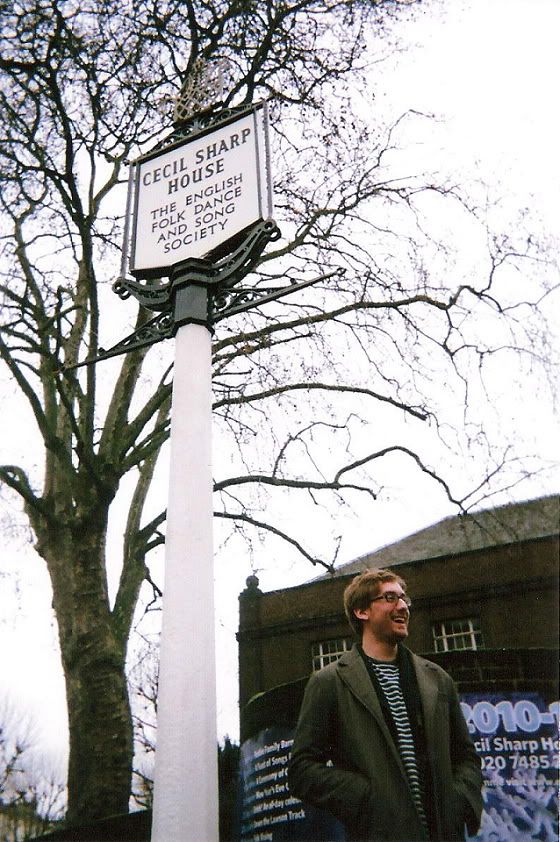 Simon (our drummer) outside the venue, Cecil Sharp House - home of the The English Folk Dance and Song Society. Simon came third in the 1996 Junior International Morris Dance Championships (true story - he still has the medal) and the awards dinner was held here, so this was pretty much home-from-home for him.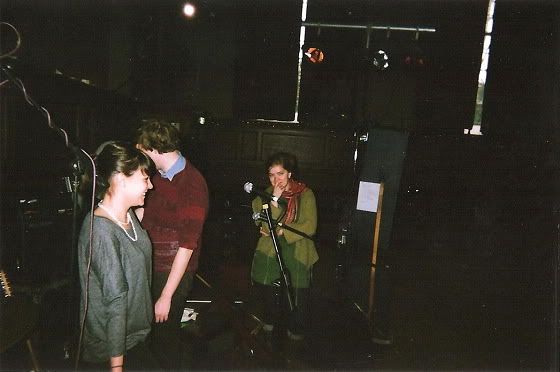 Bridget (violin), Ben (guitar) and Clarissa (cello) sharing a joke about how yet again we've managed to turn up for a soundcheck nearly 5 hours before we're due to play. How we laughed.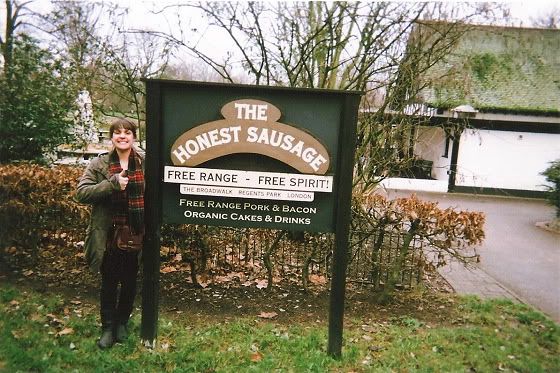 Still, the benefit of getting there early was that we had a bit of time for a stroll around Regent's Park. Here's Bridget outside The Honest Sausage, where we had a lunch of some of the most trustworthy pig products you're likely to find in all of North-Central London.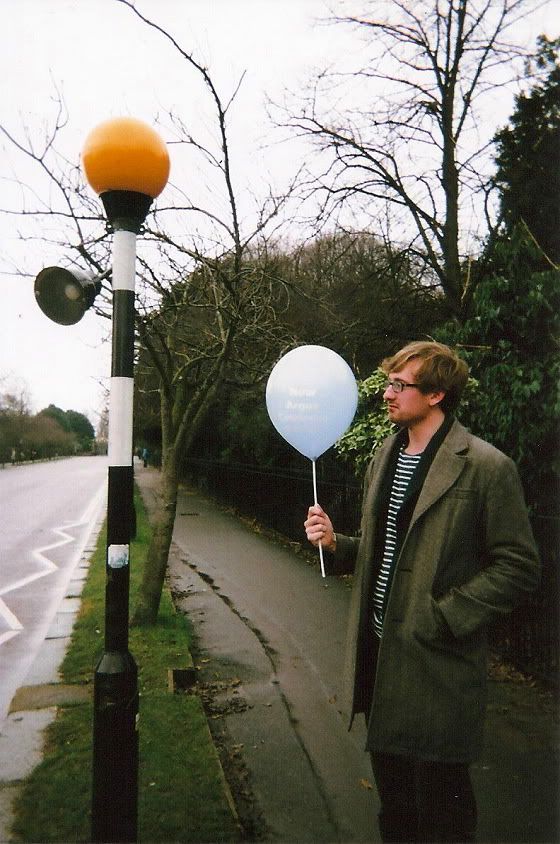 Simon again. Few people look as glum whilst holding a balloon. Shortly after this picture his balloon was taken from him by a dad who already had two attached to his child's buggy, so maybe Simon's face is filled with grim resignation for what is to come.
In the main hall. This is apparently the accepted stance for enjoying a set from Conquering Animal Sound (hard to tell in the murk of the photo, but there was another guy in an exactly mirrored posture just behind - damn you PPAACDCFALHSC!). Conquering Animal Sound were great though - will definitely do my best to catch them next time they're playing in London.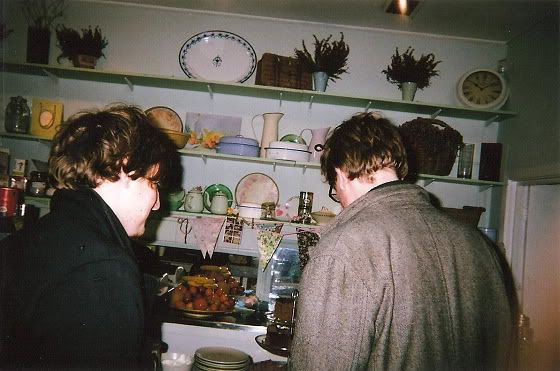 The cafe downstairs in the venue was everything you could hope an eatery in the home of The English Folk Dance and Song Society would be, decor-wise. Here Ben (our guitarist) and Simon are ordering a cream tea.
Bridget again. Or 'The Bridge' as she's more commonly referred to on the South East England Semi-Pro Wrestling circuit (SEESPW). We don't call her 'The Bridge', but we should.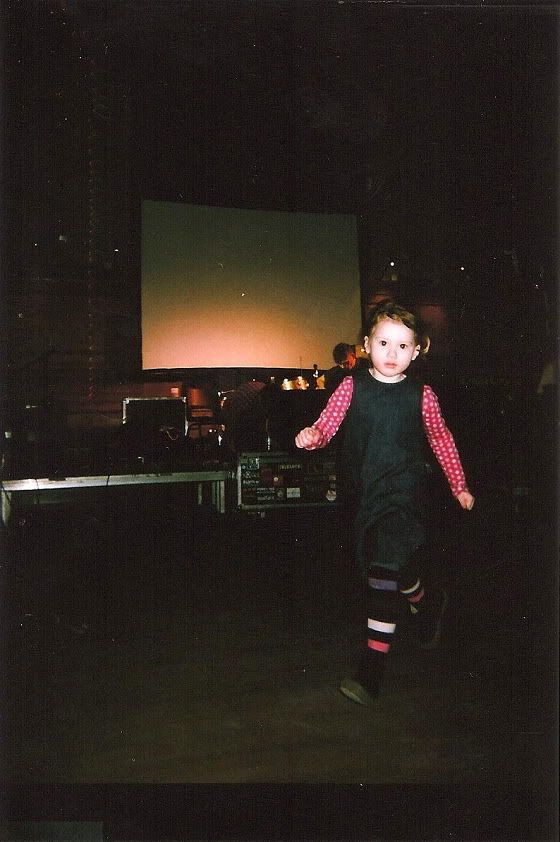 Most people chose to enjoy the pleasingly hushed atmospherics of duo 'Ten' sitting down. Not so this young girl who spent the whole of their set racing back and forth in front of the stage. Clearly the wash of drones and loops had a more energetic effect on her. Like they say - maybe we're not ready for this yet, but our kids are gonna love it.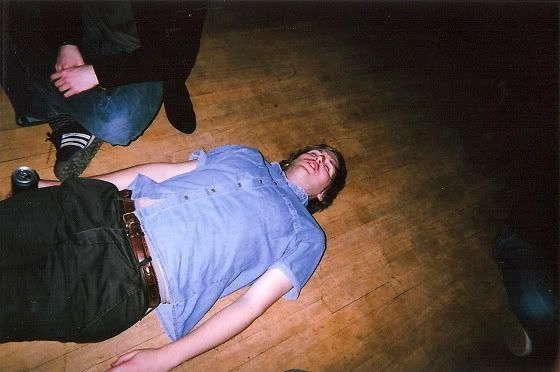 Still it wasn't all toddlers and tinnitus-resistant bands. There were also moments of unexpected violence. Ben spent a few minutes out cold after a tweed-clad assailant landed a blow to his head with a ukulele and then ran off. Ben's less than vertical state has nothing to do with that can in his hand, no.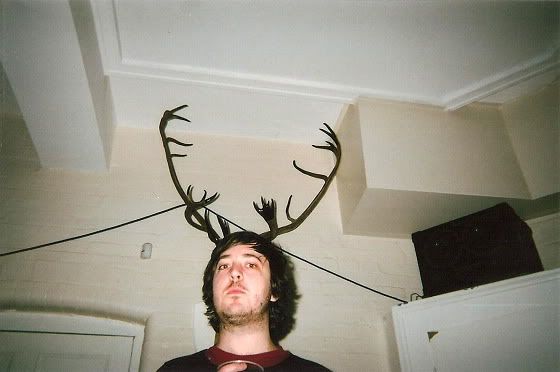 And here's me with some antlers. I'm not sure there's a whole lot of subtext to this one.