We're currently in the midst of a hip-hop revolution. The genre has been getting smarter, more original and infinitely more intriguing over the past few years, and the tirade of awe-inspiring noises shows little sign of abating. Rap music as we know it has been turned on its head - gone (mostly) are the gang war mechanics and major feuds (Azealia Banks aside), no longer is every song a spiel of self-aggrandising braggadocio or a love letter to drugs, misogyny and violence. It's more enlightened. There's a wave of burgeoning artists who all have potential to change the face of hip-hop in indelible, positive ways.
Joey Bada$$ is one of those surfing that wave. Born Jo-Vaughn Virginie Scott, the Brooklyn native follows in the footsteps of similar icons of the locale like Biggie and Hova. Stylistically, he retains an old-school ethos, but brings it into the modern day with stellar production, crisp lyrics and a flow to rival any great. Some have drawn comparisons to Mos Def and Q-Tip. His lauded 1999 mixtape from last year saw his exposure increase exponentially, and soon the offers were pouring in. He rejected an offer from Jay Z's Roc Nation as the advance was too low (he wanted three million), and is currently still with Cinematic. His full-length LP - B4.Da.$$ - is due for release early 2014.
Before that however, we had Summer Knights. Originally intended to be a teasing EP before the album release, it eventually morphed into a fully-fledged mixtape. It takes a darker, deeper route than the the heady hedonism of 1999, due to the passing of fellow Pro Era crew member, Capital STEEZ, who took his life late last year in clouded circumstances, simply tweeting: "The end." The tape, though much darker, is also much more mature. It shows a different aspect to Bada$$' repertoire, proving he's not just a one trick pony.
In our review of the tape, we were taken aback by its calibre: "Summer Nights is a varied mixtape. There's a lot of different tones and shades on the release, flicking from the raucous and aggressive to the solemn and epitaphic. Sometimes his rhymes are crudely sexual, sometimes they're explicitly drug-fuelled. Sometimes he's rapping about deep issues. That's the wonder of this mixtape - he takes you through every facet of his life, from the serious matter he wants to preach to the puerile fun that any teenager indulges in. It's incredibly advanced for someone this new to the industry and an incredible exhibition of the breadth of his talent - not to mention his knack for working with the right people. The production is intense, and complements his words well, highlighting the mood of each track."
The production is indeed intense. It's the perfect accompaniment to Bada$$' taut flow, highlighting his themes and messages, providing a sturdy beat for his lyrical mastery and generally sounding the part as a hip-hop classic. Here's our rundown of the backstage string-pullers who supplied Bada$$ with the platform from which to produce greatness.
You can listen to the mixtape by heading here. Our review of said mixtape can be found here.

Perhaps the most prolific pair of hands to twiddle the knobs on Summer Knights, is MF DOOM. The bemasked LDN-born producer has been claiming all manner of plaudits for his rap material and backing beats. He works on 'Amethyst Rockstar' on the tape, providing a gleaming, glittering backdrop; it's sprawling and pensive. There's a desolate essence, almost post-apocalyptic, and the percussion is simple, allowing a greater focus on the synths and Bada$$' impeccable flow.
Navie D is considerably less well-known. He's almost un-googleable, making it very difficult to find out many details about him - his Twitter page is alive and well, but that's about as far as it goes. Producing 'Sit N Prey' and 'Sweet Dreams', the elusive beat-merchant crafts a fractured rhythm and implements jazzy acid-lounge brass for Bada$$ on the former, and jams in early '90s hip-hop sounds into the latter, with gospel organs and echoing drums cutting high into the mix. He's a damn fine producer, even if he's hard to research.
'Death Of YOLO' sees fantastically monikered Pro Era staple Bruce Leekix sit behind the scenes. Featuring Smoke DZA, the effort is chilled and infectious. The trio reappropriate Drake's most famous acronym, twisting the meaning for more menacing purposes; there have been burblings that it's about the up-and-coming rapper who drunkenly tweeted "YOLO" immediately before a fatal car crash. Whether that's true or not is yet to be discovered, but what we do know is that Leekix injects '60s keys and beats crunchier than Crunchy Nut. There's just something about the percussion on this track that pops - the backing is more subdued than other tracks, but the sonic spine is more powerful than most others.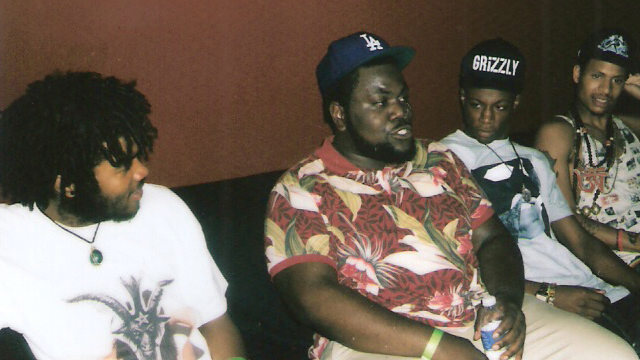 Chuck Strangers is another cog in the Pro Era clan, serving up frosty samples and a warped psych-rap timbre. His Twitter profile details his interests as making beats and watching porn - though, more interestingly, he's announced a fresh mixtape and the potential of oodles more material (hopefully) soon. His work on Bada$$' 'Reign' sets a tranquil scene for possibly the catchiest number on Summer Knights, and on 'My Yout', we see a spurt of reggae find its way into the East Coast proceedings. Collie Budz intercepts the languid, smoky rapping with bursts of contrasting energy - it's a brilliant display of a different weapon in Bada$$/Strangers' arsenal.
'Word Is Bond' features skewed, chopped'n'screwed piano. It's of the sophisticated, high-end country club, kind, the sort of keys that would soundtrack 007's most intoxicated liaisons. We can thank the mighty Statik Selektah for that. There's also a swarm of proper scratching, something wholly underused in modern music, considering its prominence as a classic hip-hop staple. Selektah is the CEO of Showoff Records, was a guest DJ on GTA IV's hip-hop radio station, The Beat 102.7(!!!) and fronts a plethora of other radio slots. His talents are renowned, and Selektah is a proponent of old-school values (he also is a fan of turntables, and obviously, radio) - it all explains his platinum production on 'Word Is Bond'.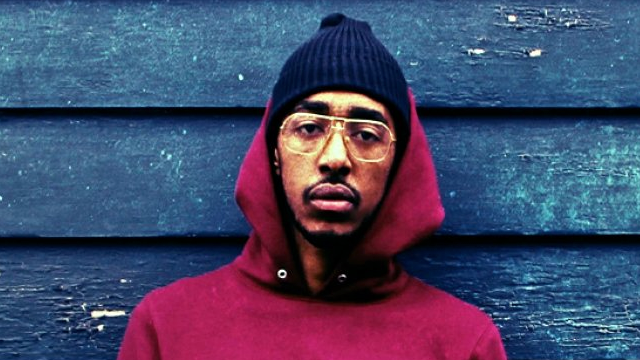 Amir Mohamed el Khalifa, aka Oddisee, is the man behind the curtain on 'Sorry Bonita', featuring basically all of Pro Era. To avoid cluttering the music, Oddisee errs on the more basic side of production, save a cinematic woodwind synth line á la Lana Del Rey, and the focus is left squarely on a crystalline beat and the collective's words. Oddisee has released scores of records, both solo and with others, on three different labels, and has had his work featured during the NBA finals. The UK version of iTunes also named his record People Hear What They See the top rap album of 2012 - quite an accolade for any titan of the genre, let alone a Maryland DMV (a regional rap style known for swung beats) rapper who's been underground for the majority of his career. He once said of Rakim and A Tribe Called Quest "These rappers don't talk about drugs or murder, and I can relate more to their lyrics." As such, he tends to send out calmer, more personal messages about things like his home life and race.
The producer of Gang Starr, DJ Premier, lends his sticky fingers to 'Unorthodox'. He's produced for a legion of major artists, including, but not limited to: Xzibit, Notorious B.I.G., Snoop Dogg, Jay Z, Busta Rhymes, Nas, Mos Def, Kanye and, erm, Limp Bizkit and Christina Aguilera. He may not be the most famous producer on Summer Knights, but he's definitely left the biggest mark on the history of hip-hop. His work is usually identified by soul, funk and jazz samples, but he's also dabbled in atonal art music. He's a master of his art, and it stands out on 'Unorthodox', which features some of the most luscious production that's available on the tape; there's smooth samples and midnight drums. It's music for experiencing life after dark.
Trappy 'Trap Door', while featuring filmic, '60s Bond harmonies and Italian mob strings, is still held together with gluey beats. The Alchemist is the man to thank for this majestic production. Another massive name attached to the mixtape, Alan Maman (Alchemist) has been traversing the rap game for over a decade, since he came up with Mobb Deep and became Eminem's DJ, producing tracks for the multi-million selling artist and signing to Shady Records. Maman has been heralded as a pioneer of modern rap, after his work with many early '00s hip-hop artists and classic records of the same era, and has gone on to work with Curren$y, on GTA Chinatown Wars and his own lauded material. There has to be some semblance of faith in Bada$$ from all these big dogs for so many of them to be working with him - it's a testament to how good he proved himself to be over the past year.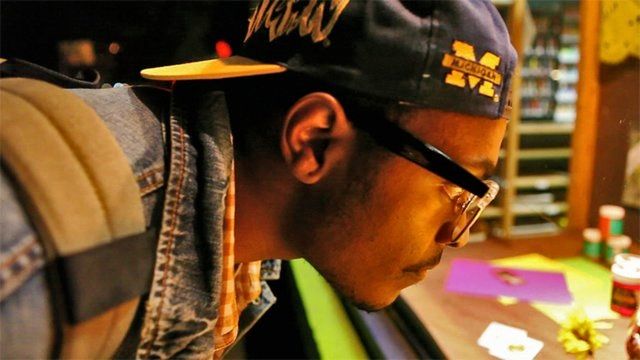 Lee Bannon is a favourite of FACT (there's a good piece on him here). The producer is described on his Bandcamp as "experimental", and he's based in Northern Cali, far from the East Coast style of Bada$$ and his Pro Era family. He works on a hefty portion of the mixtape, including the Dwele-sampling 'Hillary $wank', where his off-kilter style blends with the soulful jazz and R&B strands to create a gloriously eccentric rap potpourri. He's been known to delve into a spray of genres/styles with ease, most prominently on Fantastic Plastic, where, to quote FACT, he "haphazardly slings together Youtube fragments, interstitial blipverts, rumbling boom-bap and FlyLo friendly head-nods." Bannon is one of the more avant-garde producers on offer upon Summer Knights, and considering he takes on a sizeable chunk of the tape, it might be a sign that Bada$$ is veering away from the new old-school vibe he's cultivated.
The final producer who's lent his abilities to Summer Knights is fellow Pro Era member, Kirk Knight. He claims on his Facebook page that he is "A lyricist who stays above the ignorance and uses worlds greats flaws and turn then into verses which can cause political madness. Yet so humble." Humble he may not be, but he is definitely a phenomenal producer. He provides the backing to 'LongLiveSteelo', the eulogy to the Pro Era comrade. It's apt that the whole team behind the neo-soul/future rap effort are Pro Era faces, given Steez's place in the group. Knight also produces the R&B-tinged 'Right On Time', a glittering VIP lounge ditty with class and a sensual, torrid chorus. Knight most definitely has the chops to go far.
Joey Bada$$ proved once more he is an exceptional talent with Summer Knights, and there's bound to me even more reasons to get excited about his debut LP between now and 2014.