These review roundups are shoveled from the turds of the Internet's sweaty bowels and then squashed into your timeline of thoughts. Truth is they are wonderful gage-o-meter. Ever wondered how long The Social Media feast on news stories? Ever wondered how far they nibble and gnaw with irreparable gusto until all that is left is but the decaying carcass of humanity?
In a world made of soup - here I am, holding up a fork.
Jumping Jack Yeezus on a crucifix pogo-stick reading Internet comments, News blasts and Op-Ed's this week has been like using an ear-bud doused in turpentine to remove unwanted wax from your inner ear. It's known to cause severe brain damage it can also be incredibly painful, but it's still all your own fault.
We're all clearly drinking outside the proverbial box, I get it, but lickittysplits we're a lippy bunch aren't we? This week we had the Brits, Kelis sharpening blunt knives getting ready to host her own Cooking show, Lana Del Ray and Dan Auerbach birthing something called Ultraviolence, SXSW announcing more bands than is mathematically possible and we go behind the scenes with Phoenix proving that every once in a while, the world doesn't smell like a turd covered in the leftover drool of Harry Styles orthodontic retainer.
Eating the Brit-wurst
Of all the frivolous and tasteless shows to appear in recent times, the Brit Awards rose in a fit of pique to bring us yet another reason to believe why, we sometimes can't ever have nice mind-altering things.
The very thought of James Cordon hosting the show made the diarrhoea course hotly in the direction of everyone's sphincter. He was as funny, as the infrastructure in Sochi.
It was wonderful that Bey showed up in a dress made out of a thousand baby mer-men, whilst the equally flashy sequined Deatheater Lorde, sung "I've never seen a diamond in the flesh" whilst wearing galaxies of diamonds all over her 'flesh'.
Disclosure had the right idea though! Drowning her out in synth. Her face has never looked better than it did all blown up like that with white squiggly lines drawn all over it. Yes, definitely go more for that face in future, yes yes. #FullDisclosure.
As for the men of the night, to call Bruno Mars a heartthrob, well isn't that a tad much? He's more of a murmur isn't he. The One Direction boys also had a delightfully delicious sadness about them which only means they're fed up with being in the industry for such a long three years. They should take my one and only direction, and give up.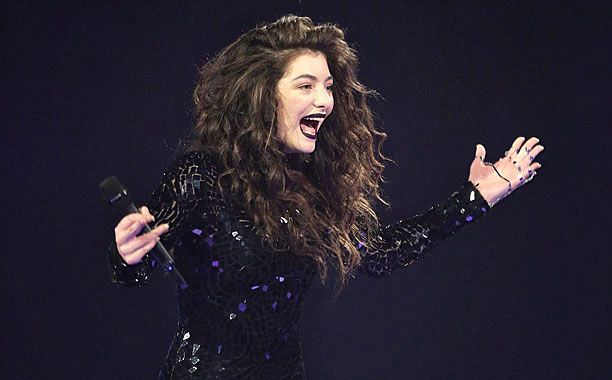 Moss and Gallagher presented the dear David with his award (as predicted) with a bit of "You maniacs!" and some more "didn't think David Bowie was actually gonna be here?" but it still stands she's better at making music than acceptance speeches.
Arctic Monkeys and AM was on fire! Literally, in the beginning the words A & M were lit on fire. This only revealed one thing to us; that the emperor doesn't have any clothes, and he doesn't like to be told either. He will do as he greasily pleases, when he gracefully appeases.
Imagine that pressure. Imagine the weight of the world's expectations on one band's shoulders. The weight of Alex Turner's swampy sludge filled head, on one man's shoulders. Great thing about the show though, according to NME, Disclosure, Arctic Monkeys and Rudimental all watched the sales of their albums nominated that night, double the next day.
That, is shattering the glass ceiling.
Eat Pray Fallon
Prod me sideways with a whales rib the US talk shows are devouring the entertainment scene whole.
I will never wash my eyes again! I whispered, after watching Lady Gaga perform Artpoop, Little Dragon on Letterman, Fallon and Smith Getting Jiggy Wit and Will Ferrel, the first Lady Michelle Obama and Fallon all hand hugging on a couch in "Ew!".
Arcade Fire Win this week with Win who started their performance of 'Afterlife' with a literal reflection, of a reflection, of a reflection.
Quarter Pharrell With Cheese
Forreal Pharrell? Are you lost in a fog of incomprehensible unique ideas? I now want to find a place of honour in my house for the magnificent cover of his new album G I R L. Not only is it verbose in vocabulary and dripping in intellect but the lead single is called 'H A P P Y'. Blimey! He's officially beginning to transcend to a higher level of elementary and may even bring out songs like 'L O V E' and 'B A B Y' next?
Please keep your voices down I am a fan. However, I think someone needs to collect the tear streaming down his face 0.23 seconds into his album teaser. Who knows it could even be used as a wHORE-CRUX.
Yours,
Forever ripe in Season...