It's not often that your interviewees proffer such a downright brilliant title as the one offered by Dream Wife. Having originally described themselves as "poolside pop with a bite" on their Facebook page, the band were looking for an update that reflects their more recent output, eventually landing on "Dream Wife invites you into the mosh pit. This ain't your average house party. A wild ride. We could go at this for hours."
Their first single, 'Believe' (released back in the summer of 2015), had an ethereal, sensual, electronic vibe that fitted the description well, but their new EP sees guitars coming to the forefront. "We were using a loop station for our beats live and Believe relies quite heavily on the precise beat, but we've started playing with real drummers and thats the direction we want to go into."
Their emphasis on performance sees their live show inform what they want to put down on record. "We've come to the point with the music where we are really happy with how it sounds live and we want to translate that into the recordings." Their new EP, released last month, sees them strut between power-pop ('Lolita'), snarling punk ('Hey Heartbreaker') and '70s classic-rock ('Everything').
Yet despite all these attempts at categorisation, Dream Wife are a package you just can't box. To make such definitions is limited and does them little in the way of any justice. Their music might be hard to define, but Dream Wife as a concept is kitschy, gaudy and fearless. All subtlety is thrown out the window.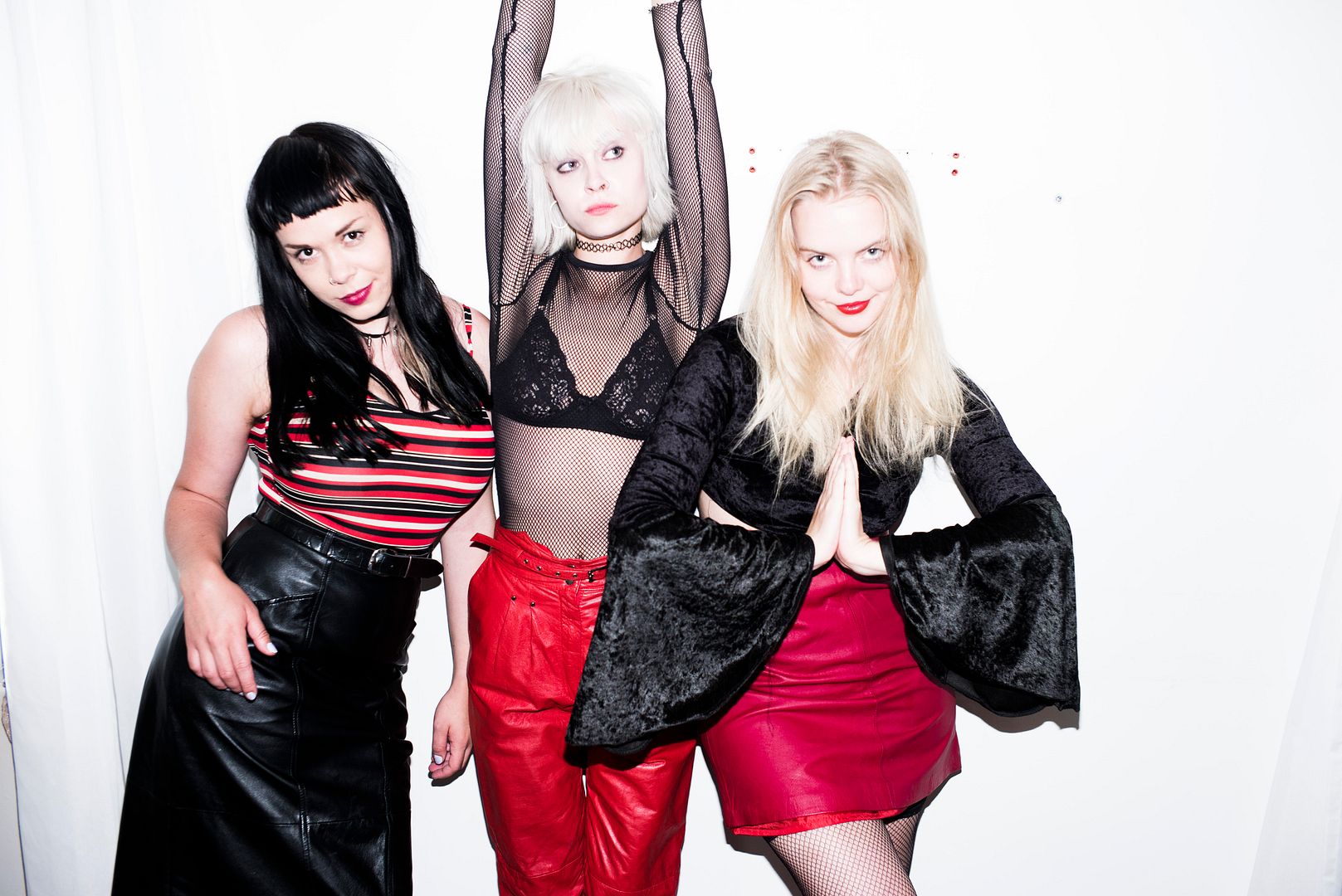 Now based in London, Alice, Bella and their Icelandic frontwoman Rakel originally got together for one of Rakel's art school projects in Brighton. "We originally got together as a joke," Bella regales, "we wanted to visit our friends in Canada on holiday and we decided we couldn't just go on holiday we had to form a band and tour Canada. I texted Alice the next day and I was like 'hey do you wanna go Canada and visit Caitlin' and then Rakel decided to make it her art project."
Alice embellishes the origin story, explaining how it has come to define their fine balancing act between the zany and the earnest. "Bella messaged me about the band and I replied 'I can't deny this fantasy'. Right from the start their was a humour to Dream Wife. It's tongue in cheek but we're also very serious about it. Those beginnings don't sound serious at all but it wouldn't have carried on this far if we weren't serious."
It was the beginning of a beautiful band-ship as Humphrey Bogart may say, one that has "snowballed" into ever-increasing exposure and a fervour starting to build around the band. "We were described as indie rock by the NME the other day in some best of British Indie piece. It was the first time we'd been described as British indie. I kind of felt a sense of weird pride about it", Alice jokes.
Dream Wife maintain a carefully managed aesthetic side quoting filmmaker David Lynch in regards to sound and image working as one. It's no surprise when exploring their projects outside the band - Bella is an artist and together her and Alice have a zine and site called BFF 666, featuring "tacky and slapdash" twelve-minute dance routines that are full-on John Waters-esque.
Alice regards the development of their aesthetic as an organic process with an array of collaborators that have helped streamline their vision. "Definitely in the early days of Dream Wife, photographers like Maisie Cousins, Elle Hardwick, and Meg Lavender were crucial in developing the aesthetic side. It's important to bring people into the Dream Wife world and feel like anyone can be a part of the world. It's not just other musicians - it's photographers and filmmakers and stylists. There is this network of people behind Dream Wife from all different backgrounds. It's not just the music and that sets it apart from other bands I've been in before."
A visit to one of their live shows would surely clear any doubts you may be having as to what the Dream Wife world could possibly be, with elaborate sets creating an otherworldly and unique environment in which to enjoy a gig. "For the EP release show, a friend of ours designed the set. We had a pastel coloured beach in space with silver palm trees and pink sand mounds and tons of balloons. We like creating an environment to play our shows. This was the first time we got anyone outside of the band to help us with it and it was so much more than anything we could have done ourselves. Dream Wife is very theatrical. The Daughters of Reykjavik (Reykjavikurdætur), this 15 piece rap group supporting us, came on for the last song and we all ripped apart the stage and the enormous palm tree did this crowd surf all around the room. We want to create a different world every time we play."
Transgressive and subversive with a dash of silliness for good measure, their aesthetic and the band themselves challenge pre-conceived notions of them being a mere "girl-band" - Dream Wife is something altogether more powerful. "It's just terms like girl-band being thrown around when it's in a sense of that being a marketable thing. When it's used on a band that is simply identifying as a band, it's wrong and it's dangerous. Dream Wife is an alternative collective formed of women - "girl-band" should be an irrelevant term. When we first started playing our song 'F*ck you up', it was shocking and it's the same with our image - to have such a raw sound and such a stereotypically girly image - it's turning things on its head."
Bella explains the situation further, lamenting the task on hand in tackling the musical establishment. "It's difficult because there is definitely an imbalance between male and female artists. You just have to look at festival lineups to see that we aren't on an equal playing field, but the fact that we are celebrated as female musicians and not just musicians is frustrating."
The problem is less than trivial, but Dream Wife aren't here to play the lone white knight. Dream Wife are here to show you a good time and maybe mix things up and experiment along the way, sort of like their idol David Bowie. "Bowie is one of our top people ever," exclaims Bella. "The day he died we made a really spooky BFF 666 video in his honour. We'd made the track the night before and then we woke up and he had died and we had talked so much at length about what we were going to do the day David Bowie had died. David Bowie is a really important influence on Dream Wife in a lot of ways. We really celebrated him that day."
It's apt that the only named influence Dream Wife bring up throughout the interview is David Bowie, an artist who thought about music in the same conceptual manner as Dream Wife do in the modern day. They both create worlds in which to immerse yourself be it the poolside or your better-than-average house party - Dream Wife are here to transport you.