Label:
Prime Cut
Release date:
22/03/10
Website:
Myspace
Named after Hunter S. Thompson's infamous anti-hero and hailing from Brighton
Duke Raoul
release their debut single – a double a-side of 'Strange' and 'Dead Echoes', out on vinyl and download. Already favourites of The 405, the first thing we should mention is the awesome artwork on the release (check it out there above) courtesy of Sarai Vardi. Having amassed an impressive slew of supports to the likes of The Futureheads, We Were Promised Jetpacks and Esben and the Witch, it comes as no surprise the band's sound is not a million miles away from these peers. 'Strange' starts with a Maccabees-esque slow build, but has some great "ah-woah-wohs" that bring it to life. The programming and synths help the track remain optimisticly atmospheric but the world-weary lyrics about not waiting for miracles contrast perfectly with the frantic clicking drums and melancholic guitar work.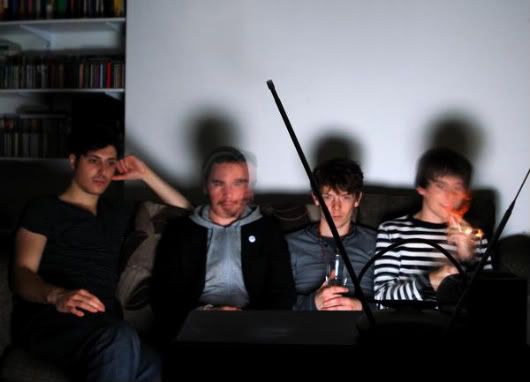 'Dead Echoes' is more straight-up indie rock, in the vein of We Are Scientists, but is just as appealing. Jangly, chiming guitars that would start a pogoing session bubble away underneath Alex Painter's powerful vocals and despite the short running time, the track packs a hell of a punch. Alex sings that "nothing matters, our clothes are in tatters", which raises a wry smile before moving on to a more serious but no-less-poetic statement of "who can we turn to for breaking the rules, left with a choice between puppets and fools". A band that love life, there'll be no loathing when Duke Raoul are on your stereo.

What say you on this? Sound off in our Fourum!