Let us introduce you to
Dutch Uncles
, an exciting band hailing from the outskirts of Stockport. Although they've been making music together for the past five years, recent tours with the likes of The Futureheads and a killer single in the form of 'The Ink' getting its release last week, these guys are quickly building up momentum. We caught up with the band to discuss their current tour and future plans.
So tell us about the new single 'The Ink'?
It's a composition consisting of all the traits we like about Pop music.
Your music has a sense of urgency to it. What bands with 'a sense of urgency' inspire you guys?
We like XTC and King Crimson and Talking Heads because they all do the herky-jerky.
The Video to Face In is brilliant did you guys come up with the idea behind it?
We did come up with the wedding idea. Obviously weddings get done in pop all the time so to have a "bearded boy" in the dress was almost a mission statement of where we want to see ourselves in the pop spectrum.
What has been your proudest achievement as a band so far?
Playing at Manchester Apollo with Maximo Park was a gig that took us to a new level of recognition which was something to be proud of.
You've just been on tour with The Futureheads. How was that? What's your favourite Futureheads song?
The Futureheads are one of the first bands we got into as a band so it's been surreal to tour with an all time favourite. They're a very welcoming group as well, in a classic (or un-classic) Sunderland fashion. The favourite song on the tour would have to be a new song called "Struck Dumb". It's got a real classic Futureheads chorus technique which cannot be revealed!
What's the new album going to be like?
Our impressions of what our new album could sound like change every day so it's hard to say. 'The Ink' is the first indication of where we want to go with it, but having 9 more ink's would be ridiculous. We need to work on our range, dahling!
What other ideas do you have for rehearsing? (Projecting Carling Cup finals on silent is a brilliant idea by the way.)
Our actual rehearsal room can only be described as a "hole", so to get out to Salford University and make some more demos would be a dream. Just to be in a room with windows would be a step up.
I really like your name. Who came up with it?
Our singer Duncan brought the name to the group. It's from a play called Dutch Uncle. The combination of words felt different to the usual standard of indie names so it was more of a feeling than any meaning behind it. We just added an S on the end for that gang mentality.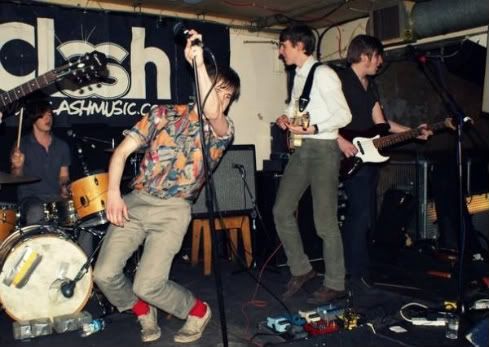 What are your plans for the festival season?
We've played 'hard to get' with the festivals a little too long and have ended up with less than a baby handful of shows to be confirmed. But festivals are about having fun so we'll have a good time wherever we end up!
Where do you see the band in two years time?
Finishing the album
You can visit the band by going to www.myspace.com/dutchuncles
Images by Nina Kölle & Jessie Hutchings