In what has been one of the heated debates of the past few days, Sony has effectively stolen the thunder from their major rival's console, the Xbox One, in a series of fantastic announcements last night at the PS4 E3 press event.
The two major announcements in question were the confirmation that the PS4 will support the following: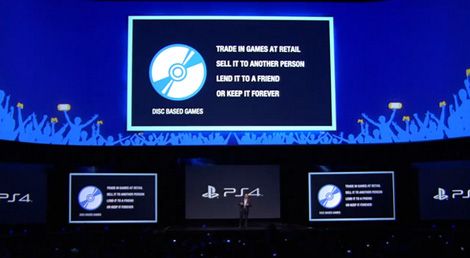 Game trade ins
Selling and buying games second hand
Sharing your games with a friend
Keeping the game forever
No intrusive always-online DRM. In fact - no need to even register the game online
The second announcement that may have sealed the deal is the price of the console. It's been set at a semi-reasonable £349, a clear £80 less than Xbox One.
With a slight delay in transmission, Sony began their conference with CEO Jack Tretton still bigging up the PS3 and PS Vita with its current releases. For PS Vita we can expect to see more than 85 new titles launched at the end of this year including such games as FFX / X2 HD, God of War 1 & 2 HD, Batman Arkham Origins and new episodes of Telltale Games critical tour de force, The Walking Dead.
The soon to be released The Last of Us was displayed in all its glory via a new trailer, followed by a very action packed trailer of David Cage's Beyond: Two Souls, featuring Hollywood alumni Ellen Page and Willem Dafoe. The game is due for release in October.
A Gran Turismo 6 concept trailer was next shown, and it looked absolutely stunning, however the next trailer really got the audience pumped with the reveal of Batman: Arkham Origins' gameplay – Jack Tretton was quick to point out two unique DLC costumes for the PS3 version of the game in the form of Azrael's high tech Batman costume from the Knightfall series, and the classic Adam West 60s costume.
An extremely brief mention of GTAV was made with a new PS3 bundle that will be priced $299 with the game and an exclusive set of GTAV headphones.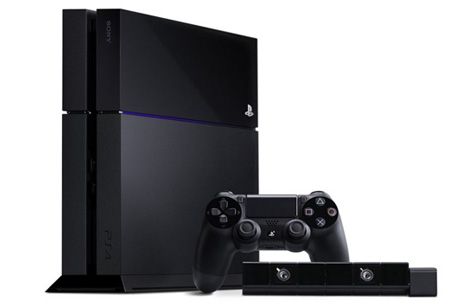 With that Sony was set to finally reveal the PS4, and my god it i glorious! It's design is 'back to form' recalling the old design of Sony's most popular console, the PS2, but with an edgy sheen and robustness of the PS3.
There were promises of Sony Music and Sony Pictures making further collaborations in bringing a more integrated entertainment experience to consumers for the PS4 via the PSNetwork. Video Unlimited as well as Music Unlimited will be made available at launch for the new flagship console. Flixster will also be available as an app at launch.
Next up Shu Yoshida, President of SCE and the man with one of the most infectious 'Teddy Bear-style' cute laughs, took the stage to talk about social media in conjunction with the PS4, and bolstered this talk with a reveal of the many new IPs in development such as: The Order 1886 (A steampunk shoot-em-up), Killzone Shadowfall, InFamous: Second Son (Due Q1 2014), Knack, and PS4 tech demo, The Dark Sorcerer (in which David Cage pretends he's a real director …again).
Next-up Amir Rao and former Gamespot reviewer Greg Kasavin took the stage to describe their new game Transistor from their studio Supergiant games. At this point Sony was trying to clearly show its intentions to support independent developers as well as major studios with a entire showcase of indie titles – Red Barrel Studio's new game that focuses on a survival horror seen through a video camera looks incredibly intense!
Diablo III was mentioned with a much yawn malaise of an reaction around the room, however Square Enix's Tetsuo Nomuraa (Who looked like he was trying pretty hard to sport a hairstyle from one of his game's characters) gave us two shiny trailers to gander at …one of them of which was the final confirmation of Final Fantasy Versus XIII, which has now become Final Fantasy XV and looks incredibly action packed and not just another stoic turn-based affair.
Final Fantasy XIV was also confirmed for PS3 and PS4, however things quickly moved on to live gameplay footage from the eagerly anticipated Assassins Creed 4: Black Flag (or as I call it - Pirates XXX: sadly, not featuring Evan 'Zapp Brannigan' Stone).
Next up we saw Watch_Dogs in action showing off some great driving action and more shenanigans you can pull off with the power of a smartphone. Supposedly PS4 gamers will get an extra hour of gameplay in their version + new outfits to customize the main character with.
Suddenly a wild Lebron James appeared...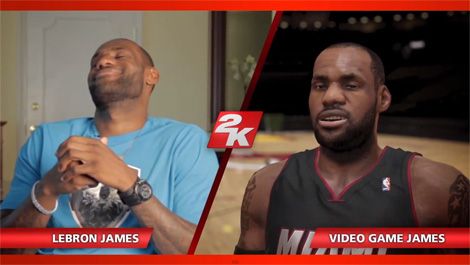 …moving on!
A release for the Elder Scrolls MMO was announced as coming to the PS4 on Spring 2014.
However, the announcement that tugged my poor post-apocalyptic dystopian loving heartstrings was the teaser trailer announcement of Mad Max the game (Pretty much almost kills the need to make a Fallout game ever again - unless it falls prey to that all too real movie-tie-in curse. Please don't ruin the Road Warrior!).
As well as the previously mentioned 'No DRM or intrusive anti-consumer' policies, Sony announced that gamers' current PSPlus membership will carry over no problem to the PS4 with no further need to sign-up, and they'll be getting a free game, Drive Club, to play in launch month!
The wrap-up of the evening came with footage from Destiny that showed off some really beautiful environments and excellent use of dynamic lightning and textural rendering, however it is the same ol' FPS fare in the end.
The release of the PS4 was briefly mentioned to finish the evening, and it'll be hitting shelves for a holiday release in 2013.
If anything, Sony has proven they are consumer and gamer first and have efficiently displayed this in a very strong E3 announcement. Now I'm REALLY worried for the Nintendo Wii U, as many of these games won't see the light of day on that console!