From Urban Outfitters to Amsterdam, 22 year-old Elinor John's distinctive and charismatic paintings have been gaining her a solid reputation before she's even out of University. In a social climate increasingly concerned with the often slippery concept of identity, Elinor's work aims to capture the essence of the individual through the material things that surround them; intimate bedrooms and studios are turned upside down to reveal the most telling secrets; carelessly draped clothes speak volumes; the walls can definitely talk.
Elinor has taken a break from the canvas to give us an insight to her work: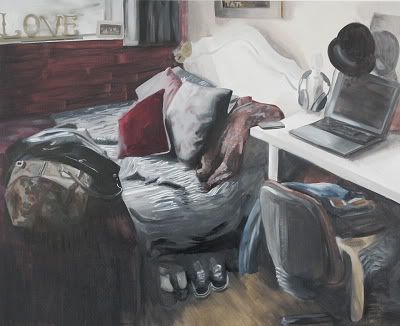 When and how did you first get into painting?
I have always been into painting, ever since I can remember. I don't really know how, it's just always been a big part of my life. When I was little, kids would be playing in the street and I'd be inside drawing them! I was obsessed, but I can't pin-point where it sparked from.
Was it always painting or did you play around with different mediums?
I wasn't really educated in anything to do with art when I was younger. Like, none of my family members were involved in art in any way so it wasn't an obvious path for me. I used to love drawing and my family were very supportive and helped me along with that, so I think it must have been a trigger from the little things that got me involved like Art Attack and paint by numbers! I don't really know where it came from – I sometimes question how I got into art in that sense but it just came naturally.
You dabble a lot with photography as well. Do you think painting allows you to express or capture things that you can't through other art mediums?
Photography has always been an influence with my work. I like the idea of capturing things with a photograph, but I think with painting you can translate those things in a different way. It's more about how I see the world rather than how a camera captures the world.
Your paintings are strongly concentrated on people. Could you tell us about some of the concepts/themes behind your work?
People are the main influence in my work. I've always had a strong connection to people and I've never felt that with landscape or still life or abstract. Figurative painting has always been the main aspect of my work, but recently I've tried to break out of my comfort zone by still keeping the whole figurative aspect and using it in a different way. At the moment I'm working on the idea of "the absence of presence", where I'll do a portrait of someone where they're captured through possessions or places rather than a physical likeness. Say, if I did a painting of someone's room, everything that's contained within that space should reflect the person who owns it. So I'm trying to take portraiture to another level by keeping the whole figurative aspect and relationship to people, but approaching the genre in a different way.
Do you feel you work better when painting people you know personally?
I think when you know the person you are more aware of their traits – hobby's, habits and things that you can then translate. I've tried looking into people that I don't really know that well to see if I can still have the same outcome, and I think it can still work, it just depends on what you use as the space. One of my recent paintings is of an artist called Carl Chapple, who I don't know, but know of because he works with one of my friends. I went into his studio space and used it to re-create what kind of person he is. You can get a lot of information just from a person's home, but you can get more from someone you know. With a stranger, you can only tell what you see. You make more assumptions.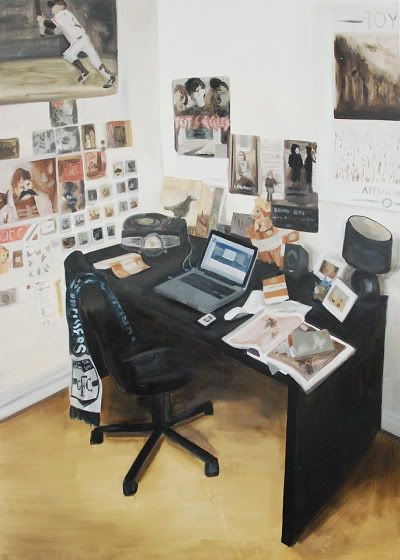 What are you working on at the moment?
I'm working on the whole "absence of presence" concept but I'm hoping to expand to different things. I really like pushing my own boundaries and going out of my comfort zone. Because I've always been a figurative painter I now want to look into abstraction, or something that I'm completely unfamiliar with. I've always kind of painted in the same way so now I'm trying to break away from the figurative. At the moment it's like, if I have to paint a chair, I would have to paint it exactly how it looks. I'd like to expand and look more into mark making and abstraction. I do love people, though, so maybe keep doing the figurative thing, but have it more as a side-project to something else.
As someone who likes to get their hands dirty, so to speak, how do you feel about digital or virtual art? For example, Disney's pencil-to-paper days have been replaced by CGI and it's sad in a way that that has gone.
When you're only set in one discipline it's hard to really know the full extent of another. I appreciate it as an art form, but I don't really know much about it. It might be one of those things that I should invest more time in. Art is always moving forwards and I think technology will always alter things. Like, the Impressionists were really influenced by photography, but before that there was no photography to alter the way we look at things.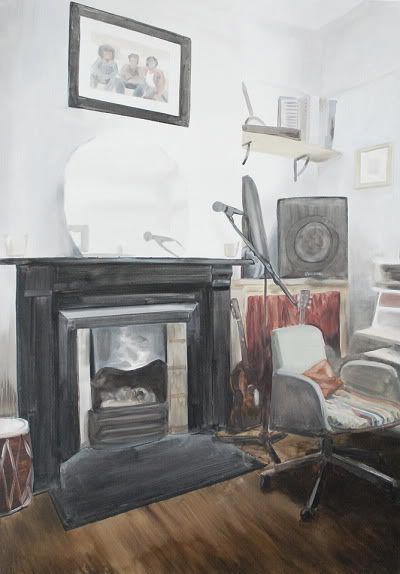 Who or What would you consider your greatest influence?
It's hard to pin-point exactly; every day and everything I come across is an influence in one way or another, even if it's looking at something and thinking 'oh, I like the colour of that'. Subconsciously you're influenced by everything that happens in your life. Artist-wise, I think when I was younger Monet was always a big influence for me. I always loved his work – the colours, the pallet, composition, subject matter...everything. I don't think he relates to my work anymore though; at the moment I have a love affair with Lucian Freud and Tai-Shan Schierenberg who are very figurative, portrait painters. Also people like like Jim Dine, Sophie Calle and Tracy Emin have influenced my work recently, so I'm leaning more towards the contemporary than the traditional.
Some of your work is up on display in Urban Outfitters in Cardiff. Can you tell us a little about where else you've exhibited your work?
I've exhibited in places like Bay Art Gallery, but that was through my University. At the end of last year I exhibited in Amsterdam, which was amazing. It was a really huge experience to exhibit so far from home. That was awesome. I sold some work out there as well. I had a show in Llantarnam Grange Arts Centre, which was a kind of collaboration between the centre itself and The Big Fuss. It was a collection of both up and coming and established artists. Sue Williams was there. I was in the same room as her and I was so happy! My work was mirroring hers which for me was just like...wow...it really felt like a huge achievement. I've got my degree show coming up in the middle of June and after that I really want to push it and try and get my work to London and some smaller galleries around the UK, really open my art up.
If you could do a portrait of anybody, dead or alive, who would it be? Or in terms of "absence of presence", whose living space do you think would be interesting to paint?
I absolutely love Francis Bacon's studio. His work has never really influenced mine, but his studio is absolutely insane. It was demolished and re-created in Dublin, so that's something I would love to see and paint from. It's absolutely beautiful in a messy, cluttered kind of way. He paints all over the walls like I do. It's in total chaos but I bet he knew where everything was! In terms of people, there's an artist called Jenny Saville who used to paint obese women and hospital patients. She also did the cover art for the Manic Street Preachers album 'Journal For Plague Lovers'. It would be interesting to do something like that; looking at physical differences in a beautiful way, looking into beauty that not everybody sees in "imperfection".
Elinor's next exhibition will be in UWIC Howard Gardens in Cardiff (see below for details). Also keep an eye on the walls of your local Urban Outfitters – her work may be taking a tour of the stores soon!
Check out more of Elinor's work by visiting her Official Website (www.elinorjohn.com) and blog (elinorjohn.tumblr.com)
Exhibition Details:
Cardiff School of Art and Design - Summer Show 2011
Howard Gardens Campus (5th floor)
Howard Gardens
Cardiff
CF24 OSP
Open from 12:00 June 18th - 12:00 June 24th