Mia Sparrow
opened for Enemies and Super Extra Bonus Party and almost instantly became one of my new favourite local bands. Looking them up later, I actually liked their demos better than Enemies or SEBP's albums, neither of which really keep the energy of the bands' live performances (which is unfortunately a really common problem in Ireland, for some reason).
Live, they didn't seem sure of themselves enough yet to have anything like SEBP or Enemies' stage presence, but the songs still come across well. Their songs have a great balance between lo-fi noisiness (a little less so live) and melody, sounding a little shoegazey in parts. People are already catching on to them, apparently – they recorded a session for the national radio station and were going to play a slot in the IMRO (like an Irish RIAA, but not as evil) showcase but pulled out for complicated local reasons that I'm not fully up to speed with (let's just say their potato allowance was too low for now). With any luck, things should go well for them in future.
Despite the fact that they play here all the time, and that I've had
Super Extra Bonus Party's
album for a while (on the general principle that a band with a name like that would have to be some amount of fun to listen to, and because it features guest vocals from the singers of some of Ireland's best bands), this was my first time catching them live. Like I said, though, it doesn't capture the energy of their live performance, so it took me by surprise. The venue was filling up by the time they started, but their bass player grabbed some space for himself in front of the stage and danced around half in and out of the crowd. They're really fun live, just playing the shit out of instrumental versions of the songs on their album (some of which are meant to be that way), although the crowd held out a little before really getting into Enemies later. They were a joy to take photos of, too, which made my night.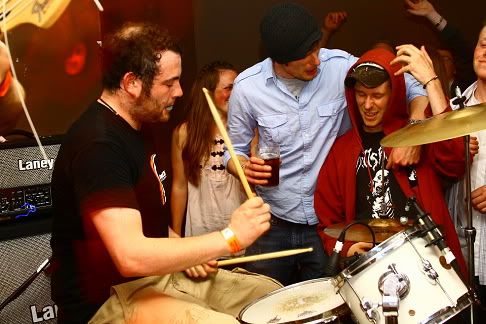 By the time
Enemies
started, the venue was packed solid. Personally, I found Super Extra Bonus Party a little more fun on their own merits, but the crowd absolutely loved Enemies, and it was infectious. I actually almost didn't go to the gig, since I was only really familiar with SEBP's music, but I caught Enemies playing an instore gig in Tower Records earlier in the day and changed my mind. They have tons of energy live, playing instrumental music somewhere between math- and post-rock. There's actually something about the sort of rippling guitars endemic in math-rock that I don't really like, but Enemies more than made up for that with their performance. One of their guitarists also doubles as a second drummer for some songs, which was great. More bands need to do that, and I don't care if it is gimmicky.
Photos and words by Yan Bourke