Montreal-based musician Olivier Alary, aka
Ensemble
, has certainly hit 2011 running. This month he released his stunning new album,
Excerpts
, a record so beautiful that we felt compelled to find out more about what went into it.
Hello! And how is 2011 treating you thus far?
Great! I just came back from an incredible trip to India.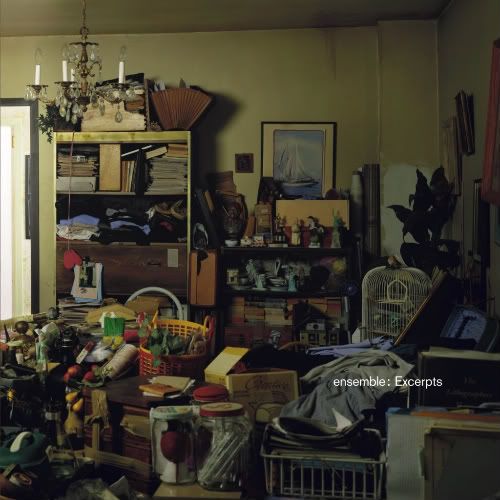 According to your Fat Cat Records 'profile' you look to 'explore the meeting point between melodic noise and disjointed pop.' By way of an introduction to your work, could you tell us a little about what you've found in this 'meeting'?
I think there is a lot of room for pop music to become more adventurous and for experimental music to become more accessible. Somewhere between the two is a middle ground where you can reach many people and still challenge them and make them think about what they're listening to. This is what I am aiming for.
Before starting Ensemble, you studied architecture at college. Is this a long lost love or do you sometimes find yourself staring at buildings with tears in your eyes?
I still find architecture fascinating, but I've always been more passionate about music. Aside from Ensemble, I have been developing a couple of sound installations. I find the relationship between the physicality of sound and space very interesting.
Has your background in architecture had any bearing on your work as a musician?
Probably more than architecture, film and visual arts have had a stronger impact on how I perceive and structure music. Â 
You're originally from Toulouse and you're now based in Montreal, after living for a time in London. How have these shifts in surrounding impacted on your music?
I left Toulouse to study sonic arts in London. Toulouse is a fairly provincial town so moving to London was very stimulating and challenging. I was surrounded by very talented people which helped to accelerate the development of ensemble and see it on a larger scale. I then moved briefly to New York to pursue my ambitions as a sound artist, but after a visit to Montreal, I decided to stay there. I was instantly charmed by the openness of the city (and the rent). Montreal also has a very interesting art scene. But what I find very striking here is the blend of Anglophone and francophone cultures. Living in Montreal has made me more aware of my French cultural heritage and it led me to start writing in French.
Excerpts
was definitely influenced by Montreal in that sense. Â 
What other musicians have had a particular influence on your music?
I have always been drawn to artists who've opened up musical genres. People such as Pharoah Sanders, Antonio Jobim, Robert Wyatt, and Arvo Part. Their music has depth and intelligence while still having a universal appeal.
You've just released a beautiful new album this month called Excerpts. What were your intentions behind the record?
Well, I always try to create something that I would like to listen to. My work inevitably explores and reflects my current concerns. For this album, I was interested in the confusion between fictive and real memories. I have been subjected to so many films, records and books that I sometimes cannot distinguish what I've lived from what I've seen, heard, or read. Music wise, I wanted excerpts to be a cross between song writing and experimental music.
A lot of the songs on 'Excerpts' seem to mutate as they progress, suddenly transforming in sound and mood. How do you go about writing something like that?
I follow my intuitions mainly. We usually start from a very simple structure, usually guitar & voice or piano & voice. Then Johannes and I work on the string arrangements and additional instrument arrangements. The songs had to stand in their minimal form before twisting them sonically. It's easier to deconstruct something that is very clear at first.
The album is meditative and largely soothing, but on some occasions there appears to be something a little more tumultuous lurking beneath the surface. Is that in any way a reflection of yourself?
Well, I like creating music that operates on various levels. It's more a reflection of what I like in an art piece more than on myself. I am far more chaotic and tumultuous than ensemble's music.
You've changed the lineup for this album. Do you intend to change your 'ensemble' with each new release or do you think you've found the perfect balance in Darcy Conroy and Johannes Malfatti?
I have been working with Johannes since the second album. He's a very close friend and an important collaborator. From now on, I cannot imagine ensemble without him. Darcy is important also, It took me a very long time to find a vocalist as talented as her.  
Who would you most like to collaborate with?
Mostly vocalists such as Chico Buarque, Robert Wyatt, Rufus Wainwright, and Stina Nordenstam.
It's only January and you've already made your mark on 2011. What do you have planned for the rest of the year?
Ensemble will be touring this Spring and Summer. I'm currently working on more film music, collaborating on an art project on generative music, and sketching Ensemble's 4th album.
You can visit Ensemble by heading to http://www.ensemble-home.com
Excerpts is out now via Fat Cat Records