The two main things people ask me when I say I've moved back to Serbia are "Why?" and "Isn't it really cold there?" thinking I mean Siberia. It's just one of those places that people either don't know or vaguely associate with civil conflict, social unrest and war. It's definitely not a place people associate with any sort of alternative music scene.
Growing up in Canada, in a Serbian household, I always felt I was missing key elements from both sides of the fence. I turned to music as many do when they feel out of place. However, I wasn't the only one going through an identity crisis and growing pains. During the '90s the former Yugoslavia was falling apart. War and destruction plagued the region. Culminating in the US led NATO bombing in 1999.
I've been in and out of bands and musical projects for years. After experiencing some personal disillusionment and heavy heartedness less than a year ago I made a pretty extreme decision. I dropped my whole life in Toronto and move back to the city of my birth, Belgrade.
When I first arrived I had no idea what to expect. Like the rest of the world I knew nothing of the local music scene. I began to hear murmurs of a place called BIGZ, an enormous abandoned publishing house that had been re-appropriated into an artistic collective. The multitiered building is full of underground venues, practice spaces and recording studios.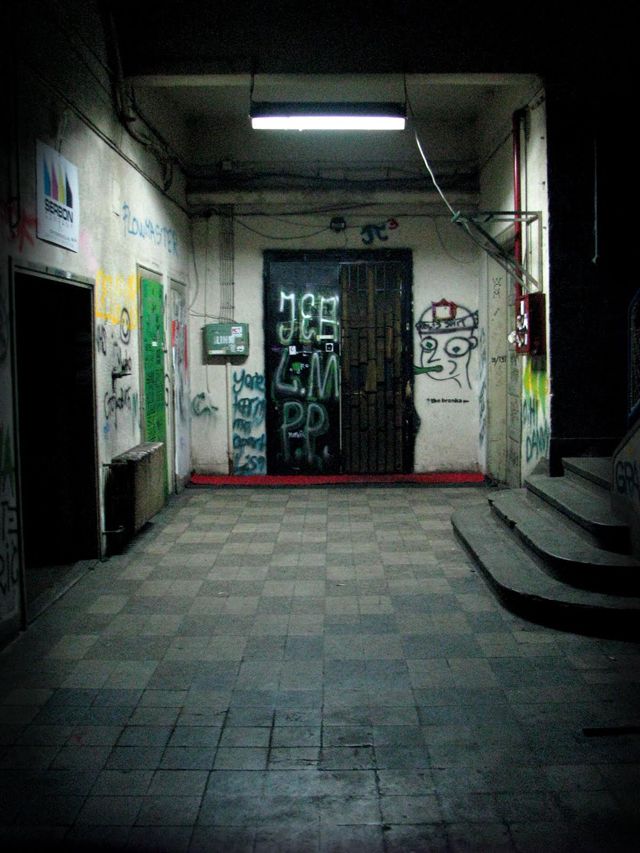 Upon entering I was drawn in to the sound of pounding drums reverberating through the entire first floor. I walked into "Scena" (The Scene) to a punk band called Technicolor Lies tearing up the stage for a modest but enthusiastic crowd. Immediately I felt at home. The night continued with a combination of local and touring acts and when all was said and done I didn't want to leave. I ended up befriending a small group of people and got comfortable in a rehearsal space for some after-hours conversation and drinks. I was pleasantly surprised to discover that they had grown up on some music that I had. All night we talked Hüsker Dü, Drive Like Jehu and Fugazi. As kids, they would visit local markets and pick up pirated CDs and mix tapes of unknown and exciting bands.
This city inspired me so much that I started my solo project Ensh, wrote and recorded an EP in two short months. As a tribute I named the EP Belgrade. I couldn't believe the passion with which music is consumed, created and performed here. To my delight this energy was reflected back in my own efforts. The scene although admittedly small is an amazing one to be involved in. I continued to discover amazing bands like Technicolor Lies, Repetitor and Ti.
All in a myriad of small clubs, cultural centers, and re-appropriated spaces. Like Fest, KC Grad, and Inex Film.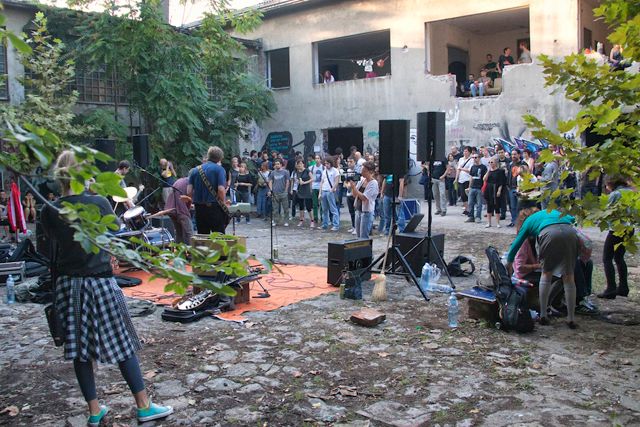 No one involved in the Belgrade alternative scene plays music because they have any pretense of "making it", they just want to play music. It is that very same passion that has drawn in DIY tours from all over Europe to Belgrade. It just feels like the right place to be. There is a combination of naiveté, devotion and wonder that would give any musical cynic a glimpse of hope.
Ensh's EP Belgrade is released for free on February 17th here. Check his NSFW video for 'Fiks' below.