A decade or so ago, it would have been easy to define a gamer. A quick search through magazines or on encarta would turn up images of specky, zit infested grease merchants who used to sit in dark rooms playing point and clicks until 4 am. Flash forward 20 years, and that class of gamer still exists, but they are now part of a much larger community.
Eurogamer Expo is the best at showcasing that community; it cherishes it and keeps it safe whilst also providing it with the largest showcase of games in the UK. The Eurogamer website has always had one of the most embracing (at times) and productive communities on the web, with only Drowned in Sound rivalling it in terms of size and content. What's great about this is that the community all bunk off for 4 days every year, and camp it up in London. This gives the expo an atmosphere that events like last year's Gamefest can't rival, with its WHITE LIGHT HELL at the NEC.
This was my third Eurogamer and, for the first time, I wasn't there to play the games. Going gung ho into an expo was a technique I learnt from a Scottish friend of mine, so this was a great opportunity to see if on the fly writing works for me.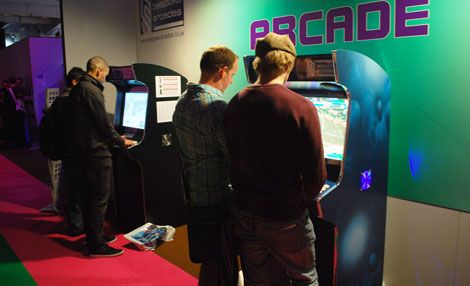 GAME WATCHING
I'm shit at the majority of games that involve high pressure situations. Playing Heavy Rain caused me to make numerous errors, as QTEs are like huge rocks for me to trip over, so playing multiplayer games against my peers at a show was always going to be no go. Instead of walking away, it's more interesting to watch the fans and their reactions to the significant changes in their favourite series'. No, I'm not talking about Call of Duty here (note, I wrote "significant changes") but instead Halo 4, which is the first game in the new trilogy being developed by 343 Industries (who took over from Bungie nigh on five years ago). To call this game a potential deal breaker with fans if it goes wrong is putting it lightly.
Watching players set up their own button configuration pre-play, grimacing when guns reacted differently to how they expected, and gasps of glee when witnessing the fantastic graphics of this fourth incarnation was much better than me sitting there for 5 minutes, not enjoying myself due to my own lack of self-belief.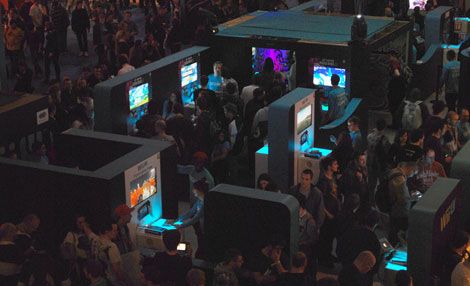 For every plus with watching others play, there are minuses. These minuses came in the form of the Wii U, the newest behemoth from Nintendo. Coined as the new generation in gaming, the Wii U experience at EG was going to be the first time many a player had a chance to get their mitts on the placemat sized controller and its range of innovative games. Last year was the Vita's chance to impress gamers, and in some ways it succeeded as a few us, let's call us mugs (I'm one of them ) bought one mainly due to being able to play it first at Eurogamer. This year, the Wii U may have done the opposite.
Those who'd wasted two hours of the day were not impressed by the subpar graphics and the sometimes frustrating tablemat. Still, the atmosphere around the Nintendo area was never downbeat because down and out is not the Nintendo way, but from opinions gathered from gamers at the show, they really need to sort out their strategy, especially where core gamers are confirmed.
INNOVATION FOR THE NATION
The WII U is innovative, but that's not what this is about. EG Expo is innovative in how it approaches the numerous enthusiasts who come and go every year. Currently, my time is split between gaming and music, with the music fan in me dominating. Applying to festivals always has a tension behind it, as you expect to be hit with questions about stats, numbers, figures (whatever). What Eurogamer does well, and has done for as long as I've known them, is embrace the enthusiast. Websites, fanzines, no matter how small, find themselves rubbing shoulders with industry peers who at other global events could find themselves superclassed, or sometimes find themselves the only guests at a slightly sodden party. By opening the doors to everyone, Eurogamer finds itself with twice the amount of coverage, and also the growing power to make itself reach the same level as Gamescom within the next few years.
Their innovation is also apparent through the inclusion of the charity Special Effect, who were central to the event, not only in location but also to the future of gaming. Special Effect make rigs that allow gamers with disabilities to play video games, something that we all take for granted. They let their technology do the talking and if you were one of the few to use their Portal 2 rig, then you'll understand what I'm writing about.
PLANS TO BE NUMBER 1
Eurogamer was started by a young Rupert Loman back in 1999, and since then it has established itself as the leading games website in Europe. But that's not enough, and this years expo was more than just a games showcase. E3, Gamescom and the Tokyo Game Show like to think that they are the industry events where all the announcements are made. Slowly but surely, Eurogamer Expo is pushing to be up there with the bigwigs. The exclusive developer sessions are evidence of this, as they give the gaming community a chance to experience talks that would usually only be reserved for games journalists both paid and self proclaimed. The addition of key games reveals and exclusive demos only helps to drill this idae home. Could Eurogamer Expo be the event to attend in Europe from next year?
A lot of responses to this have been a resounding "yes", including a flurry of twitter messages after the event stating that the atmosphere theoretically (and I quote) "dicked over Gamescom". The only perk that Gamescom had going for it was that it was in Germany, so you could drink out of a stein. However, if you looked hard enough in the Earls Court area, I bet you could find the same experience.
Overall, Eurogamer this year was an eye opening experience of QR tagged booth babes, a community spirit that surpasses any queue, and a platform from which the gaming industry in the UK can only build upon. If I could, I would high five all of the staff who helped put it on, but I doubt my hand could take the chafing. See you next year!