Sophie Ellis-Bextor fixed her eyes on a new path in her career on her 2014 album, Wanderlust. After ten successful years on a major pop label and four albums in her repertoire, she embarked on the challenge of making a record independently.
The mission she gave herself came with a self-imposed rule of not writing straight-forward pop and disco she has become known and loved for. She determined to steer away from the multi-collaborator and cherry-picking approach that typically goes into major pop albums, in favour of making a record with one creative partner, whom she found in singer-songwriter Ed Harcourt.
The pair buried away in the studio and the songs they wrote were formed on the spirit of her time spent in Eastern Europe and fairytales she read as a child. Wanderlust was subtle in sound with live-band recordings, more contained and the less-fussed-over record she's made to date. Familia is the pair's second offering which takes its lead, and title reference, from another region of the world: South America. Andrew Darley spoke to Sophie about how rewarding it has been making these records and the close-knit family she found with the musicians who made them with her.
What was different about making Wanderlust with Ed compared to your previous records which made you want to collaborate again? Did you feel you had unfinished business?
[Laughs] I think it's been a really fruitful relationship. I find it easy to work with him. We seem to speak a similar language in terms of what gets us excited. Wanderlust was very different in lots of ways. I made a rule that I wasn't going to do any dance or disco. I wanted to give myself a challenge and made the record independently. I was able to squirrel away and only present the final record when it was done. I've done the same with Familia. We wrote the record, got it all recorded and when it was finished when it was finished. It's a nice way to work because it makes it feel a lot more spontaneous and instinctive. You haven't got decisions being made by committees at any point. We did what feels right.
In the past, was it hard to be creative when you had those pressures over you?
I'm very grateful for the ten good years I had at Universal - they were very good to me. I met a lot of wonderful people who I still work with now. When I was writing in that style on those albums, it suited me to work in that way. I'm a big believer in serendipity; without doing all that work I may not have made or enjoyed making Wanderlust as much I have. It gave me a clear vision of what I wanted next. It wasn't like I was forced before and now I'm free. I enjoyed that process too.
Wanderlust was obviously something you wanted for a while in terms of songwriting and getting a band-vibe. Familia seems to incorporate some disco and straight-forward pop influences of those older albums. Did you want to find a balance between the old stuff and the new way of writing?
Not consciously really. Given the style of album Wanderlust was I wanted to do something opposite so I thought it would be fun to go back into it. Pop and disco are magnets for me. It was fun to do it with Ed too because it's not what he usually does.
You've said Familia is the sister-album to Wanderlust. In what way do you see them being connected?
I feel they're a first and a second album from a new chapter for me. They're blood relatives but they're quite different characters. Some of the characters that I wrote about on Wanderlust appear again on Familia, like the witch from 'Love Is A Camera' and the runaway bride in 'Cry To The Beat Of The Band'. I feel like we've moved location and put on a different outfit.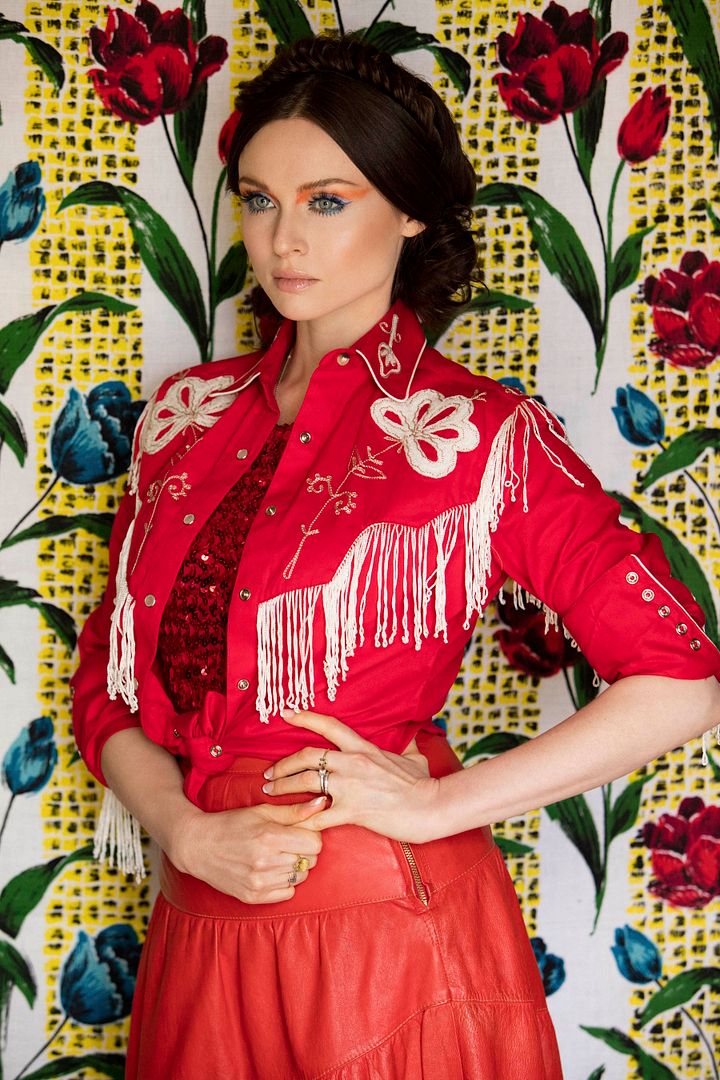 To South America!
Exactly!
Do you envision yourself as these characters you're singing about or is it storytelling?
It's storytelling really. When I was making dance music I found it hard to tell a story or go down any twisty roads because dance deals better with clear, direct emotions.
Was it holidays to these places that inspired the albums and their direction?
There's a bit of that. With Wanderlust I spent a lot of time in Eastern Europe. I was fascinated by the romantic aspect of the culture and I read a lot of Russian fairytales when I was kid so I could see that frozen landscape in my mind's eye when we were writing. After we toured the album, Ed went to Cuba and I went to Mexico. We felt we had done the calm, introspective record and now wanted to make something more widescreen, extroverted and turn the colours up.
A theme that runs throughout Familia is being and believing in yourself. One of the first lines on the album is "Why be so ordinary?". Have there been times when you haven't been able to be yourself?
I'm not sure that I have. I can be quite petulant, you know! (Laughs). Since my first band (theaudience) were very hyped and split up before anything happened, I felt with my solo career I had to be answerable for everything. I've never done something someone else has told me to because I'm the one who has to go out and stand by it. That doesn't mean I always make good decisions. I haven't knowingly done anything that I feel is a terrible idea - I'm quite stubborn when I need to be.
That's not a bad thing! On the flipside, there's a sense of reassurance and overcoming, like on 'Crystalize' and 'Hush Little Voices'. Did you recognise that as you were writing them? It's as if you're singing directly to someone.
I guess you're right. Ed and I, we have our families and they mean a great deal to us and they've anchored both of us in our own ways. A lot of it is about giving yourself permission to go for the good and accept the power that comes from loving your family or your friends around you. We both find the world a scary place in terms of what's happening politically but we're also big romantics in the power of the human heart.
I really like 'Come With Us' because on the surface it's straight-forward upbeat pop but its lyrics are actually about joining a cult. Are your favourite pop songs the ones which have a darker meaning?
Definitely. I think if you're going to do something funny, there has to be a bit of darkness in there too to give it an edge and vice versa. It's funny you mentioned 'Hush Little Voices' because that's the witch from Wanderlust who takes your soul through a photo and on this album she's been driven mad by all the souls she's captured in her house. We've done the flip of it too. 'The Death of Love' is not about the death of love - it's actually about the love you create lives on after you've gone.
Would you say you've learned anything about yourself making these records?
I think the process of making them has been nicely grown-up. It's been really healthy to be answerable for decisions with your work and be responsible. It's been great for me to take proper responsibility and take some risks.
Would you say that the way you're creating now is the way you've always wanted to do it?
I've always liked the idea of having one collaborator. Even though I love writing lots of pop, it can be frustrating because it's quite a scatty approach in the way you write with loads of different people and cherry-pick at the end. This time, it's been more about making a record rather than a collection of songs. I tried to do that with my other albums too; I worked with people I love and built proper relationship but there is something special about making it one collaborator. You can bring all the strings together because you're doing it together.
The musicians I've worked with are brilliant, we go into rehearsals before we go to the studio so everybody brings something to it. Everyone's identity is there and you can hear that we enjoyed recording it. Some of the stuff that came out I feel so lucky that it's on my record! I want them to feel part of it. We worked hard all day and then I'd make supper for everyone, I also had my 14-week old baby with me. It was quite intense but it was also very chilled and cosy. Most of them are friends from before and Ed's one of my son's godfather. We all know how to work together and it's a really happy thing. The moment it feels like hard work means something is wrong.
Familia is out on September 2nd. For more info check out Sophie's website here.