Illustrations by Emma Mc Morrow
Music and fashion go together like fish fingers and white bread, Sundays and films, Kenan and Kel... I caught up with designer Liam Hodges, who's presenting his AW 14 collection as part of Fashion East in Covent Garden, and asked him about the music and video he's created with Puffer for his AW14 collection. He explained, "I worked with Puffer on the sound and the video. They're good friends of mine and this season really captured the spirit of the collection and what I'm trying to portray really." That spirit is druids on route to becoming roadies decked out in gaffer tape looking for their next beer and good times. It's a strange yet intoxicating brew.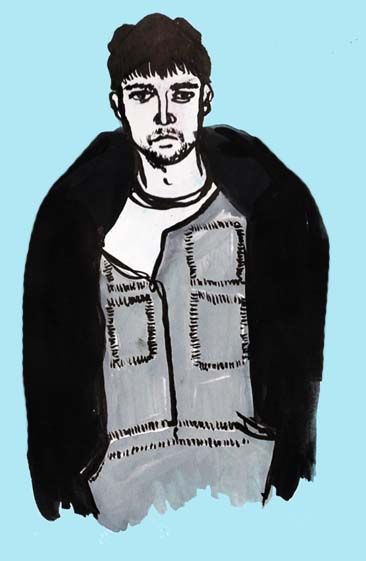 Puffer created the track 'Cosmic Grit' for Liam's collection 'Druid Road' and the video was shot by Liam and Sean Wild (band member). It's the kind of scuzzy, dark, masculine and raw material we've come to expect from Liam, who is to menswear what Heston is to food - capable of mashing together the strangest concoction of British ingredients to make what is a surprisingly satisfying pie.
This collaborative approach is pretty intrinsic to menswear, exemplifying how designers such as Liam ensure menswear keeps on feeling fresh, honest and inclusive. As Liam points out, "It's always amazing to get the opportunity to work with friends" and it works as Liam designs for his friends and this makes sense seeing as he knows what guys his age and demographic want to wear. Liam excels at one of menswear's fundamentals - outerwear. In the case of this latest collection one of the statement items is an over-sized coat covered with gorilla tape, offering a rugged alternative to leather and shown alongside football like scarfs, steel toe cap boots, overalls - this is urban workwear for lads. It's all highly inventive but also highly practical and highly wearable. Basically, Liam's scored a hat trick with this collection.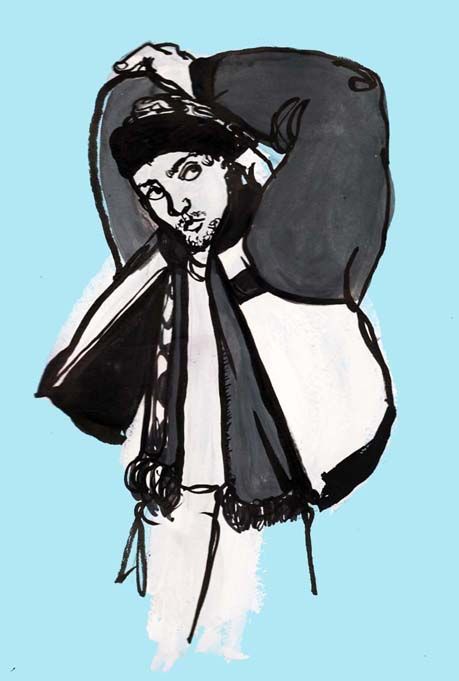 Lulu Kennedy's Fashion East is one of the most exciting things about LCM as it has a pretty stellar history with Christopher Kane, Jonathan Saunders and Katie Eary, who designed for Kanye West. There may have been Boy George DJing the Esquire opening party, a million pictures of David Gandy and some swanky invitations from the likes of McQueen and Burberry but what lies at the heart of London Collections Men is showcasing fresh talent and making great design accessible. As Liam himself says he's creating 'a luxury brand that doesn't cater for high borns' and he presented his last collection was presented worn by his friends on a sofa having some tinnies. This is how to present 'future classsics'. This gritty street level offering of talent is what makes men's fashion exciting, not exclusivity and avarice. Here's hoping that LCM continues to have a raw edge - maybe we should gaffer tape it on?