The name Seinfeld is synonymous with style, right? With a cashmere collection to rival the Cranes, and a shirt collection that is pure 90s in material form, Seinfeld has been pushing a strong look for some time now, and inspiring a whole generation.
It's hard to communicate the ozone layer defying levels of style that Seinfeld's achieved without comparing it to another show, preferably one that's also often called 'fashionable'. Seinfeld is a show with more fashion mileage than Sex and the City. Here's why...
1. When Elaine gives George an $8,000 Russian ushanka (Russian 'rat hat'), he totally rocks it. Carry wears a lot of fur (or it wears her really), but it often looks like she's simply dressed up as a different species of land mammal.
Point to Seinfeld.
2. Carrie's super reflective aviators do have a cool Terminator meets The Fly vibe going on. Aviators are a timeless accessory thanks to Cruise and De Niro, but George's fab clip-on sunglasses take fashion to whole new, mind-blowing levels. They're practical too! Then there's the time he rocked 'ladies' (geek) glasses...
2 points to Seinfeld.
3. Remember the time Jerry agreed to wear one of Kramer's fashion designer girlfriend's 'puffy shirts', and he pulls of the swashbuckling new romantic look better than Johnny Depp and Adam Ant combined? Carrie did this with a white shirt, even Miranda looks embarrassed...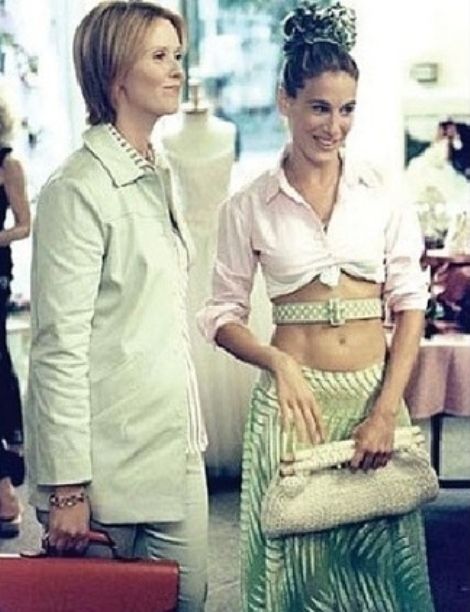 Point to Seinfeld. SATC minus a point.
Extra points go to Seinfeld for relatable fashion trials and tribulations. Unlike when Carrie casually throws on stilettos, a sparkly skull cap and fur coat to race across New York in the snow on New Year's, Kramer tries to put on jeans that are so tight he gets stuck in them. We all felt his pain. It was real.
Jerry Seinfeld also gives solid style advice: "Where lipstick is concerned, the important thing is not the colour, but to accept God's final word on where your lips end."
Whilst Carry ponders, "Are men just women with balls?." I rest my case.
Seinfeld 4 - SATC 1